To succeed in business, you need the right people, processes and products, as Marcus Lemonis knows from experience. That's just as true in e-commerce as in traditional retailing. But along with finding your customers and offering appealing products and services, you need to understand digital marketing, sales and customer management processes and growing your company.
While e-commerce can be highly rewarding, success doesn't happen by accident. It takes careful planning to launch a successful online store, and careful attention to the details to keep your business moving forward. Otherwise, you could wind up with a lot of wasted time and money and nothing to show for it.
In fact, one recent report put the failure rate for ecommerce businesses at 90 percent after 120 days, primarily due to poor online marketing and lack of visibility. So, one of the basics of e-commerce 101 is letting prospective customers know you exist and using a variety of channels to bring them to your store. That's certainly one of the most important tips for selling online.
How To Establish An E-commerce 101 Strategy
If you're ready to launch an online store, you need to learn the basics of e-commerce 101, and decide on the best strategy and tactics to achieve your goals. "You gotta pick a path," says Marcus. "And you gotta GO!"
To help you get started, here are fundamental tips for selling online, based on Marcus' three business principles for success.
You may be already running a traditional retail store, and planning to grow through e-commerce. Or you might be starting fresh with a great idea for a new product or service.
In either case, you need to take a careful look at your potential market. Who are your ideal customers? Men, women, seniors, families, LGBTQ+ individuals? Do you plan to sell to people in your community, those who share a common hobby or desire, or anyone in the world? A focus group, online surveys or social media posts can be good ways for gathering that vital information before you launch your venture.
• Products. What products or services do you plan to sell? How are they different from the competition? What is the reason they would buy from you, rather than another e-commerce store? This is the time to think about branding – how you can make your business stand out from the crowd, so prospects notice your offerings and visit your store. In marketing, it's called a unique selling proposition (USP), and it applies to e-commerce as well as other types of businesses.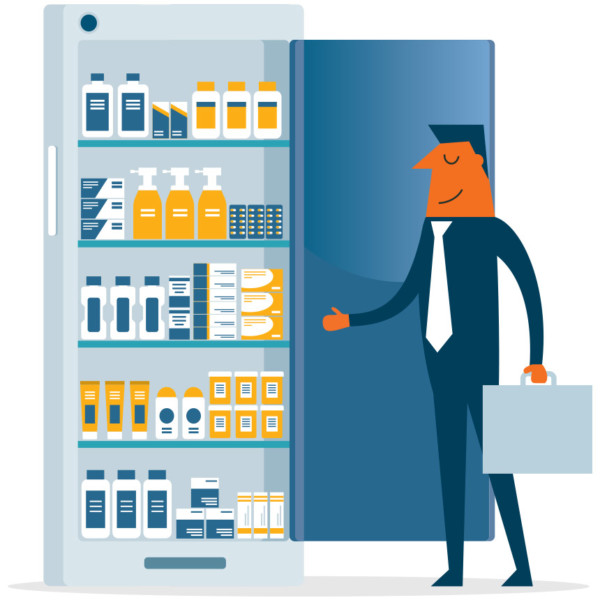 • Processes. Here is another area to pay close attention, and learn about your options in an e-commerce setting. You need to implement solid processes to market, display and sell your products or services. That includes building an attractive, easy-to-use website, an effective advertising platform, a robust search engine optimization (SEO) program, and a functional shopping cart and checkout process. These are areas where you may need to enlist the services of an experienced marketing professional or agency if you're not familiar with these topics. (Many of these steps are covered in more detail in other lessons.)

Picking The Right Domain Name
After adding these e-commerce 101 principles to your game plan, it's time to choose the right domain name for your online store. If you have an existing business, you may be able to tweak your company name or brand to create a similar domain name. Otherwise, you will have to start from scratch.
Another of the important tips for selling online is to have a domain name that is memorable and easy to find, while conveying your brand qualities. That's not an easy combination to find, especially since so many potential domains are already taken. Therefore, you might need to create a new name from scratch, as Amazon, Google and Zappos did years ago.
Your domain name should be as short as possible without using numbers or hyphens, which can be confusing for shoppers. You should also be sure there are no negative connotations in other languages, such as Spanish or French.
To save time, you may want to engage a consultant to conduct a search for possible domain names. Then, bounce them off your business partners, employees or family members for their feedback. Once you make a decision, be sure to register your name with the U.S. Patent and Trademark Office to protect your intellectual property, and with similar offices in other countries if you plan to serve international customers.
Find A Website Host With Good Tech Support
The next e-commerce 101 step is choosing a provider to host your website. This is where your customers will find your online store. There are many hosting services available, like DreamHost or GoDaddy, with various pricing plans. Typically, you subscribe to these services on a monthly or annual basis.
However, you should pay close attention to several things before signing an agreement. First, be sure that you have the ability to move your website to a different host in the future, if your needs change. For example, you might start with a small, inexpensive hosting service, but then need to scale up if your business grows.
Another one of the tips for selling online is looking at the level of cybersecurity offered by the hosting service, including current Secure Sockets Layer (SSL) certificates so your customers feel safe in providing their financial information for their orders.
Finally, you should also find out the level of tech support provided by a potential hosting service. If you're still learning about e-commerce 101, you may need to ask for help a time or two!
Pick A Robust Shopping Platform
When it comes to shopping carts and checkout functions, you don't have to reinvent the wheel. An e-commerce 101 search can help you find platforms like Shopify, Wix or Weebly that can handle these all-important, revenue-generating functions, so you can focus on attracting and serving your customers.
Design Your Site
Now, you can turn your attention to the customer-facing side of your business. That begins with designing a website that is both attractive and functional – another of the fundamental tips for selling online.
You may want to engage a graphic artist or an advertising agency to design your site, using eye-catching photography, illustrations, videos and headlines. The graphics should be clear and easy to read, while the overall appearance should contribute to your brand's messaging.
If you are selling outdoor products, for instance, you could include photos of forests, mountains, lakes or beaches in the background. If you are selling environmentally friendly products, make sure that message stands out on your home page.
Along with designing your site, you need to be sure it functions easily and seamlessly for your customers. That includes clear navigation tabs (About Us, Our Products, Contact Us, etc.), a search function for finding products and a shopping cart and checkout process. This is one of the most important tips for selling online.
Once you have an appealing and functional website in place, test it carefully before going live. Be sure there are no problems with the links, shopping cart and ordering functions. You should also look at the site using different browsers to see if there are variations in how your content is displayed on the screen.

More Tips For Selling Online
Along with putting a solid e-commerce strategy in place, you should be thinking about the tactical side – how you will attract customers who will buy your products or services.
Here are additional e-commerce 101 steps to consider as you prepare to roll out your marketing program.
• Offer a great customer experience on all devices. While many prospects will see your store on their smartphones, others will turn to their tablets, laptops and desktops when browsing or making purchases.
• Deliver great customer service. You could offer chat, phone, text or email support to answer questions from prospects who may be ready to make a purchase. Needless to say, this is another of those vital tips for selling online.
• Establish value. Be sure customers know the value of your products or services – not just pricing, but the quality, service or the features of your brand.
• Make an attractive offer. You may want to give first-time customers a discount or a "buy one get one free" (BOGO) offer as an incentive.
• Use social media effectively. Make sure your e-commerce business is visible on the social media sites frequented by your customers, such as Facebook, Twitter and Instagram.
• Start building a list. Make it easy for prospects to opt-in to your mailing list, so you can send them promotional materials, newsletters and other marketing information.
• Analyze your data. Keep track of the metrics. For instance, you should know how many prospects are visiting your store, how they got to your site, what they put in their carts and the size of their typical purchases. That's one of the best tips for selling online.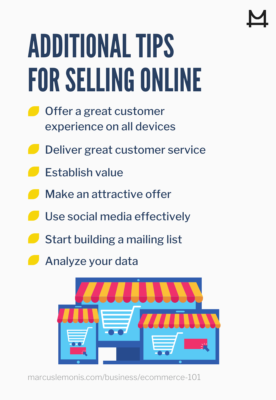 Be Ready To Adjust Your Strategy
In the retail sales industry – whether in person or online – things can change at a moment's notice. So, being flexible is one of the most important tips for online selling. You should be ready to adjust your strategy and tactics depending on your customers' behaviors. Are sales rising or falling for certain products? Is there a trend in your customer base? Do you need to adjust your prices based on the competition? Is it time to try a new offer?
A final e-commerce 101 tip from Marcus, "You don't have to be a genius to run a successful small business, but you better be smart enough to be willing to learn."
MARCUS' CLOSING QUESTIONS
What do you focus on when selling online?
How can you improve your online shopping experience?
cbinsights.com. (2020, August 26). 202 of the biggest, costliest startup failures of all time.
Retrieved from https://www.cbinsights.com/research/biggest-startup-failures/

Guta, M. (2019, July 21). Ecommerce business failure rate at 90% after 120 days – how to avoid it with your business.
Retrieved from https://smallbiztrends.com/2019/07/why-ecommerce-fails.html