You don't need to be lucky to succeed in business. Achieving your goals requires careful planning, plenty of courage, perseverance in the face of obstacles, and the ability to learn from your mistakes. Most of all, you need to focus on what Marcus Lemonis calls the 3 Ps of business: people, process, product.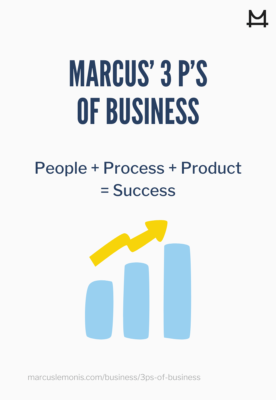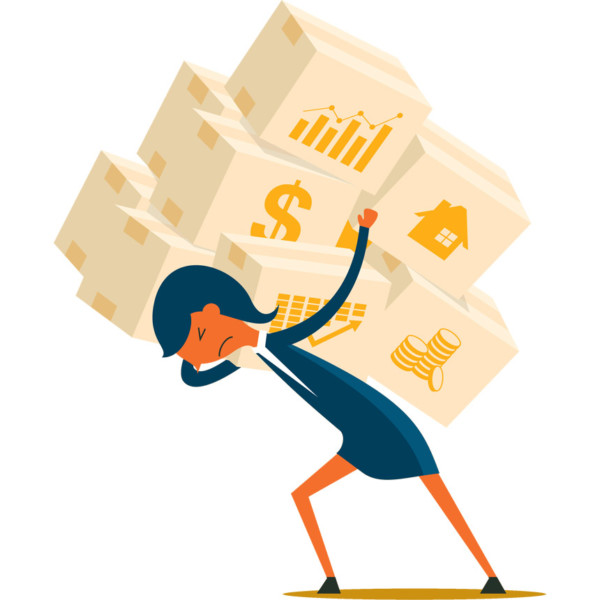 Why are the 3 Ps of business so important? Without good people in the right roles, your small business will struggle to serve customers, dampening your potential revenue. If you don't put effective processes in place for sales, production, billing, accounting and customer relationship management (CRM), your overhead costs will increase, reducing profitability. And if you don't have products or services that meet the needs of your market, it won't be long before your small business is forced to close its doors.
Through the years, Marcus' advice has helped dozens of small businesses gain a better understanding of their people, processes and products. For example, he consulted with two friends who launched an eco-friendly, all-natural line of cleaning products.
Although their small business was growing, Marcus realized that their brand needed a fresh approach, as the individual products were given people's first names, for a kitschy approach, rather than a moniker that represented the type of product and its benefits. In addition, their processes needed a complete overhaul, as the team was hand bottling each product.
Tips on People
People form the foundation for any successful small business. "Businesses are based on relationships and relationships are based on people," says Marcus, "So, surround yourself with good people."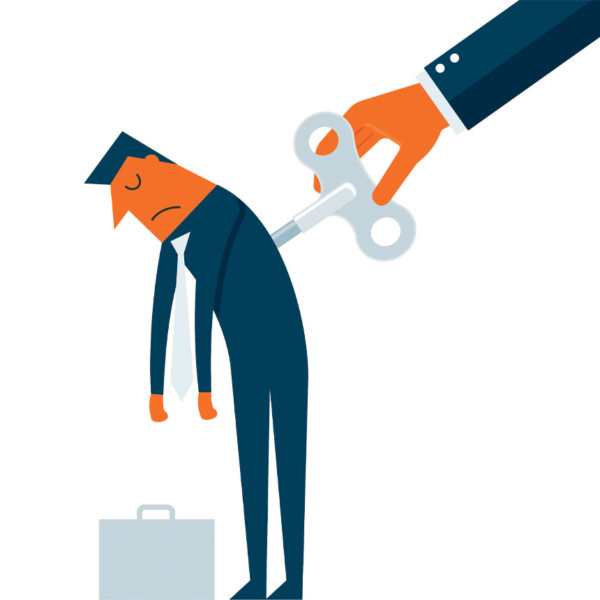 That wasn't the case at a Los Angeles company offering pet grooming, boarding and products. Even though most employees were dedicated to their work, the owner kept them on a short leash, blaming them for mistakes, and treating them worse than the four-legged guests in their kennels. So, Marcus was not surprised to learn the small business was struggling. After all, it illustrates his thinking: "The customer is not No. 1 to me. They're No. 2, right behind the employee."
People issues can also come into play at the top of the organization, especially in family-run businesses. For instance, Marcus found that one of the reasons a New York retailer was struggling was the difference in opinion between the father, who lived in Florida, and the son, who managed the store. Marcus also talked with the co-owners of a manufacturing company in Georgia founded when they were husband and wife. But after they divorced, the emotional rancor and conflict was hurting the business. As Marcus says, "If you have trust with somebody, it can survive any downturn, any mistake, any problem. And if you don't have trust, it won't matter how good the business is. It will fall apart eventually."
Here are six tips for leading and managing people:
Recruit, hire and retain good people from diverse backgrounds who fit into your organization.
Put them into the right roles.
Offer your people opportunities to learn new skills and advance their careers.
Create a positive work environment that encourages people to do their best.
Insist on accountability and monitor individual and team performance.
Provide clear feedback and don't play the blame game.

Tips on Process
Why is process the second of the 3 Ps of business? It's because your people need to work in the most efficient and productive manner.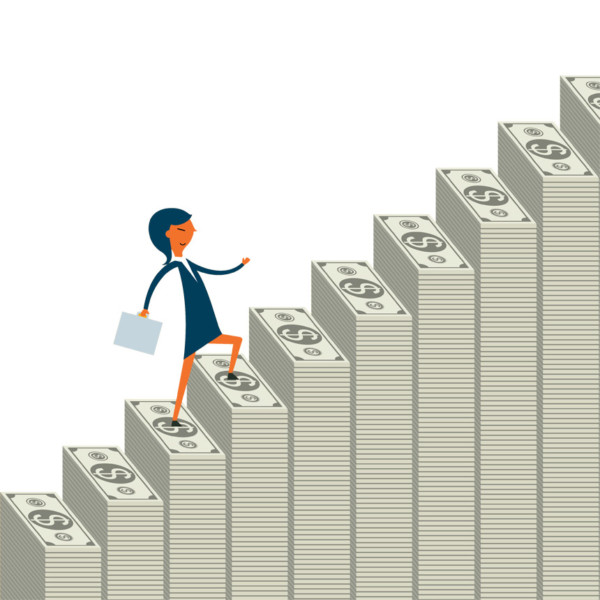 That means looking at your operational processes carefully to understand every step from receiving an order to delivering the finished product or service. As Marcus says, "Control your cash, stick to your core business, and know your numbers."
That wasn't the case for a Georgia-based cooler company until Marcus stepped into the picture. The owner had developed an excellent line of high-quality coolers, but the company was losing money. One of the key reasons: lack of an effective inventory system in a disorganized warehouse. That led Marcus to educate the owner about the importance of improving the inventory process in order to improve profitability for the innovative business.
Restaurants also need to have efficient processes in place. A small New York Mexican restaurant was having a difficult time obtaining its specialty dishes because it relied on one manufacturer, who gave priority to his bigger customers. At a New Jersey Italian restaurant, Marcus found that the kitchen space was small and overcrowded. He recommended a renovation and expansion that added more space to the "production" area, while accommodating more patrons. The result was a big jump in revenue. As Marcus says, "Performance is the best way to shut people up."
Here are five tips for improving your processes:
Know your costs for labor and materials.
Track product waste and employee downtime to identify bottlenecks.
Talk with your sales team about improving the customer relationship management (CRM) process.
Pay attention to your daily cash flow, and don't let any dollars disappear.
Encourage your front-line employees to offer suggestions for improving your processes, as they may spot inefficiencies you may be missing.
Tips on Product
With your people and processes in place, now it's time to take a close look at your products. Whether you serve consumers (B2C) or businesses (B2B), your small business needs to offer the right products for your customers. As Marcus says, your product line should be practical, purposeful and profitable.
However, some businesses develop their products in a casual or haphazard manner without listening to customer feedback. For instance, Marcus found the owners of a California online t-shirt retailer were more focused on acquiring other businesses than expanding their own brand.
Other product-related problems stem from an unrealistic approach to the market. A specialty dessert store in New York, for example, had carved out a niche in a very competitive market. But Marcus found the owner had tried to expand too quickly while still tinkering with the product line. Once those fundamentals were in place, thanks to Marcus' advice, the owner was able to move ahead with success.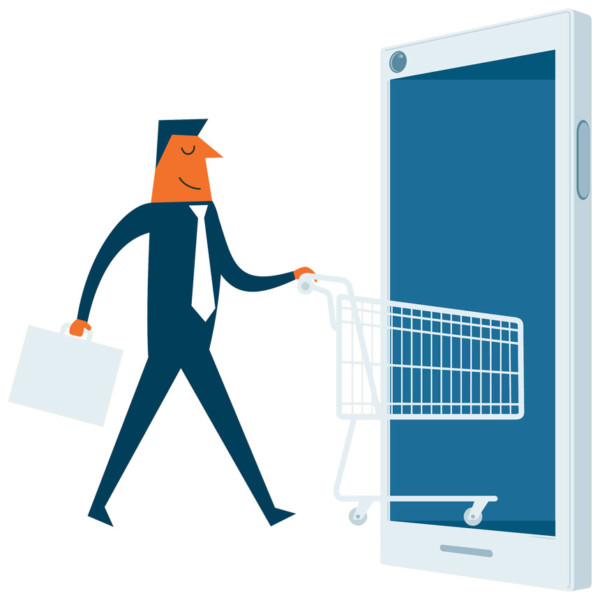 Having a strong product line opens the door to other new business opportunities as well. Just ask the married co-owners of a food company in Kentucky. They developed their own line of barbecue sauces for their restaurant, and turned to Marcus for advice on growing their small business. He suggested bottling their proprietary BBQ recipes and selling the sauces online as well as in their store. The result was a new revenue stream to add to the business' current product line. As Marcus says, "Performance is the best way to shut people up."
Here are six tips for capitalizing on your products:
Sell to new markets, perhaps through sales representatives or an online store.
Consider licensing opportunities that could generate income from fees.
Conduct surveys and hold focus groups to identify customer trends.
Monitor customer rating and review sites to see how your products are received.
Look for ways to offer "new and improved" products to your current customers.
Create cross-selling and up-selling opportunities by expanding your product line.
Remember the 3 Ps of business!
As the owner of a small business, it is easy to get caught up in the day to day responsibilities of your role. A key employee might be unable to work for a few days, a customer might ask about a delayed shipment or you might get an RFP for a potentially big sale. Those are just a few of the things that can command your attention in today's always busy world.
Here's a tip for small businesses
"Try to take a few moments each day to step back from all the activity and take a different perspective. How well are you doing on the 3 Ps of business?"
But try to take a few moments each day to step back from all the activity and take a different perspective. How well are you doing on the 3 Ps of business? Are your people, processes and products in alignment or do you need to make some adjustments? Paying attention to those 3 Ps can keep you moving toward that all-important fourth P – profitability. Think about this lesson and listen to Marcus' advice: "Trust the process."
MARCUS' CLOSING QUESTIONS
How well are you doing on the 3 Ps of business?
Which P of the 3 Ps of Business does your business currently do the best?
Which P of the 3 Ps of Business does your business currently need to work on?