In life, many things are cyclical. From hairstyles and clothing fads to the latest food dishes, many of the most popular trends will fade away then reappear at some point or another. The same standard applies to furniture and decor. Whether you have a passion for interior design or you are interested in going back into the past for a bit of inspiration, using a few vintage home decor trend ideas can help you transform and bring any space in your home to life again.
Style
To truly hone in on vintage home decor ideas and inspiration, it is important to familiarize yourself with multiple decades and time periods to gain a better understanding of the specific designs and colors that were used and for what purpose. Immersing yourself in the design styles of the past can also provide valuable insight into the overall mood, emotion, and aesthetic that is most likely to mesh well with the colors, furniture types, and styles you choose to incorporate into your own home or space.
'50s Pastel Colors
Bright, inviting, pastel colors were a cornerstone of the '50s era, especially when it came to interior decorating and choosing base colors for kitchens and bathrooms. Bright pastels were not uncommon during this time period and were often found coating appliances such as refrigerators, mixers, and even stoves, making for seriously colorful dining and cooking areas.
Some of the most notable pastel colors used throughout the '50s included:
Robin's egg blue/light blue
Light pink
Light coral/orange
Pale yellow
Light green
If you are in search of home decor ideas that are truly reminiscent of the 1950s, opt for brighter pastel colors and hues to add a pop of fun to any space or room. Even today, colorful pastel coated appliances, such as toasters and mixers, are now more popular than ever, making their return to big box stores as well as online shopping hubs like Amazon.

'70s Hues
As decades pass, trends shift and color palettes change to reflect the architecture, the times, and even the current state of the world. If you are interested in vintage home decor ideas but prefer to steer clear of pastels and overly colorful palettes, consider the '70s for a more robust, earthy alternative. With the advent of wood paneling and tri-level homes, the '70s ushered in entirely new color palettes as well as a complete renovation of traditional furniture, seating, and home layouts. With sunken living room setups, egg chairs, and wall to wall shag carpets throughout, it is no wonder that the 1970s still remains one of the most memorable and visually inspirational decades of modern times.
Some of the most notable colors used throughout 1970s decor and with vintage home decor ideas and trends today include:
Olive green/muted greens
Burnt orange / burnt reds
Brown / beige
Medium yellow
Dark blues
The 1970s offers a stark contrast to earlier decades, including the '50s and '60s, where colors and floral patterns were not only commonplace but thrived in fashion and interior design circles. While the hues of the '70s were not as bright or inviting, they were extremely fitting for the architectural, vehicular, and technological advancements made for the time. Ushering in the '70s with plenty of darker tones, greyscale, as well as black and white furniture, helped to shape a truly futuristic era of home decor ideas and interior design.

Chrome Accents
Throughout the 1950s and even through the late 1970s, chrome accents were commonly used to help bring a room together or to help add a touch of modernity to a home or space. Chrome accents were often used on table and leg chairs and bases, lamps, sculptures, picture frames and more. Placing tables with chrome accents among bright colors such as '50s pastels, '60s patterns, or even '70s hues, can truly create a retro and nostalgic look and feel in just about any room.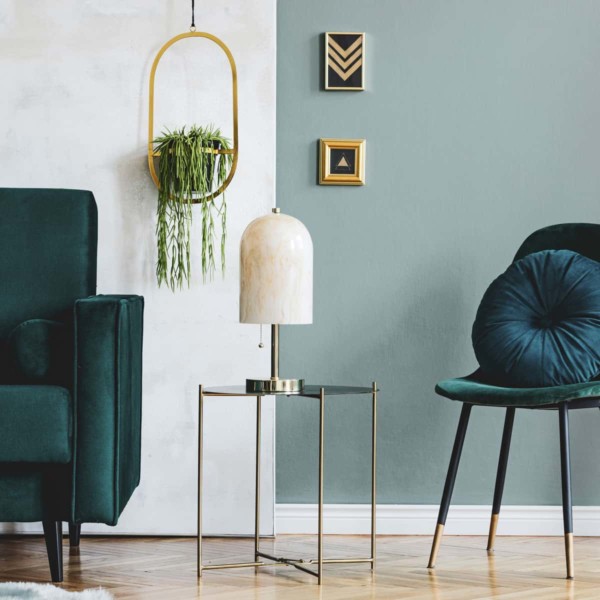 Geometric Shapes
Throughout the decades, geometric shapes have been used in all types of home decor, highlighting various patterns, designs, and shapes featured throughout artwork, furniture, wallpaper, and even flooring. Once you begin indulging yourself in nostalgic photos, interior design magazines, and even vintage home decor ideas online, you will start to notice a variety of geometric shapes and patterns that are prevalent throughout specific years or decades.
Some of the most common patterns found throughout retro eras include:
'50s: Houndstooth, checkers, black and white patterns, atomic starburst patterns, mid century modern patterns, dots, lithograph
'60s: Retro wavy lined patterns, mix and match patterns, abstract patterns using all color palettes
'70s: Plain patterns, wood paneling, wavy geometric patterns, geometric patterns with the use of retro colors
'80s: Techno patterns, computer-generated patterns, colorful geometric CMYK patterns, mix and match of shapes
To bring a modern touch to this vintage look, try incorporating smaller geometric patterned accent pieces such as throw pillows, lampshades, wall shelves or even a coffee table book featuring artwork from this genre.
Furniture
When you are in the process of seeking vintage home decor ideas or interior design inspiration from past decades, it is important to take into account the type of furniture and actual decor used to help accent relevant wallpapers, flooring, and wall colors. Not all furniture today is capable of blending or working well with retro color schemes, especially if you are intent on completing a major renovation with '50s colors or entire palettes from the '70s.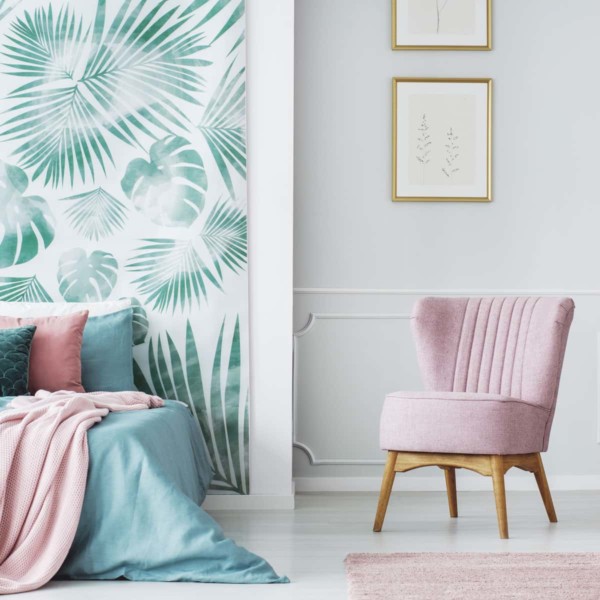 Lighting
Lighting design is always changing based on specific technologies and lightbulbs that are currently trending and popular as well as various color palettes, schemes, and materials used throughout interior design at the time.
Some of the most common lighting trends that were highlighted and popular from the '50s throughout the '70s include:
Nuvo lighting fixtures
Gooseneck barn fixtures
Drop chandeliers and ceiling lights
Colored glass fixtures
Vintage industrial pendant fixtures
Mid-century rounded kitchen and ceiling lights/fixtures
Nordic palm leaf fixtures
Retro incandescent lighting
Retro futuristic light fixtures
Dome lighting (colored and chrome accents)
Colorful table lamps with patterned/floral lamp shades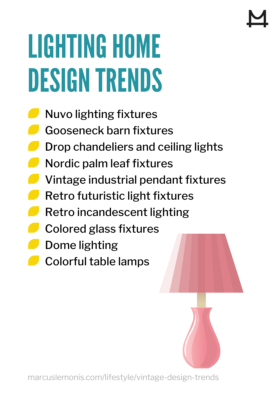 Seating
Seating has always varied and is ever-changing, especially as the demand for more remote and computer-based work continues to skyrocket in societies around the globe. Whether you are seeking the ultimate comfort seat or you are looking for a throwback to your favorite decade, choosing the seating for any space can make or break the atmosphere you are going for, especially if you intend to stick to a set theme.
While the 1950s brought plenty of colorful and retro seating designs accented with chrome, by the 1970s an entire shift had occurred within the interior design realm.
Some of the most memorable seating styles of the 50s included:
Dining booths and vinyl chairs (patterned/checkered/colorful)
Velvet chairs and seating
Modular sofas with bright and dark colors
Patterned sofas and chairs
Mid-century chairs, sofas, and coffee tables with sturdy, reliable hardwood
Metal spring outdoor chairs
For those who have an interest in later decades including the '70s, consider these types of seating when remodeling a room or implementing new home decor ideas:
Sunken seating areas complete with wraparound couches
Patterned couches, velvet chairs, and brightly colored seating
Modular sofas
Egg chairs
All white couches, dining chairs, and living room chairs
Chromcraft dinette chairs
Swivel lounge chairs
Doors
Some of the most nostalgic home decor ideas and trends come not from large pieces of furniture or color schemes, but from simple accents such as doors, frames, and even specific types of wall trim. Retro door styles can range from traditional sliding doors and wooden style doors to barn and stable doors, depending on the era and decade you want to channel and use throughout your own home. If you are thinking of remodeling a door in your home but you are not interested in purchasing an entirely new door or frame, opt for upcycling your current door and adding a splash of color. Door design from past decades was anything but modest. Throughout the late '50s through the '70s, doors may have included entire orange and yellow patterns, a monochromatic aesthetic, or even completely unique and original patterns based on the personal style of the occupant in the home.
Sustainability
One of the biggest draws of investing in retro furniture or seeking out vintage furniture is its sustainability factor. Much of the furniture and home decor produced in decades past is extremely durable and sustainable, making for an optimal investment that is sure to last for years or even decades to come. The materials used in producing tables, seating, and even home decor items in past decades were often considered more robust and long-lasting, ensuring less damage and decreased breakdown or degeneration over time. Opting to search for retro pieces of furniture and decor can ultimately help you to save money in the long run, especially if you are fond of reupholstering and upcycling items you find at yard sales, resale stores, or even online today.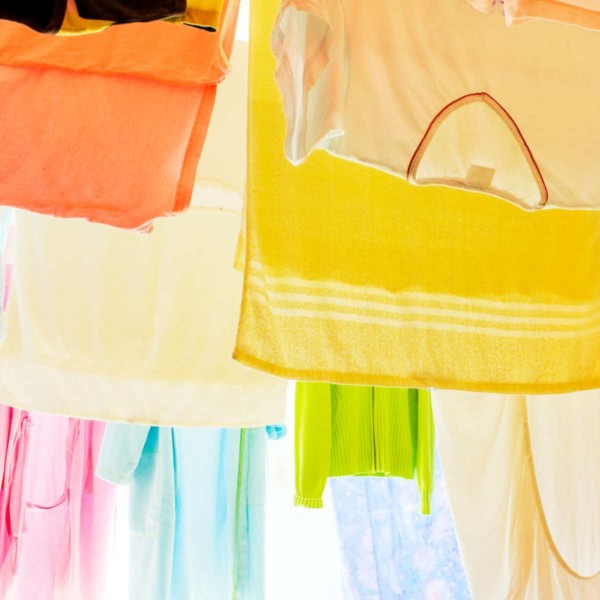 Clothes Lines
As millions of individuals choose to go green and live a more eco-friendly way of life each year, many are choosing to hand wash their clothing and garments while using clothing lines to help finish the job as opposed to using extra water and energy with traditional washing machines and dryers. If you are thinking of really creating a genuine retro styled home, opting for retro clothes lines is one way to do so affordably while ultimately helping you to save money in the future.
Wicker Shopping Baskets
In a fast-paced ever-changing world, we are constantly looking to green technologies and futuristic designs to assist us in cutting back on waste while helping to heal the Earth. In past decades, the use of wicker shopping baskets was not uncommon and helped housewives and home managers carry all of the goods they required for the home without using plastic or paper bags. Today, carrying your very own reusable bag has become trendy and helps to eliminate the unnecessary use and waste of plastic or paper bags. If you are looking for new ways to bring style to your shopping trips and outings, consider a wicker shopping basket to easily help transport your purchased goods and items.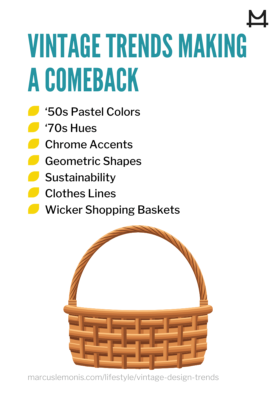 Seeking Inspiration
Once you have immersed yourself in vintage home decor ideas and you have a basic understanding of your favorite decades, you can begin searching for the design and decor solutions that are right for you. Seeking inspiration for retro design ideas is not difficult, especially as old trends often come back and make their rounds over time. If you are searching for design ideas and inspiration from the past, consider joining online forums, groups, and various communities that are dedicated to sharing design ideas, crafting, and even upcycling old and recyclable furniture. With various networks such as Pinterest and YouTube, the options are virtually endless when it comes to finding the perfect color scheme, palette, and retro design for any space in your home.
Whether you have plans to remodel and redesign your entire home to appear more retro or if you are focusing on one room, diving into past design and decor trends can provide you with a plethora of ideas to get started. With a general idea of the decades that speak to you most and resonate with your personality and own sense of style, you can create an atmosphere and environment in your home that is truly your own.
Blog.homesandland.com. (n.d.). Retro decorating ideas that are making a comeback.
Retrieved from
http://www.homesandland.com/real-tips/retro-decorating-ideas-that-are-making-a-comeback/

Burch, M. (2019, January 29). 5 old home trends that are starting to make a comeback.
Retrieved from https://www.southernliving.com/home/decor/retro-home-trends

LoveProperty.com. (2020, August 5). 30 retro trends we wish would make a comeback.
Retrieved from https://www.loveproperty.com/gallerylist/93275/30-retro-trends-we-wish-would-make-a-comeback