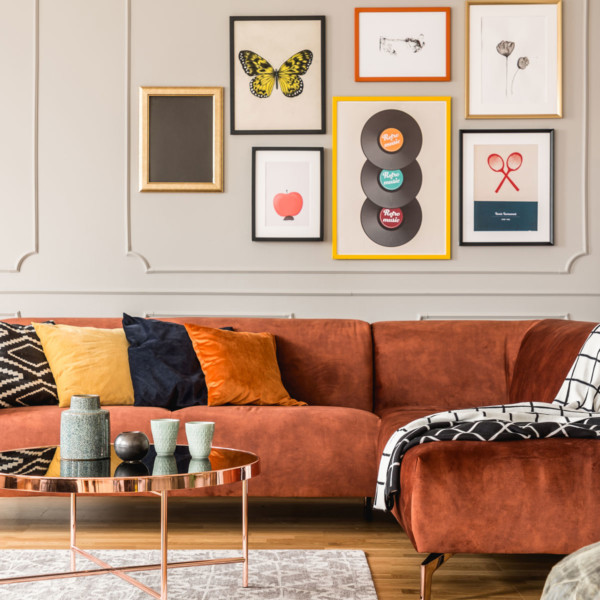 Sometimes it seems like no matter where you live, you don't have enough space to keep up with the amount of things you own, but it could just be that you are not using the best-kept secret weapon when it comes to home décor and functionality: vertical space.
Believe it or not, the way you utilize vertical space in your home can have a huge impact on how your home feels and how you feel about your home.
You can use vertical space for storage, fun décor, and functionality. Mixing all of those together to create functional vertical spaces in your home can make it feel more unique, more chic and much less cluttered.
Here are a few tips on how to use vertical space in different rooms in your home.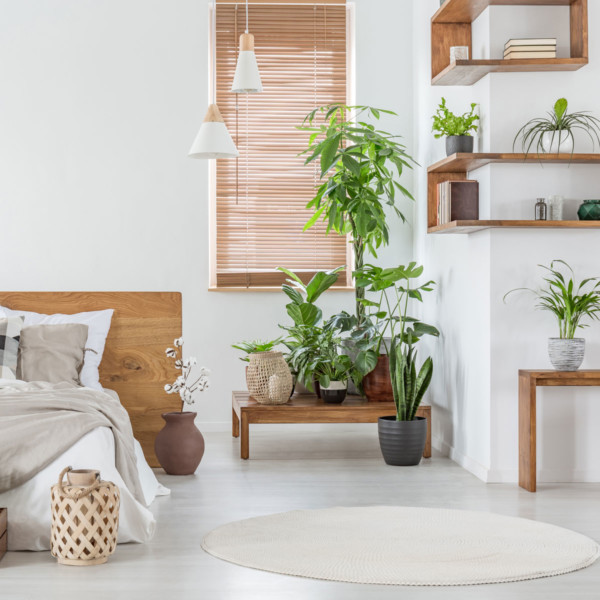 Bedroom
Your bedroom is your sanctuary, the place where you get your rest and where you get dressed, where you start and end your day, where you go to unwind. So, of course, you want your room to not only be free of clutter, but to also mirror your personality and your sense of style.
1. Start With Some Floating Shelves, Which Have a Number of Practical Uses
They can help you display any collectibles you might have, or they can serve as storage space with cute boxes or baskets to hide the clutter. And floating shelves are easy to find and install. You can get them in different colors or even paint them to add a touch of flair to your room.
Floating shelves are great for kids' rooms as well. They make the perfect place to add bins of toys that aren't used on a daily basis or place stuffed animals they no longer play with as cute decorations.
And speaking of decorations, don't forget about art!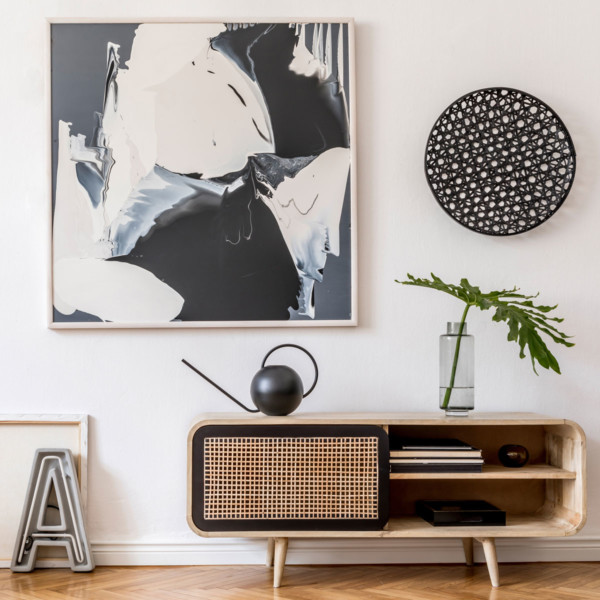 2. The Right Art Can Give a Room Just The Feel You're Looking For, and It Can Also Make Your Room Feel Bigger and Brighter
Art is a great example of how to use vertical space. By adding a statement piece, your room will feel completely different.
You can start off by choosing a large piece of art that inspires you and decorate your room using colors that match it.
When you add a big piece of art to a bedroom you are creating a focal point, one that will draw attention straight to it and give a feeling of amplifying your space. The higher you place your piece the better, it will immediately draw the eye upwards making you feel like you are entering a bigger room. Once you find the perfect focal piece that makes your heart happy, all you have left to do is add coordinating pops of color to your décor and you're set. Another great idea is to use textiles as your art piece. Vintage-look macrame wall hangings are all the rage right now and are easy to find, or if you're feeling crafty you can try your own DIY project. They add a nice touch of personality and flair and give your room a more "you" feel.
For kids' rooms it's a great idea to add their works of art to the walls as well. A nice frame can make your children feel like the flourishing artists they are and give their room a beautiful wall filled with their masterpieces.
3. Extra Tip:
Use floating shelves with cute boxes to store your smaller seasonal pieces, giving your closet a less crowded feel.
Living Room
The living room is usually a central gathering point in any home, making it a great place to decorate for both style and functionality.
1. Utilizing Vertical Shelving or Cabinetry
Utilizing vertical shelving or cabinetry on your walls will not only add plenty of space to store and showcase your items, but by adding vertical storage you are drawing the eye upward creating a bigger sense of space and making your room feel bigger. Vertical storage for your living room can come in many forms: a tall entertainment center, a modern bookcase, and of course, floating shelves.
2. Add an Accent Wall
An accent wall is a stylish way to modernize an area and create the sense of a bigger room. There are plenty of fun ways to create an accent wall, such as a pop of color with paint, a fun design with stencils, a contemporary look with adhesive wallpaper, or even add some extra fun with a textured wall.
3. Extra Tip: Looking to Make the Room Feel Even Bigger?
Add mirrors to your accent wall. Whether it's one whole mirror covering the wall or a fun array of shapes and sizes of mirrors all around the wall, it's a great way to make your living room feel bigger. Plus, it makes for a great place to check your outfit before you head out.
Bathroom
Whether it's the master bathroom, the kids' bathroom or the guest bathroom, chances are there's usually not enough storage space available. Stop trying to cram everything onto the counter and get creative with the vertical space you have.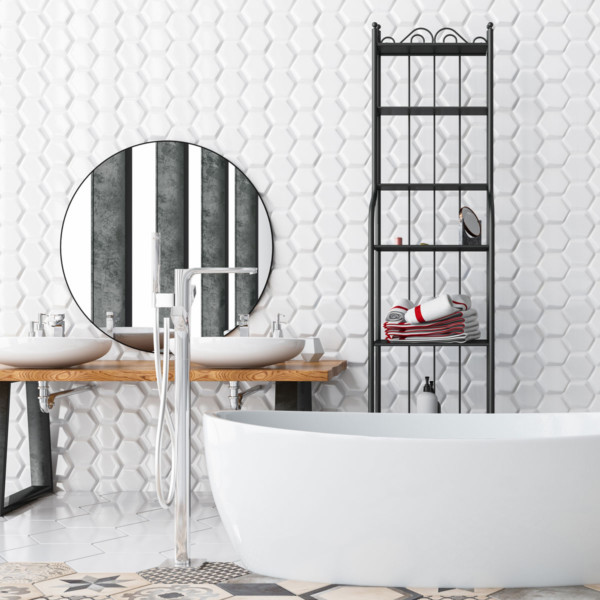 1. Floating Shelves
Floating shelves are a dream when it comes to decorating bathrooms and they provide you with so much extra space to use for storage and decoration. You can get creative and make your own floating shelves with wood and brackets out of old plumbing hardware to give it a fun, rustic feel. Use them to store linens, cosmetics and more while also using little statement pieces like porcelain or ceramic figurines, and candles to decorate them.
2. If You Have a Smaller Bathroom, Then Racks are Going to Become Your Best Friends
Racks are a staple of how to use vertical space in the bathroom. There are many lovely options out there to choose from, from simple to ornate to chic, whatever matches your style. Racks also help you free up counter space on your vanity as well as giving you extra room for your toiletries in the shower. And don't forget to make the most out of that vertical space right above the toilet, prime real estate where you can store tons of things such as extra toilet paper, hygiene items, blow-dryers, hair irons, and so much more. Once again, adding some nice baskets helps to prevent a cluttered look.
3. Add an Accent Wall
Just as in your living room, it will make a world of difference and make your bathroom feel bigger.
4. Extra Tip:
It's always a great idea to add plants to your bathroom. Whether real or fake, plants provide a welcoming accent.

Kitchen
The kitchen is where the magic happens, not only when it comes to food but also when it comes to connections. Some of the best memories are made in the kitchen, and no one likes a crowded kitchen. Figure out how to use vertical space to make your kitchen feel larger with these tips.
1. Make a Pots and Pans Wall
If you're having trouble finding the right place to store all your pots and pans, maybe it's time to look up and pick a wall.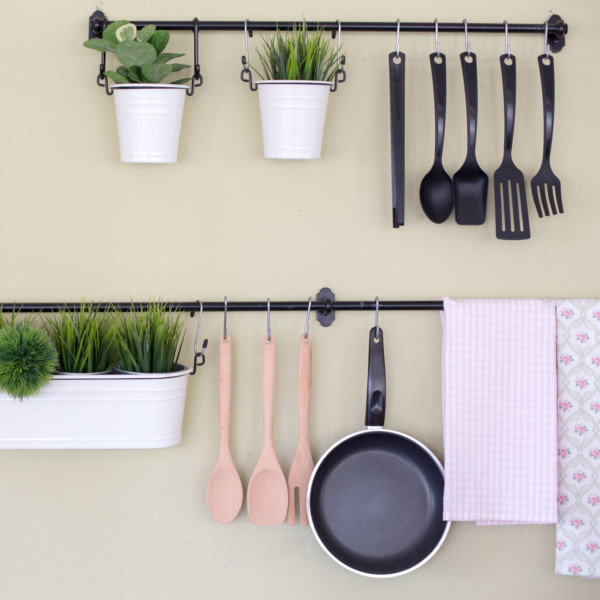 A wall mounted bar, a hanging rack, or a caged rack are all great options to use for hanging your pots and pans. You can find all sorts of hooks to get the ones that fit your décor the best. Not only will this open a lot of space in your cabinets, it will be a focal piece in your kitchen and will make picking out a pan to cook easier than ever before. You can also use the vertical space on your counter to hang things like your cooking spoons, adding to your kitchen's culinary chic and giving your drawers more room to breathe.
2. Hang Your Plates
At first this might sound crazy, but if you are short on cabinet space in your kitchen, this is a very creative example of how to use vertical space! You can dust off your fine china (you know, the ones you barely use), and pick a wall to decorate it with. It will be the talk of your next gathering.
3. Use Vertical Racks for Everything
Seriously, in your spice cabinet, use racks to maximize space by using that vertical space. In your dish cabinet, use some racks. In your pantry…more racks. You get the idea. Racks demonstrate exactly how to use vertical space to maximize your storage in the kitchen.
4. Don't Forget About Shelves
Shelves are going to be extra important in the kitchen since there is so much to store and oftentimes so little space to store it. The right shelves will make all the difference. Take the time to pick out the best ones for you, make sure they are the right depth and size and don't be afraid to have fun with it. You can even add extra floating shelves to your kitchen walls to put the things you use the most, like sugar, salt, pepper and more. And when you use floating shelves you give yourself the opportunity to decorate some more by using mason jars, or cute decorative jars to put all your essentials in them and give your kitchen some more personality.
5. Extra Tip: Add a Hanging Garden
Adding green to your kitchen is always a plus, giving it a homey feel and bringing in fresh air. It's also great because you get to grow your own veggies and herbs and use them as you cook.
Backyard
The backyard is a social place, one where you can chill, grill and play. And even if you don't have a very big back yard, you can experiment with how to use vertical space wherever you can find it.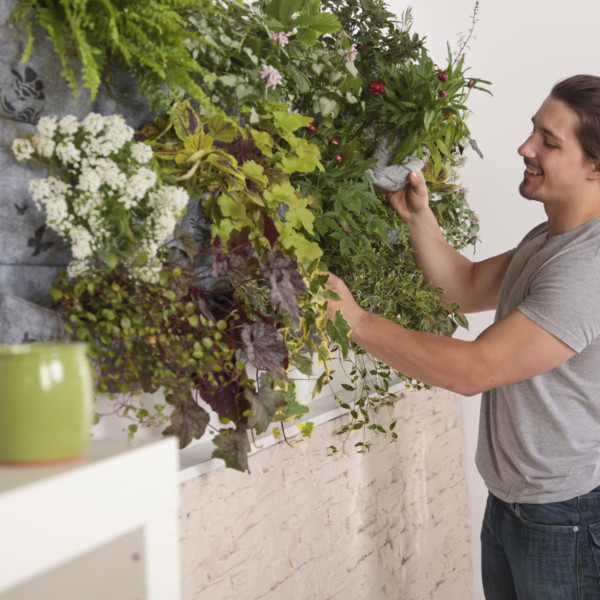 1. A Vertical Garden
Most people love to use small parts of their back yard to grow a garden, and with good reason, nothing tastes and feels better than growing your own produce. But sometimes space is limited when it comes to the ground, so go up instead. There is so much vertical space and so many things you can grow in a vertical planter. You can buy a vertical planter pretty much in any hardware store, or you can also make your own.
Planting and growing are great ways to relax and connect with nature, and when you finally get to taste the fruits of your labor, you will find nothing tastes quite as amazing as something you've grown yourself. Plus, vertical gardens are always a nice addition in terms of décor; they can turn a simple backyard into an inviting garden of wonder.
2. Get a Vertical Storage Shelf
A freestanding storage space will fit perfectly in your backyard. You can store your lawnmower, hose, rake and any other variety of things you might need to use every now and then to tend to your backyard. You don't need a big one that takes up too much space; remember this is all about using the vertical space you have, so get a tall, skinny unit and you'll have more room to play with in your backyard.
3. Extra Tip:
When it comes to a backyard vertical garden, there are so many ways to make it your own, so have fun with it. Here are some great ideas on how to make your vertical garden uniquely yours.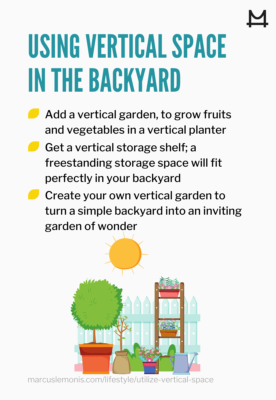 Time to get creative with your space and try out some of these ideas on your favorite rooms around the house. Just remember when you feel you have no more space, look up!