Success in business depends on your people, process and products, according to Marcus Lemonis. Being able to stay current with technology puts you in a great position for success on all three of those business pillars. For instance, new collaboration applications can make your people more productive. Today, many employees can work from home or other remote locations just as effectively as they can in a traditional business setting. Video, voice, text and screen-sharing tools have empowered the ability of many team members to work from home (WFH) or any other remote location regardless of distance.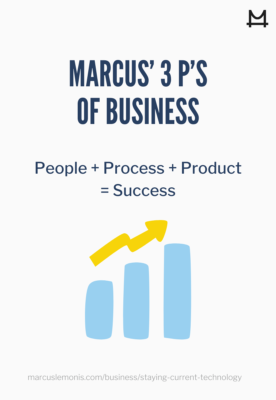 That's just one of the many reasons to stay current with technology. Making sound investments can streamline your organizational processes, such as adding automation tools to a production, distribution or service business. Artificial intelligence (AI) and machine learning applications can help you deliver a better customer experience. You can also use technology applications to design and develop new products to meet the evolving needs of your customers.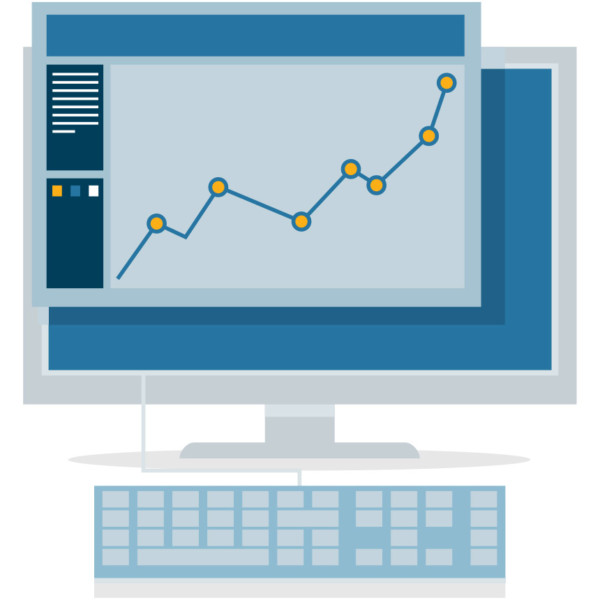 The founder and CEO of a California company offering customers unique new floral arrangements every day relied on digital technology applications to launch her company. With its efficient business model and support for American farmers, the company grew quickly to serve a nationwide customer base. When the owner turned to Marcus for guidance in taking the company to the next level, one of her concerns was the company's website, which needed a major redesign to improve navigation for online customers. After making that technology investment, she has seen an influx of new orders as customers can now type in their zip codes to find the daily arrangement in their local communities.
Why it's Important to Stay Current with Technology
Like many business owners, Marcus has mixed feelings about technology. "For many years, I was scared to buy things for my business or even my home," he says. "Technology moves fast and investments can be expensive. But we need to do whatever it takes to get comfortable. Whether or not you think technology is important, the consumer does, and that's all that matters."
If you run a retail, restaurant or entertainment business, you know that investing in technology can determine whether you thrive, survive or close your doors. Mobile ordering applications, for instance, make it easy for customers to buy your products or services at any time from any location. Encouraging customers to download your app can be a key step in generating repeat orders and long-term customer loyalty.
In healthcare, being able to stay current with technology is essential for delivering high-quality patient care and satisfaction. One example is automated scheduling and appointment services that reduce the number of "no shows" for healthcare providers. As Marcus says, "If you don't evolve, you will die."
You can use technology to play offense or defense in your local market. Take a look at your competitors' websites to see what online services and applications they offer. You might need to develop your own app to prevent a competitor from getting a jump on your customers. On the other hand, there may be opportunities to use technology to gain an edge. Take advantage of these openings and use superior technology to boost your position in your market.
For example, Avaya, a leading global telecommunications solution provider created a strategic partnership with RingCentral in order to establish a stronger position in the online unified communication and collaboration (UC&C) market. By combining their joint technological capabilities, they created a cloud-based system to provide businesses with streamlined communication and collaboration.
Steps You Should Take
In many cases, technology investments depend on the nature of your business. For instance, a mobile app is unlikely to generate new customers for a B2B business. However, a robust customer relationship management (CRM) platform could help a B2B company take a proactive approach to serving the market, including strengthening personal relationships with key buyers. But there are some general steps that will help most businesses stay current with technology. Here are several to consider.
Develop an IT strategy. Think about how technology could help your company grow, improve its processes or deliver a better customer experience (CX). This can serve as your road map, pointing the way toward your business goals, and helping you determine your investment priorities.For example, if your employees are working in teams, you might look at communication applications like Slack or Microsoft Teams that could potentially boost productivity. If you run an online store, then implementing the latest digital and mobile marketing tools might be at the top of your list.
Best Buy is a great example of a business with a successful IT strategy. Long known as a big-box retailer selling merchandise, the national retailer invested in its online platform and Geek Squad services, including in-home consultations and installations. Another recent change was a shift to remote ordering: customers can order and pay for merchandise at home, and a Best Buy employee brings the product out to the waiting vehicle.
Go to the cloud. If you have a traditional on-premise voice system, you may want to consider moving your voice, text and video communications platform to the cloud. This step can open the door to staying connected with customers, employees and business partners without having to invest in new infrastructure.
A cloud-services provider can also store your data and manage applications, making those business functions readily available to team members working remotely. Other potential benefits include stronger cybersecurity protection and greater resiliency in the face of a natural disaster or other business interruption. Best of all, you won't have to worry about maintenance of on-site equipment or the need to make a capital investment in the future.
Invest in bandwidth. Today, employees and customers are consuming more and more online services, and require greater bandwidth to support that connectivity. Talk with your service provider about your wireless network and make an investment for the future.
Integrate applications and platforms. Many businesses have purchased stand-alone applications and platforms for specific purposes. That can make it difficult to move data from one silo to another and hamper team productivity. To stay current with technology, you should consider integrated platforms such as a combined sales and CRM application.
Outsource routine services. Regardless of the size of your IT team, you should think about outsourcing network administration, software updates, employee communications profiles and other routine functions. This allows your in-house professionals to use their time more productively without being distracted by housekeeping duties.

How Technology Can Help Your Business
When you think about technology, don't just look for a popular new tool or application. Instead, consider all the ways your business could benefit if you stay current with technology. That might mean a behind-the-scenes investment in your network or service platform or an exciting new offering designed to capture the market's attention. Here are three ways technology could help your business.
Delivering a seamless CX. Technology is the key to delivering a seamless customer experience. That means being able to provide information, answer questions, and address any issues quickly and efficiently for your customers. It also means being ready to handle voice, text, video call or web chat contacts. In some cases, you may want to add multiple language capabilities to serve interested customers who may not be proficient in English.
For example, Fortune 500 company T-Mobile turned to Cisco to improve its enterprise-wide contact system. That investment helped T-Mobile continue to scale up its CX operations as its customer base grew from 33 million to 83 million.
Operating more efficiently. Remember when every bank branch was staffed with a full complement of tellers? While you might have enjoyed those personal interactions when making deposits or withdrawals, financial institutions have saved billions of dollars in operational costs by automating those routine services. Technology also helps small businesses deliver their products and services more efficiently, reducing waste and improving the bottom line.
One company that needed to update its technology platform was a New York based family-owned business selling used cars. The two brothers, and co-owners of the company, turned to Marcus for financial advice due to their low margins on each vehicle and a rising tide of debt. Marcus felt the business could make a much greater profit on each sale by selling directly to consumers, rather than wholesalers, as well as turning the business into a franchise. After several contentious discussions with the owners, Marcus was able to get the business moving forward again, using appealing radio ads, digital technology services, and a licensing program to build a successful, scalable business.
Staying ahead of the market. There are plenty of forecasting tools and analytic models to help you stay ahead of the market. That knowledge can be invaluable, whether you invest in data analytics yourself or subscribe to a service that crunches the numbers for you. For example, tracking the number of new housing and remodeling permits in the community can help a construction company make good decisions relating to labor and materials. A fashion designer or retailer needs to keep current with changes in consumer styles, colors and fabrics.
Plan Ahead
When it comes to new technology, "have no fear and be willing to fail," as Marcus says. Don't put off those technology investments until it's too late. If you want to stay current with technology, you need to look beyond today's requirements and plan for the future.
Here's a tip for small businesses
Don't put off those technology investments until it's too late. You need to look beyond today's requirements and plan for the future.
There is a reason that flexibility and agility have become buzzwords in the business world. Things change quickly and often unexpectedly in both the B2C and B2B markets – often for reasons beyond your control. Look for technology solutions that can help you meet those challenges and take advantage of opportunities to grow your business.
MARCUS' CLOSING QUESTIONS
How are you going to keep up with technology trends and stay current?
What ways does your business stay current with technology?
Avaya.com. (October 3, 2019). Avaya announces strategic partnership with RingCentral to accelerate transformation to the Cloud.
Retrieved from
https://www.avaya.com/en/about-avaya/newsroom/pr-us-191003/

Cisco.com. (n.d.). T-Mobile transforms customer care.
Retrieved from
https://www.cisco.com/c/en/us/solutions/collaboration/case-studies/t-mobile.html

Morgan, B. (July 21, 2019). 7 Examples of how digital transformation impacted business performance.
Retrieved from
https://www.forbes.com/sites/blakemorgan/2019/07/21/7-examples-of-how-digital-transformation-impacted-business-performance/#1885db5c51bb