As a boy, Bill Gates had a passion for board games. His favorites were Risk and Monopoly, and he competed for hours on end. When he was introduced to computer coding in middle school, he started inventing computer games and became enthralled with technology. No doubt, you can fill in the rest. Microsoft's global revenue in the first quarter of 2020 was $143 billion.
Walt Disney was drawing, painting and selling pictures from the time he was 4 years old. He worked as a cartoonist on his high school newspaper and attended night classes at the Art Institute of Chicago. The company he founded in 1923 generated $69.57 billion in the fiscal year 2019. In addition to the film studio, there are 14 theme parks around the world.
Here's a tip for small businesses
...when passion, talent and hard work intersect, incredible things can happen.
While we may not all reach the pinnacle of success that Walt Disney and Bill Gates have achieved, it's important to note that when passion, talent and hard work intersect, incredible things can happen. "If you don't have emotion and you don't have passion," as Marcus puts it, "then you shouldn't be in business, because money is a byproduct, not a purpose."
Identify Your Passion
Whether you're mulling over a career change, looking to expand your business or starting from scratch, going where passion leads you could be a life-changing experience. A favorite hobby or leisure time activity could become a thriving business. Maybe you love arranging flowers, restoring classic cars or building baby furniture. The idea of public speaking, pottery making or pet sitting might make you smile. On the other hand, you might have such a wide range of interests and things you like doing that you can't pinpoint one or two you're passionate about.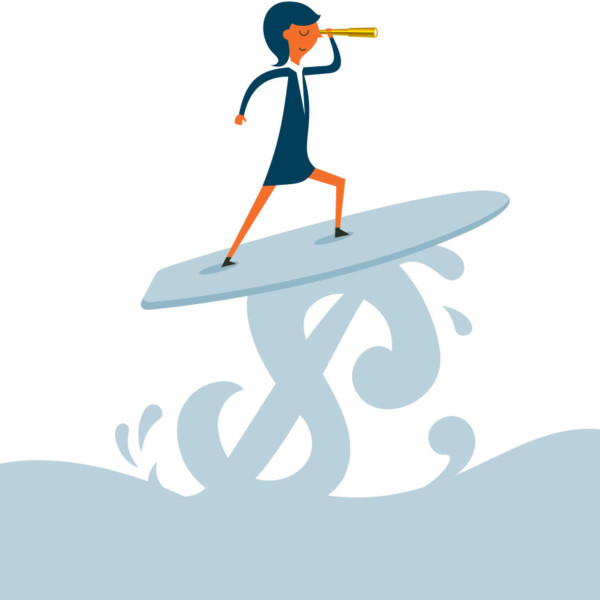 If you're not sure how to find your passion, consider these questions: What do you spend most of your spare time doing or reading about? What would you do full time for free if you had the luxury? What did you love doing as a kid? What excites you and makes you feel the most alive? What have people always told you you're good at? What's one of the first things you tell new acquaintances about yourself? What have you devoted hours of training and practice to?
If you kept coming up with the same answer, that hobby or interest is probably your passion.
1. Explore Your Strengths and Weaknesses
Baking wedding cakes or flying drones at home is nothing like operating a bakery or drone-based delivery service. You may be the best in town at what you do, but running a business calls for soft skills as well as training and expertise. Common traits for business owners include a gift for leadership, financial management, sales, communication, networking, developing people, problem solving, time management, patience, thinking on one's feet and willingness to take risks. If all that sparks your interest, pursuing your passion makes perfect sense.
All business owners have weaknesses, so don't disqualify yourself if you tend to be impatient or could use some extra confidence. The takeaway here is to admit to your flaws. Even strengths, by the way, when taken to extremes, can become weaknesses. For instance, there's a difference between taking pride in your brand and letting stubborn pride cloud your judgement. When Marcus consulted with a California candle company — which made safer candles that don't emit as many chemicals when they burn — he was impressed with the idea but not so much with the aesthetics. The owner was so sold on his own design that he refused to even consider a change. Meanwhile, the business was in a free-fall. When Marcus finally persuaded him to see reason, the redesigned candle was a big hit with a major distributor. Letting go of his pride and being open to change ultimately put the company in a better position. The owners of a Michigan denim company had similar issues when Marcus suggested a redesign of their jeans. Each pair took 67 steps and several hours to make. When the owners finally let go of their pride and allowed Marcus to help refine the process, the new vintage-look jeans were a big success. It takes a lot of confidence to turn your passion into a business, but there's also a place for humility and willingness to act on honest feedback.
2. Create Goals and a Vision
Your passion might not necessarily transition into a lucrative business, but that remains to be seen. Stay positive. Besides, you could always launch a product or service that's somehow related to your passion. Gates' first love, games, eventually led to his love of computers. If you're not quite ready to conduct mountain climbing adventure tours, you might come up with a better boot, helmet or ice ax. The point is that if you're looking to get more out of life, you have to start somewhere. You must have vision. As Marcus would say, "You gotta pick a path. And you gotta GO!"
This is no time to start putting the pencil to the paper. You'll get to production costs, inventory management and payroll taxes soon enough. For now, take some time to dream. You should have financial goals in mind, but don't make this all about money. Where passion is in play, revenue isn't the strongest motivation.
Purpose is a great place to start when you're envisioning yourself doing something you love. What purpose would the business fulfill that isn't being fulfilled in your life now? What purpose would it serve for consumers? Allow yourself to dream big, but ground your vision in reality. How hard are you willing to work to make this happen? What are you willing to sacrifice? How much time can you invest and still keep your day job? How will this impact your spouse or children?
Fill in the rough draft with long- and short-term goals for both business and life. A good short-term business goal might be to hone your skills by training with a professional.
Long-term personal goals might include earning a master's degree, traveling, raising a family or retiring to Portugal. In other words, look at the big picture. Would your business eclipse your other dreams or make them more possible to achieve? If you answered the latter, then you're well on your way to having it all.
Turn Your Passion Into a Profitable Business
Can you harness that fervor within you and monetize it? If you do your homework, you could turn your passion into a business.
1. Research the Market and Industry
Thanks to social media, it's easier than ever to do in depth market research. First, identify your target audience. Who would your product help? Check out Facebook, Twitter, Instagram and Pinterest to find out which platforms potential customers spend the most time on. Hang out there for a few weeks. What influences their buying decisions? What future competitor of yours do they most trust? Follow the competition on social media, and you'll find a wealth of information in interviews, forums, blogs, reviews and comments.
Study potential customers' likes and dislikes. See what's trending, and look for niches that you could slip into. Find out where there's an unmet need in the market for your product or service. If there are already similar offerings, what distinguishes yours? How is it better? Once you've done your research, recruit some guinea pigs who would likely be in your target audience. Form a focus group to test your product and provide honest feedback.
Meanwhile, research the industry that your product falls into. Doing something you're passionate about at home doesn't necessarily mean you'll be passionate about it when it's a job. Professional photography may sound glamorous until weddings consume your weekends. Consider volunteering or taking a part-time job in the industry your business would serve. That would give you a feel for how much you'd enjoy operating your business. You can find information on supply and demand, trends and the overall health of your industry on the U.S. Bureau of Labor Statistics website. The U.S. Census Bureau is another valuable resource.
If you want to open an upscale Greek restaurant, say, look for census information on geographic areas where people matching your customer profile live. The bureau's data breaks all the way down to city blocks. Leverage the data to compare potential sites for your restaurant; you can then market specifically to surrounding neighborhoods once your plans are underway. Research firms like Pew, Forrester and Gartner are other good resources.

2. Stick to the Plan
Once you've decided to turn your passion into a business, start making notes of everything that pops into your head. They don't have to be detailed or organized in the beginning, but you don't want to forget anything. Take advantage of the abundant business planning resources on the internet. Develop a sales and marketing strategy with specific steps and a timeline. Your financial plan should include projected income, cash flow calculations and a balance sheet. Decide on the best legal structure for tax purposes. If you're hiring employees, draw up a management structure that doesn't leave any gaps in responsibility. Your business plan should anticipate obstacles, big expenses in the future and other concerns. Ask a trusted financial adviser to scrutinize it and poke holes in it if need be. Your plan will make or break your ability to get funding, so make it as solid and comprehensive as possible. Finally, once the plan is in place, stick to it. Review it at regular intervals to make sure you're still on track.
3. Embrace Setbacks, and Remain Flexible
"Have no fear and be willing to fail," says Marcus. Let your passion overcome fear of failure. You're bound to experience setbacks when you turn your passion into a business, but view them as opportunities to grow and improve.
It's not the end of the world if you have to tweak your vision, modify your product or add value to meet market demand. Just unfold right along with the future. Listen to your customers. If you remain flexible enough to pivot if need be, you have a great shot at success.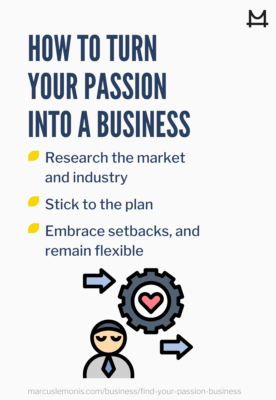 MARCUS' CLOSING QUESTIONS
What hobbies or passions do you currently have that you can turn into a business?
What steps should you take to start your passion business?
Biography.com Editors. (2014, April 2). Bill Gates Biography.
Retrieved from https://www.biography.com/business-figure/bill-gates

Biography.com Editors. (2014, April 2). Walt Disney Biography.
Retrieved from https://www.biography.com/business-figure/walt-disney

Shanhong, L. (2020, July 23). Microsoft's annual revenue worldwide, from FY 2002 to FY 2020.
Retrieved from https://www.statista.com/statistics/267805/microsofts-global-revenue-since-2002/

Watson, M. (2019, November 11). Global revenue of the Walt Disney Company in the fiscal years 2006 to 2019.
Retrieved from https://www.statista.com/statistics/273555/global-revenue-of-the-walt-disney-company/#:~:text=In%20the%20fiscal%20year%202019,from%2059.43%20billion%20in%202018