Operations. Logistics. Business communication. Corporate culture is filled with so many broad terms that sometimes you need to get specific about what you actually mean.
So, let's take a closer look at that last term: business communication. That's when you're sharing information in hopes of furthering a business objective. It's basically incorporating something Marcus Lemonis says all the time: "The key to business isn't being smarter or wealthier. It's about being able to connect to people and relate."
So, how do you make sure you're connecting with people? You connect through a mastery of business communication. This can be upward, like when a field rep fills out a survey to communicate obstacles. It can be downward, like when you're communicating expectations to your team.
It can be when colleagues are communicating laterally. Business communication also occurs when your company engages the public. And just to make it all feel a little more concrete, business communication includes:
Surveys
Memos
Feedback
Reports
Briefs
Directives
Setting expectations
Policies
Meetings
Emails
Press releases
Company messaging apps
And much more
Your ability to get really good at this is critical to your company's growth and success. Something that might seem like a minor miscommunication can quickly turn into a major issue over time. Neil Armstrong painted a vivid picture of this when he said: "If you're off by an inch on landing, no big deal. If you're off by an inch on takeoff, you miss the moon by a million miles."
But just because business communication is important that doesn't mean it has to be hard or complicated. It just needs to be emphasized and prioritized. You've got this. Think of the old saying, "quality in, quality out," because spending a little extra time creating clarity and positivity has a ripple effect that you're absolutely going to love. So, let's take a look at a few very specific benefits of internal business communication.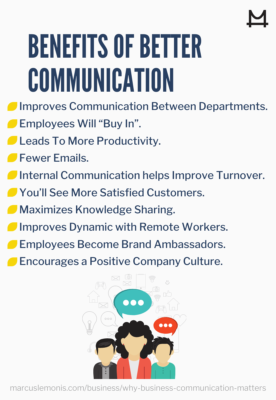 Improves Communication Between Your Departments
The importance of business communication became clear to the team at a meat distribution business when Marcus worked with them to help improve their processes. Simply put, the departments just weren't talking to each other enough. The company operated with the perception that they owed about $2 million in payables. The real number was actually more like $4 million. And in this case, it led the company to the brink. The general manager was creating purchase orders without a true understanding of the company's finances, and an audit discovered they were about two weeks from going under. As Marcus would say, "Know your numbers." In this case, due to the company's poor internal communications, they had no idea about their financial situation.
Employees Will "Buy In"
When you're really communicating, you're not just passing on information. You're building a climate of inclusion. You're creating a healthy dialogue. And that's not just a feel-good thing.
Here's a tip for small businesses
A highly engaged team shows 21% greater profitably because you're reducing absenteeism and turnover.
It's great for your bottom line. Forbes points to a Gallup finding that explains a highly engaged team shows 21% greater profitably because you're reducing absenteeism and turnover.[1] So, while operating on a "need to know" basis might be right for one-off projects, just know that it could hurt the growth of your business as a whole.
Better Communication Leads To More Productivity
Business communication is not only what you're saying, but how you're saying it. It's important to communicate your message in a productive manner, while providing a clear message to your team.
Marcus demonstrated the benefits of constructive communication when he visited the owner of a breakfast lifestyle brand. The owner needed some financial help and a little guidance around getting organized. Marcus knew what needed to happen next, but also the importance of keeping the feedback constructive and actionable. He was able to effectively communicate the ways in which she needed to improve the 3 P's of her business – people, process and product – by improving her inventory management systems and financial control. Marcus told her he would invest in the business if she could successfully implement the suggested changes. She did. And he did. It just goes to show you catch more flies with honey.
You'll Get Fewer Emails
Even if you're someone who has it together, you probably have hundreds of unread emails. Some people have more like 1,000. And you probably know at least one person who is going for the record. The problem is simple. You just get way, way too much correspondence. In fact, McKinsey, a global business and economic research institute, estimates that 28% of your work week is spent writing and answering emails.[2]
But just because email overload is part of American culture, it doesn't mean it has to be a part of your corporate culture. It's important to identify ways to minimize time spent on unnecessary email correspondence. For example, you can spend time answering multiple emails containing the same questions from different departments or team members about the new expense reporting protocol. Or you can type up the new standard in a memo, send it out once, and never have to deal with it again – or at least minimize the email backlog. Identifying these types of opportunities will help get everyone on the same page before they have a chance to clutter your inbox.
Internal Communication Helps Improve Turnover
Making sure your employees feel heard and understood is one of the most important methods of business communication. By soliciting feedback and implementing employees' suggestions when possible, you'll build up employee morale and help boost retention. In addition, employees also need to hear from you when they've done their job well. We often make sure to communicate problems and complications, but can sometimes forget to recognize great performance. Marcus highlights the importance of communicating with your team: "People will work for recognition and opportunity more than they'll work for anything else." So, when you do something like showcasing top-performers in a company newsletter, or simply pointing out what a great job they are doing, you're making your team feel seen. You're also giving them every reason to value their position with your company and want to stay.
You'll See More Satisfied Customers
You've already seen the famous statistic: if a customer has a negative experience, they tell between 9 and 15 people.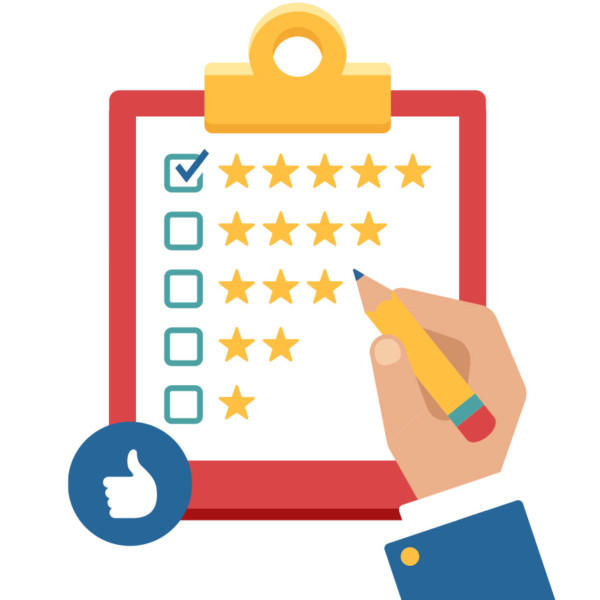 And in today's social media climate, those numbers can quickly grow. So, how do you minimize some of that carnage? – business communication. If an employee feels like they are properly informed and kept in the loop on a regular basis, they will be much more invested in your brand. An engaged, customer-facing employee will be better equipped and have higher morale; this informs their ability to help the consumer. As Marcus would tell you, "If the employee is happy, then the chances of the customer being happy are exponentially better."
You'll Maximize Knowledge Sharing
Many of us grew up with the old adage, "sharing is caring." And that still holds true in the business world. It's how people learn from each other and grow. One way to make sure you're facilitating that sort of exchange is through file management. You're probably using either Google Drive, Dropbox, or something similar. But too many companies let their filing system turn into a war zone of rough drafts, outdated info, and personal shorthand. Trying to find something turns into a needle in a haystack sort of thing. McKinsey explains that the average worker spends almost 20% of their time tracking down information.[4] So, think about turning part of your file sharing database into a well-maintained reference library by working to keep this area of your business communication organized and efficient.
You'll Improve Your Dynamic with Remote Workers
Remote working is quickly becoming the new standard and it's an incredible perk.
But in order to pull off that sort of freedom, remote working still needs to be high-functioning. A lot of companies strike that balance by using a communication tool like Slack. An active Slack channel can be a great, informal way to share information and invite remote workers to be a part of the company's culture. Because after all, they're part of the team. As Marcus famously put it, "The customer is not number one to me. They're number two, right behind the employees."
Employees Are More Likely to Become Brand Ambassadors
A Weber Shandwick study explained that only four in ten employees can confidently describe what their employer does and what their employer's goals are. However, 56% of respondents have defended their employer online or in their social circle.[5] So, the takeaway is that your employees are out there talking. All you can really do is make sure that what they're saying is both informed and positive. Business communication can help with both. Will your employees be spreading misinformation about your company? Or will they be singing your praises? In a way, that's up to you. Loop in your employees, make sure they feel like they're a part of something, and you'll help create a ton of positive "word of mouth."
You'll Encourage a Positive Company Culture
Google is a shining example of how communication affects corporate culture. Google built a climate of innovation by communicating that failure is part of the process. In fact, failure is built into their entire workflow. They have something called "premortem discussions" in which they map out all the ways a project or idea could potentially bite the dust.[6] They're open and honest in communicating that failure is an important part of progress. And in doing so, they've destigmatized failure and encouraged taking the risks that lead to innovation.
You know when you bite into a dry BLT and everything just starts falling apart? You need a little bit of mayo to hold it all in place. For your company, that's business communication. It's that unifying force that makes your company come together. So, get on board and be really intentional about prioritizing it. Communicate early, often, and in a targeted way. And if you have a little hesitation about building a healthy dialogue, or if a cultural shift seems a little daunting, lean on these words from Marcus: "You gotta pick a path and you gotta go."
MARCUS' CLOSING QUESTIONS
How well do you communicate with your team?
How will you improve your team communication going forward?
Bariso, J. (n.d.). Google has an official process in place for learning from failure – and it's absolutely brilliant. Retrieved from https://www.inc.com/justin-bariso/meet-postmortem-googles-brilliant-process-tool-for-learning-from-failure.html

Beheshti, N. (2019, January 16). 10 timely statistics about the connection between employee engagement and wellness. Retrieved from https://www.forbes.com/sites/nazbeheshti/2019/01/16/10-timely-statistics-about-the-connection-between-employee-engagement-and-wellness/#20e795dc22a0

Chui, M., Manyika, J., Bughin, J., Dobbs, R., Roxburgh, C., Sarrazin, H., Sands, G. & Westergren, M. (n.d.). The social economy: unlocking value and productivity through social technologies. Retrieved from https://www.mckinsey.com/industries/technology-media-and-telecommunications/our-insights/the-social-economy

Fowler, S. (2017, February 19). Reflecting on one very, very strange year at Uber. Retrieved from https://www.susanjfowler.com/blog/2017/2/19/reflecting-on-one-very-strange-year-at-uber

Li, L. (2020, August 3). 10 companies with strong employee retention strategies you can learn from. Retrieved from https://www.tinypulse.com/blog/employee-retention-examples

Weber Shandwick. (n.d.). Employees rising: seizing the opportunity in employee activism [PDF file]. Retrieved from https://www.webershandwick.com/uploads/news/files/employees-rising-seizing-the-opportunity-in-employee-activism.pdf