When your customers order a product or service, they have certain expectations. They want to be sure they receive the promised benefits. They want to receive it on time, and they want it to last as long as advertised. As a business owner, you want to be sure you deliver on promises in order to generate repeat sales and build customer loyalty. On the other hand, over promising and under delivering is a sure recipe for failure – especially when so many customers post reviews and ratings.
Through the years, many studies have pointed to the importance of delivering on brand promises. For example, a Deloitte analysis studying the direct link between delivering on brand promise and brand strength found that the top 100 global brands outperformed the S&P 500 by more than 30 percent over a 12-year period. That indicates how a commitment to deliver on promise can have powerful, long-lasting financial benefits for your business.
When making a brand promise, don't begin with your products or your pricing. After all, your product line might change, and your pricing might need to go up or down, depending on market conditions. If you want to deliver on promises, you should focus on what will touch their emotions and reach their hearts, as well as appeal to their heads.
What Should You Promise?
Successful companies think carefully about what they promise in order to build a powerful brand without making a commitment that's difficult to fulfill. Consider this brand promise from Geico's advertisements: "15 minutes could save you 15 percent or more on your car insurance." It's catchy and it appeals to consumers who don't want to spend a lot of time comparing quotes from different companies. Best of all, from the business point of view, it says prospective customers could save 15 percent – not that they will save that amount. And if Geico can deliver more than the 15 percent savings, a prospect will be delighted by the extra benefit.
Sometimes the company name or the name of the product conveys a brand promise. When purchasing a heavy-duty outdoor broom called the "Bulldozer," a consumer would expect it to sweep away piles of leaves, dirt and mulch on a sidewalk or patio.
When Marcus Lemonis worked with the owner of a Central Florida-based acoustic paneling company, he liked the promise inherent in the product's name, indicating it was designed to eliminate overtones and other intrusive sounds in recording studios and home theaters. Because the company and products were known to fulfill their brand promise, Marcus set up a successful pitch with Hard Rock International that resulted in a big jump in the company's sales. Of course, meeting the new customer's specific needs was also crucial for the company to deliver on promise.
Creating a Brand Promise
A brand promise should create a sense of uniqueness to your business, separating your products and services from the competition. It should make customers feel comfortable with your products and services, building long-term customer loyalty. In other words, it's a key element for building relationships with prospects and customers.
Even a small start-up business can be successful in creating a brand promise. For example, Marcus met with the owner of a one-person Chicago lighting business offering pendant lights, sconces, and chandeliers with a "design-it-yourself" promise. She started with an online shop on Etsy, received great reviews, and asked Marcus to help her expand her business. "He gave me the extra kick I needed," said the owner. "We ended up expanding our space, hiring a lot more employees, and re-doing our website. We've grown a lot."
Here are six steps for creating a new brand promise or evaluating your current offering.
1. Focus on Your Audience
Step outside your own operation and think about your audience. What type of brand promise will appeal to prospects and customers? What are their dreams and hopes? What challenges do they face? Whether you run a B2B or a B2C business, you want to develop an appealing brand promise that separates your company from others in your marketplace. One suggestion is to hold a brainstorming session with your business partners, leadership team and employees to gain diverse perspectives on an effective brand promise.
2. Analyze the Competition
What are other companies offering? Are they able to deliver on promise? Is there a noticeable gap between their brand promises and reality? Again, you want to differentiate yourself from the competition – not offer a "me too" brand promise.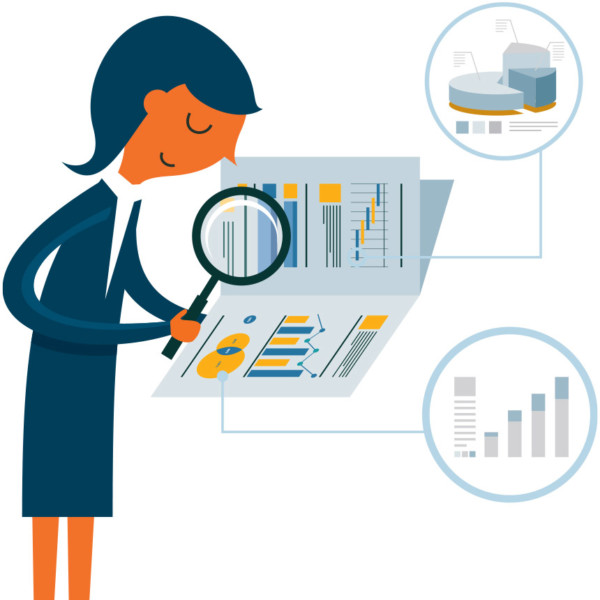 3. Test Your Brand Promise
You could conduct an informal survey, organize a focus group or get feedback from your business partners, managers and employees. If it resonates with your market, their faces might light up. If not, you probably should go back to the drawing board. At the same time, you should be careful not to go overboard. After all, you will need to deliver on your promise regardless of how you position your business in the market.
4. Train Your Team
Be sure to train your team before launching a new advertising or marketing program based on your brand promise. Explain the "why" of your branding and be sure they understand their roles and responsibilities in helping to deliver on promise. In some situations, they can even become ambassadors for your business, conveying your brand promise throughout your market and helping you deliver on promise.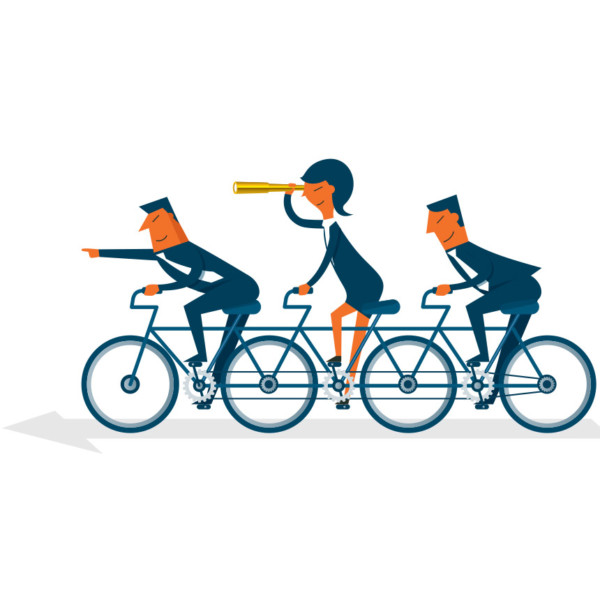 5. Identify Potential Problems
While developing a brand promise, you should also identify potential problems that might occur along the way. Can you prevent them from happening or find a solution that could increase customer engagement and build loyalty? The last thing you want to do is make a brand promise that results in a negative experience.
6. Monitor Your Brand Promise
As you grow your business, pay attention to how well the market is responding to your brand promise. If you are flooded with orders, then your biggest concern might be fulfillment. But if no one seems to be paying attention, then you might need to tweak your brand promise to make it more effective. Consider monitoring as a form of risk management, keeping an eye on how well your brand is performing and how your customers – and the competition – are responding to your brand promise.

Why You Shouldn't Over Promise
Now, let's look at the other side of the coin – the dangers of over promising.
Here's a tip for small businesses:
"If you can deliver on promise, chances are you'll have a good outcome. But if you can't, you will immediately lose credibility and the trust of your customers."
If you can deliver on promise, chances are you'll have a good outcome. But if you can't, you will immediately lose credibility and the trust of your customers. For example, if you place a takeout order at a McDonald's, Wendy's or KFC, you don't expect to wait in your car for 30 minutes while your food is prepared. The brand promise from those franchises involves tasty food, served quickly at a reasonable price.
Consumers today want to be sure the products and services they buy are safe and effective. A pharmaceutical company, for instance, conducts years of scientific testing before releasing a new medication to the public. A software company checks a new application repeatedly to avoid "bugs" or security problems that could ruin its brand promise.
A Gallup study found that only 46 percent of B2B business customers strongly believe that their suppliers always deliver on promise. Hopefully, you are not in the habit of over promising and can set realistic expectations and deliver on brand.
Regardless of your market sector, negative experiences with a brand promise have a way of multiplying through word-of-mouth conversations, online posts and ratings. As a result, your business can rapidly lose credibility and develop a reputation for not being able to deliver on promise. That can put your business into a tailspin, with lower sales, unhappy customers and a downturn in financial performance.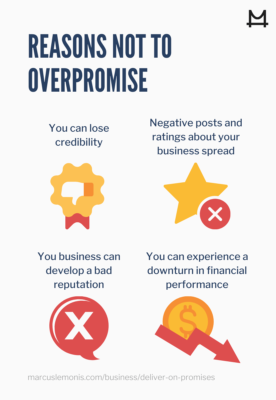 Taking Corrective Action
No business is perfect. Mistakes happen and sometimes you simply won't be able to deliver on promise. That Gallup study found less than five percent of B2B customers who had a problem were "very satisfied" with the way it was handled.
But that low percentage rate also points to an opportunity to differentiate your business from the competition by taking a more effective approach to resolving customer problems. For instance, you should be as transparent as possible in explaining what went wrong. If you can engage your customers in a positive manner, you can even strengthen those relationships – especially if you can deliver on promise in the future.
Remember that your customers are not interested in excuses – only results. So, be sure to set realistic expectations for correcting the problem, including an appropriate time frame. You might also want to offer a "sweetener" of some sort, such as a 20 percent discount on the next online order or express shipping at no extra charge.
Maintain Your Reputation
An effective brand promise will help you attract new customers, paving the way to increased sales, revenue and profitability. Focusing on a truthful and attainable brand promise and keeping that promise leads to a positive reputation in the market that can help your business achieve long-term success. As Marcus says, "People respect you more if they get the truth as opposed to a bunch of fluff." So, be sure you understand how to deliver on promise, and that you do so with every new order.
MARCUS' CLOSING QUESTIONS
How often are you not able to deliver on a promise?
Which strategies from above will you implement so that you can create/maintain your brand promise?
Deloitte.com.(n.d.). Delivering on your brand promise. Retrieved from https://www2.deloitte.com/us/en/pages/risk/articles/delivering-on-your-brand-promise.html

Grafstein, D. & Nelson, B. (2018, October 17). 3 strategies to deliver on brand promises every time. Retrieved from https://www.gallup.com/analytics/243779/strategies-deliver-brand-promises-every-time.aspx

HomeDepot.com.(n.d.). Bulldozer 18 in. indoor/outdoor push broom. Retrieved from https://www.homedepot.com/p/Quickie-Bulldozer-18-in-Indoor-Outdoor-Push-Broom-5281ZQK/100133494