As a business owner, you may feel like you need to spend every hour of the day thinking about work. But that quickly leads to an unbalanced life, where money can become more important than your personal relationship or your connection with the community. That's why it is very important to step back, reconnect with your core personal values and incorporate volunteer work into your busy schedule. There are many great nonprofits that can benefit from your ideas, information and inspiration, as Marcus Lemonis says.
Why is it so important to volunteer? Most local, national and international charitable organizations rely on philanthropic dollars and the volunteer work of individuals, families and teams who believe in their cause. While making a donation to a worthy charity is a great way to show your support, making a commitment to do volunteer work can be even more important. After all, your knowledge and experience can go a long way toward helping a nonprofit achieve its goals.
Volunteer work also allows you to give back to your community and express your personal values in the spirit of faith, hope and charity. In other words, volunteer work is a win-win relationship, helping you as well as your chosen cause.
Flexible Volunteering
First, let's talk about the concept of flexible volunteering. Unlike the nonstop demands of running a business, flexible volunteering is all about giving back to your community on your own terms and in your own time frame. In other words, if you have an unexpected two-hour block of open time on a Wednesday afternoon, you could spend the time doing volunteer work. That might mean coaching or mentoring a teen or college student, advising an executive at a small nonprofit or driving to a nearby food bank or homeless shelter and pitching in with a task.
Sometimes called micro-volunteering, this concept of flexible volunteering has grown in importance in recent years for two reasons. First, many charities realize it's difficult to ask business executives and entrepreneurs to spend an entire day or two assisting their organizations on a regular basis. They may still hold special events such as a fundraising walk, run or gala and invite volunteers to spend a day or weekend helping them achieve their goals. But for the rest of the year, flexible volunteering is the key to engaging leaders from the business world.
A second reason is the growth of virtual collaboration and communication tools, such as videoconferencing. This trend was already underway before the COVID-19 pandemic forced nonprofits and businesses to shift gears and adopt a work-from-home model. Now, video conferencing, webinars and team collaboration tools have been incorporated into the daily lives of most organizations.
For busy executives, though, the shift to virtual collaboration has removed one of the barriers to volunteer work. Instead of spending an hour driving back and forth to a nonprofit's facility, you can log in and connect online, saving you time and reducing the stress of racing back and forth.
It also supports flexible volunteering by allowing you to commit smaller chunks of your time to a worthy charity.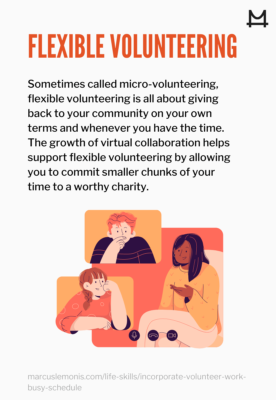 Benefits of Volunteering
Doing volunteer work can make a big difference in your personal and professional life. It can help you develop new skills, as well as a deeper understanding and appreciation for people of all ages and backgrounds. Here are a few of the many benefits of volunteer work.
1. Skill-Building
If you run a small business with just a handful of employees, you could build your leadership skills by joining the board of a nonprofit organization. Or you could work on developing your team-building abilities by pulling together a diverse group of volunteers on behalf of a common cause.
2. In-Depth Learning
If you are deeply interested in a field like medical research, educating underprivileged children or addressing homelessness, volunteer work is a great way to learn firsthand about these challenging issues.
3. Personal Satisfaction
You probably spend most of your time focusing on "must-do" tasks that are important to keeping your business going. Doing volunteer work is an excellent way to express your personal values outside of the for-profit setting. It can add a very satisfying component to your life, and help to counter-balance the nonstop demands of the workplace.
4. Friendships
Becoming a volunteer allows you to meet people from all walks of life. It's a great way to expand your circle of friends, and develop professional connections with like-minded individuals who share your personal values.
5. Giving Back
Of course, the most obvious and arguably most important benefit of volunteering is the opportunity to give back to a worthy cause or help a person in need. If you are fortunate enough to be in the position to help, you'll likely find nothing more rewarding than doing something good for others. It's a win-win all around!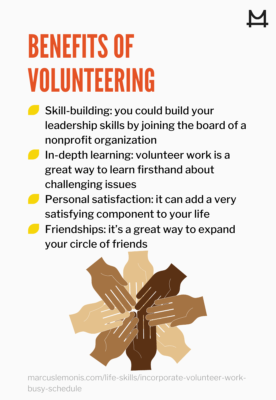 How to Incorporate Volunteer Work into Your Schedule
To capitalize on the many benefits of volunteer work, you need to incorporate this service to others into your busy daily schedule. Here are several suggestions.
1. Block Out Time
Set aside an hour or two every week for your volunteer service. This strategy is particularly appropriate if you are serving as a coach, mentor or advisor to others. For instance, you might spend an hour after school providing guidance and support to a middle or high school student at high risk of dropping out. By meeting in person or virtually at the same day and time, you can build a meaningful personal connection with the potential to change a child's life for the better.
2. Seek Flexible Volunteering Opportunities
Many types of volunteer work can be done on a flexible basis. For instance, you could send out emails in support of your cause, make a few phone calls to potential donors, prepare a social media post, write a blog or record a video or podcast. These types of activities support flexible volunteering because they allow you to pitch in and help when you have time without worrying about the consequences if you have to deal with an unexpected issue at your business.
3. Spend Time on Weekends
If you enjoy spending time with family and friends on weekends, why not add a volunteer activity to the mix? By helping out at a 5K walkathon or similar fundraising event, for example, you can all do volunteer work together. If you have children, this is a great way to get them involved with a charity at an early age and reinforce the value of giving back to your community.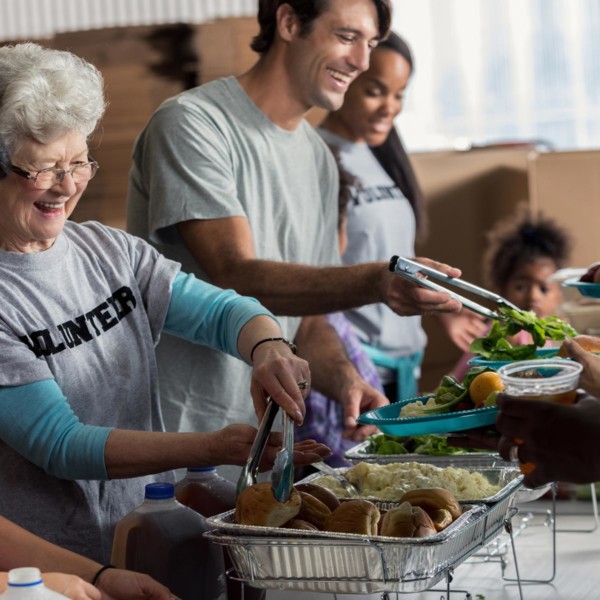 4. Become a Walk-In Volunteer
Some nonprofits offer "walk-in" opportunities to encourage volunteer work. For example, there is usually a need for extra volunteers during the holidays to serve meals to the homeless or collect and deliver gifts for needy families. If you are interested in the walk-in concept, you should contact the charity well in advance of your volunteer service. The organization will probably want to check your background and gauge your interest before issuing you a card or badge that identifies you as a volunteer.
5. Do Volunteer Work Remotely
For many types of volunteer work, this is an excellent approach for busy entrepreneurs. If you wanted to provide business advice or serve on a nonprofit's board of directors, for example, you could connect on a video call. It's far more efficient than carving out time for a face-to-face meeting.

How to Start Volunteering
If you are ready to become a volunteer, you may be wondering how to get started. Here are three suggestions to get involved.
1. Pick a Cause or an Organization
This could be a local nonprofit or a chapter of a national or international organization. Take a look at the website and see if its goals resonate with your own personal values and ideals.
2. Contact the Organization
Talk with a representative of the nonprofit you choose to support and ask about volunteer work. See what opportunities might be available for a busy entrepreneur and try to determine if this would be a good match. Remember that your time and financial resources are limited, so if you don't get "good vibes" from a charity, then you may want to move on and volunteer for another organization.
3. Sign Up For News
Once you have made a choice, be sure to pay attention to the organization's activities. Read the emails and newsletters, and look for social media posts. This can help you determine when the nonprofit needs the most help and allow you to set aside time accordingly.
4. Let Others Know
If you feel a sense of commitment to a cause, let others in your sphere of influence know about your volunteer work. You may find that your partners, employees and business associates may want to join as well, multiplying your positive impact on the charity.
Align Volunteer Work with Your Life Goals
Success in business is a challenging, but worthy goal for any entrepreneur. But there are other values in life, such as raising a family, expressing your faith or making a difference in your community. Aligning your volunteer work with your personal goals, can provide you with a deep sense of purpose in your life.
MARCUS' CLOSING QUESTIONS
How do you currently volunteer?
Which options from the above fit your schedule best?