How many times a week do you get a request to make a donation via email, phone call or a pitch from a friend? If you are a business owner, you may be high on the list of potential philanthropists – especially as your company grows and plays a bigger role in your community. But rather than say "yes" to every request, you need to focus your giving on a charity that shares your personal values and goals. Perhaps even more important you need to know how to vet charities to be sure you're not throwing away your hard-earned dollars. After all, Marcus Lemonis' words of advice about business apply to charities as well: "High performance, high reward. Low performance, there's the door."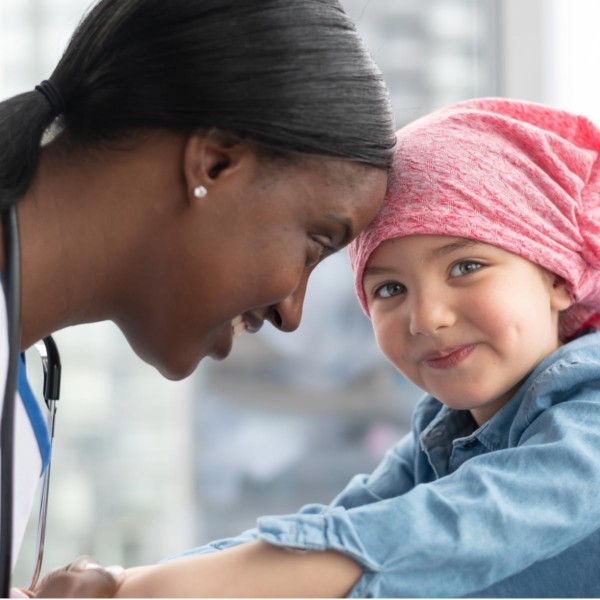 Let's say you get a call from a charity asking for a contribution to help cure a serious children's disease. Your heart starts to melt when you hear the sad stories of those whose lives have been affected by this condition. But your head says, "Let me check things out first." A little research and you find that only a small fraction of donor funds go toward research, while the rest are spent on administrative expenses.
On the other hand, there's another charity also supporting research into the same disease, and more than 90 percent of donations are used for the charity's mission. Guess which charity is a better choice for your philanthropic dollars?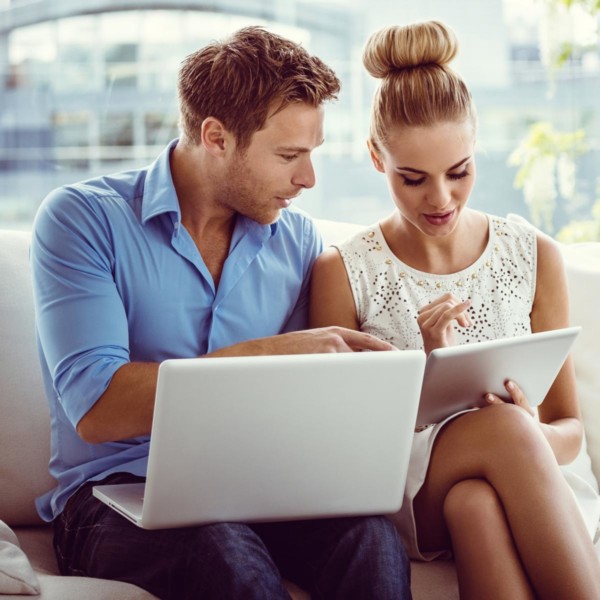 A compassionate spirit and a willingness to give to others are among the core values for many business owners. They know that leading a meaningful life involves much more than financial success. But just as you have to sift through many resumes to find the right employee for your business, you need to do your homework and understand how to vet charities. Here is an effective, step-by-step strategy for you to consider.
1. Understand the Mission
All charities have a reason for their existence. You need to understand a nonprofit's purpose to see whether it resonates with your personal and business goals. If you own a nursing staffing agency, for instance, you might want to invest your philanthropic dollars and energy in a nonprofit seeking to improve healthcare in disadvantaged neighborhoods in your city. If you run a financial services firm, you might look for a charity that supports financial literacy programs. You might also be interested in a faith-based nonprofit that serves your community.
To understand that purpose, go to the charity's website and take a look at the mission statement. In some cases, the wording will be clear and to the point. But sometimes the statement might be vague or encompass a wide range of goals. A good mission statement – or the "About Us" section of the website will also tell you what actions the charity is taking to advance its purpose and its accomplishments to date. This can help you determine if the charity is making an impact or not.
2. Look at Financial Efficiency
The next step in how to vet a charity involves looking at its financial efficiency. This is basically how much of the charity's funds are used for administrative purposes – the lower the better, in most cases.
You should be able to find some or all of that information on the charity's site.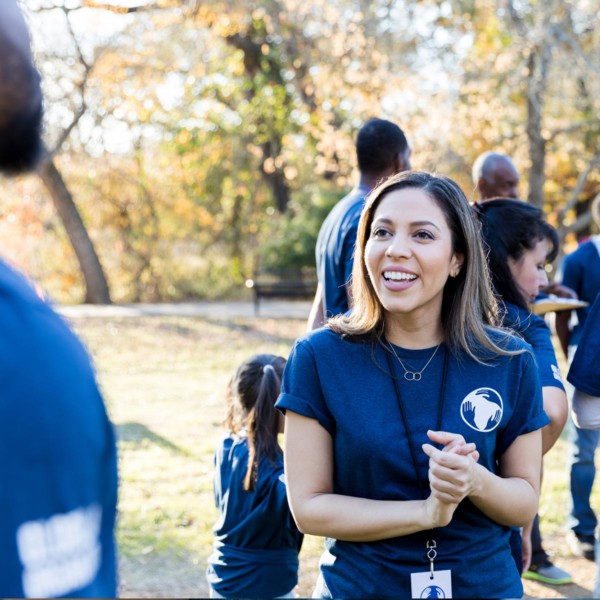 But for a more complete analysis you should go to independent organizations like Charity Navigator or Charity Watch that evaluate many different nonprofits. Their goal is to help you make good philanthropic decisions by providing ratings and tools like comparing the financial efficiency of similar organizations. For instance, Charity Navigator uses a seven-point system that includes program expenses, fundraising expenses, administrative expenses, overall fundraising efficiency, program expenses growth, working capital ratio and liabilities to assets ratio.
3. Review the Charity's Tax Status
Many business owners believe all charities offer similar tax benefits. But that is not the case, as there are actually many different classifications under the Internal Revenue Code.
For instance, a charity organized as a 501c(3) nonprofit – one of the most common classifications – must focus its efforts on certain purposes, including charitable, educational, religious, scientific, amateur sports, and/or preventing cruelty to children or animals. If you donate to a 501c(3) nonprofit, your contributions will be considered tax deductible.
On the other hand, a nonprofit created for a social welfare purpose could be structured as a 501c(4) charity. These nonprofits may include homeowner associations or civic organizations. They can also benefit from your contributions, but do not offer a tax deduction with a few limited exceptions.
In all cases, you will want to consult with your accountant or tax advisor to understand the tax benefits and implications for your individual situation.
4. Evaluate Transparency
In considering how to vet charities, another step is to evaluate the nonprofit's transparency. That includes how frequently and completely it makes reports to donors and other stakeholders in the organization. Go to the nonprofit's website and look for its annual report and any quarterly updates. See if the organization's finances are audited by an independent accountant, and review the nonprofit's governance policy. Check for things like a conflict of interest policy or the minutes of board meetings. This may sound boring, but drilling into the details can uncover some unexpected surprises.
Third-party sites like Charity Navigator or Charity Watch can also help you evaluate a nonprofit's transparency. For instance, a nonprofit might report that 60 percent of its expenses were for programming to advance the charity's mission, while another nonprofit might dedicate 98 percent of expenses to programming. Clearly, the second charity would be more likely to put your dollars to good use.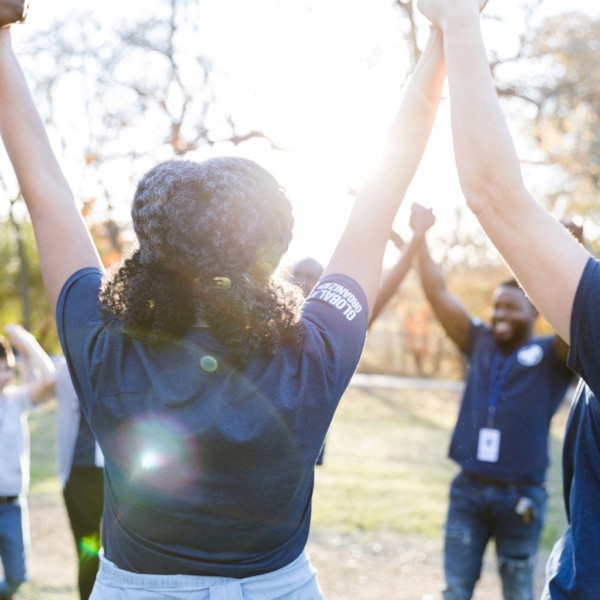 5. Analyze the Impact
A powerful mission statement and financial efficiency are important steps in how to vet charities. But you should also take a close look at the nonprofit's impact to see if its actions match its words. First, go to the charity's website and review the accomplishments listed in the annual report. Then, look for stories about individuals, families and communities who have been helped by the charity's work. But dig a little deeper as well.
For instance, take a close look at the charity's relationships with private and public organizations. Does the charity receive major grants from a well-known foundation?
Have Fortune 500 companies provided financial or volunteer support, linking their brands with the charity? If the answer is "yes" to either question, you can feel more confident that you will be in good company if you also make a donation.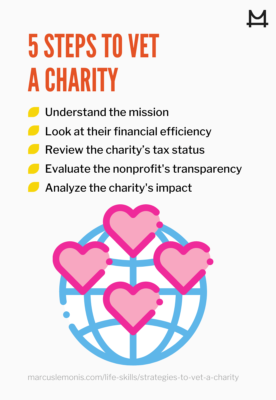 Another way to analyze the impact is to read the experiences of donors and volunteers. For instance, Great Nonprofits includes reviews of more than 1.5 million charities and testimonials from donors, recipients and other stakeholders in those nonprofits.
Tips on How To Start Donating
Now that you have a good strategy in place for how to vet charities, it's time to take the next step – making a donation. But before you dash off to send in a gift, take a moment to consider these tips.
Start Small
Many donors prefer to send a small one-time gift to see how the charity responds to the donation. Along with receiving a thank-you note, you may be able to tell how your gift was used or see the impact of a larger contribution. In some ways, it's like making the first sale to a new business customer.
Do you feel that your relationship with this charity could grow into something more meaningful in the future or not?
Make Monthly Gifts
As a busy entrepreneur, you may want to schedule an automatic series of monthly donations to the charity. If you have done your homework and feel you have made a wise choice, this approach allows you to turn your attention to other matters, rather than think about your gifts.
Consider Non-Cash Gifts
Most charities welcome non-cash donations, including stocks, bonds, real estate and even cars, trucks or recreational vehicles that they can sell for cash. Depending on your situation, there may be tax advantages or other financial benefits from donating these types of assets to a charity of your choice. But you should talk to your accountant or other tax advisor before making these types of gifts.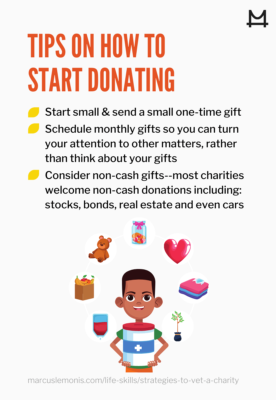 Do Your Due Diligence!
If you have ever looked for a business partner, investor or major customer, you understand the importance of due diligence. You need to be sure the person or company that has a reputation for honesty, integrity and delivering on promises. The same process applies in how to vet charities. After all, you want to donate your hard-earned dollars to a worthy nonprofit and make a lasting impact on a cause that matters to you.
MARCUS' CLOSING QUESTIONS
How do you currently decide where to donate?
Which strategies from the above can you leverage for finding your perfect charity match?