Children are the foundation of the world's future. Simply put, their dreams and aspirations help shape future generations for years to come. It's an important parental responsibility to nurture children's unique qualities and help them reach their full potential. Encouraging kids to dream big helps them discover their own individual interests, talents, and abilities. Inspiring kids all starts at home and most importantly, at a young age. This helps motivate kids while filling them with a sense of self-pride. By encouraging kids to dream big and set high goals, you're giving them a head start on their development and success in life. Here are a few tips to help encourage kids to dream big!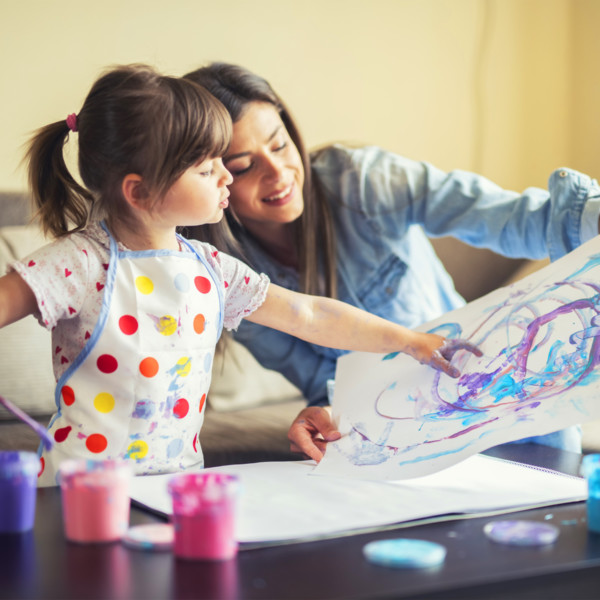 Be a Dream Role Model
The most prominent role models in most children's lives are their own parents. We've all heard the phrase "kids are like sponges" – and it's true! They soak up every bit of information they see and hear. That's why the first tip for inspiring kids starts at home.
It's up to you to set the standard and be a dream role model. Share your knowledge with your children and tell them about your past goals. Use your own personal goals as models to explain the concept of dreams and aspirations when inspiring kids.
Encourage kids by detailing how it made you feel when you achieved your goals. Remember to live your own life with a sense of curiosity and adventure, as this helps motivate children to do the same.

Encourage Their Bucket List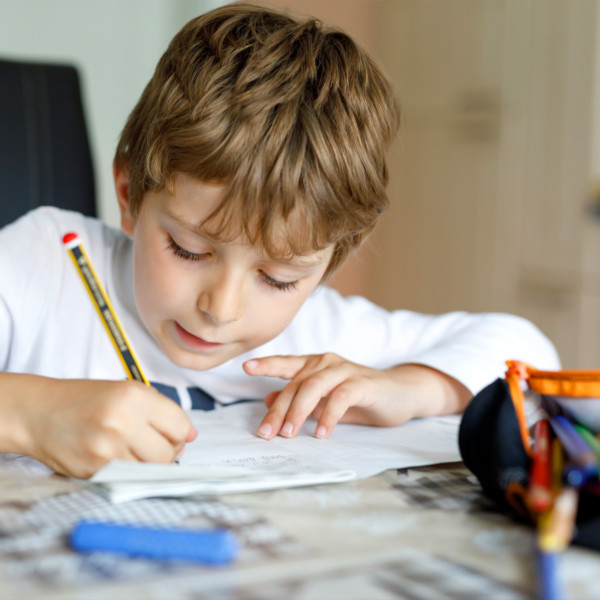 Another great way to inspire kids is by teaching them the concept of a bucket list. This is a fantastic tool for encouraging kids to dream big. By emboldening kids to make their own bucket list, you'll give them the opportunity to experience incredible moments and memories. In fact, some families make family bucket lists together. This is another great way to inspire kids to dream big while spending quality time together. For example, maybe your child has an affinity for nature and wants to camp at every national park in the country before college. Turn this into a fun family bucket list goal and visit a different national park every summer together. This is just one way of creating memorable family bucket list moments.
Take Advantage of Free Time
With today's changing world, we find ourselves spending more time at home. In return, our kids have a ton of extra free time on their hands. Take advantage of this time and tap into their sense of curiosity by exploring new interests they may be wondering about. Keep an open mind about what your kids gravitate towards as it may lead to genuine passions. For example, your child may have an interest in art. During their free time, they may naturally lean into this and start developing skills such as illustration and coloring. A healthy amount of free time helps balance a hectic schedule and encourages kids to further discover their imaginations while dreaming big.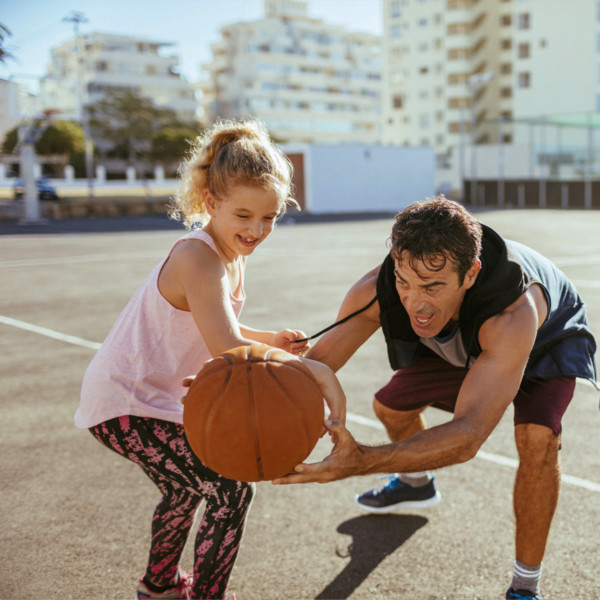 Introduce Them To Big Dreamers
Whether it's a personal mentor, a close friend in your life, or even one of the numerous historical figures you've admired throughout time, such as Martin Luther King Jr. or Walt Disney, introducing other big dreamers around the world helps encourage kids to do the same. These iconic dreamers have paved the way and shown the world that anything is possible. Use their stories to encourage kids and show them that their dreams are never too far from reach. It's always best to try and find dreamers that can connect best with your child's interests.
For example, if your child has a love for sports then teach them about Michael Jordan, Muhammed Ali, Jackie Robinson, and the countless others who defied the odds to reach the mountain top in their professional leagues.
Help Them Build Meaningful Relationships
School is a vital part of a child's life for a number of reasons. Not only does it give them a sense of routine, which is critical for any child, but it's also a place where they can learn to build meaningful relationships with their peers and other adults outside of their families. It's important for kids to have strong bonds with other children their own age as it gives them someone they can relate to. Having another child to play with will not only broaden their imaginations, but also help instill important life lessons along the way.
Teachers also play a pivotal role in encouraging kids and inspiring them to dream big. Teachers are often highly influential in a child's life as they are consistently finding ways to motivate their students to learn more.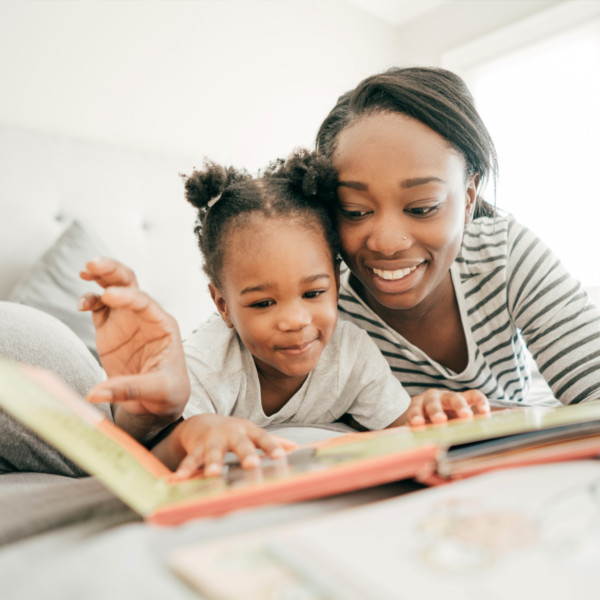 Read To Your Child Regularly
One of the most important ways parents can encourage their kids is by spending time reading with them. Studies have shown that when parents regularly read to their children it results in increased focus and success in the classroom. Oftentimes young children have a limited ability to stay in one place or remain on a single task. Reading together is a great way to improve their concentration and further develop their focus on future education.
Not only will you be giving your child an extra advantage academically, but it is also an excellent way to forge a stronger bond with your child. Find a book you enjoyed as a child and share that same passion with your own kids. Reading aloud together helps encourage your children to dream of new people, places, and times of history they had never even thought of before. Regularly reading together is incredibly beneficial and is a fantastic method for encouraging kids to dream big.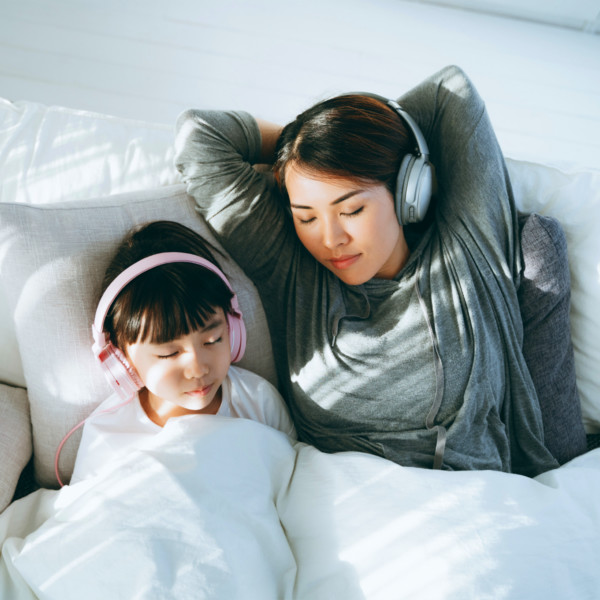 Explore A Podcast Series Together
Podcasts are quickly becoming another fantastic resource for encouraging and inspiring children to dream big. There are thousands of great children's podcasts that explore a variety of interesting topics, each promoting important fundamental skills along the way. A helpful exercise is skimming the podcast list with your child to see what topics they gravitate towards or checking out some of these recommendations from child advocacy groups.
"Smash, Boom, Best" is a family-friendly podcast that teaches kids the fundamentals of debating, while "Brains On!" is great for curious kids who always want to know how things work and where things come from.
Whatever your child is interested in, find something that will push their minds and their imaginations. This also gives you another shared activity to discuss at the dinner table. With so many incredible podcasts available, you can jump around a variety of topics and lessons that will further encourage your child to explore new avenues of learning.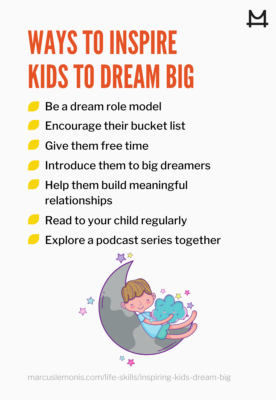 Remember To Live In The Moment
No matter how much time we spend with our kids, that feeling of watching them grow too fast is inevitable. So, it's important to live in the moment and truly invest in the early stages of their development. Enjoy this time as a parent while you have it. Consider the importance of their childhood dreams and encourage kids to reach for the stars. Fostering an environment in which their biggest dreams are nurtured and valued will help children to embrace their free spirits. Most importantly, it will also help kids carry that free spirit and youthful passion into the rest of their lives. Encouraging and inspiring kids to dream big won't only expand their world, it will also make our world an even better place.
MARCUS' CLOSING QUESTIONS
How are you a role model for your child?
How do you and your children take advantage of free time?