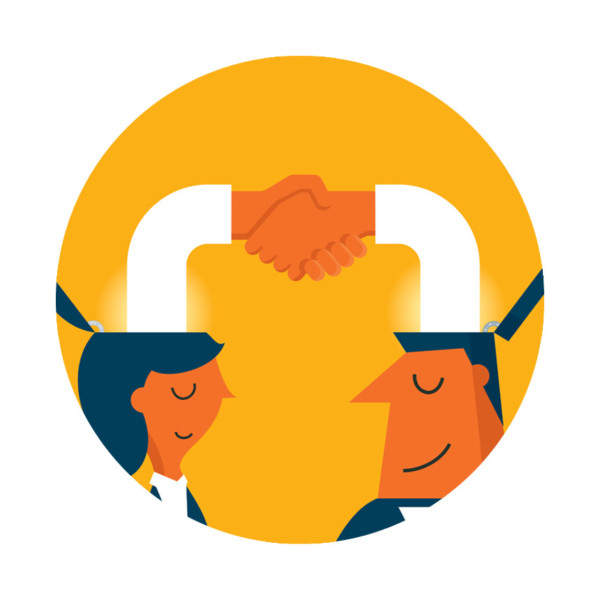 You hear Marcus say it all the time. "Businesses are based on relationships and relationships are based on people." As an entrepreneur, the bond you have with your customers is what helps your company survive and thrive. A Customer Relationship Management Tool, or CRM, can help you organize your customer interactions and centralize all your data so you can stay on top of those valuable relationships.
This article will explain what a CRM is, why it matters, how it can help your business, and how to choose the right one.
What are CRMs and Where Did They Come From?
Simply put, a Customer Relationship Management Tool is a computer program that manages all of your company's customer interactions, or potential ones, and organizes them for you. You can use your CRM tools to stay connected to customers, cut back on scattershot advertising, streamline your sales process, and boost your profitability. These tools also save and organize your contacts, sales figures, employee sales data, and much more. What does this mean for small business owners? It represents an easier connection to customers, better leads, personalized advertising, and superior customer support–all things that build loyalty and respect from your clients. As Marcus says, "People for me is the only reason that businesses fail or they survive." CRMs help you treat your customers better.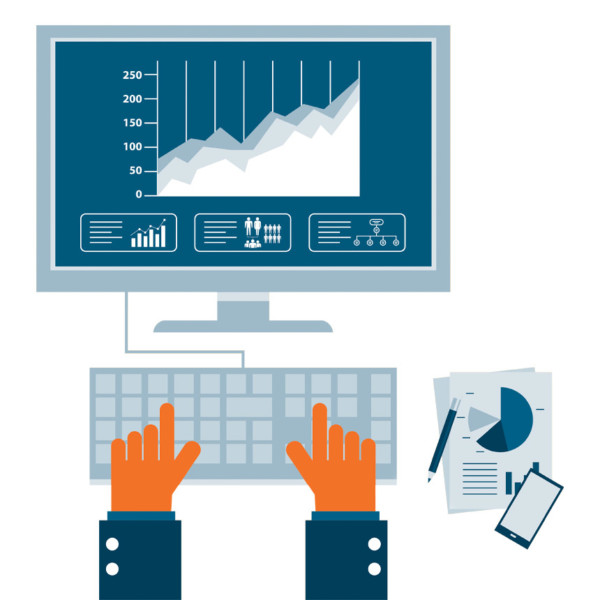 The earliest Customer Relationship Management Tool was probably a digital Rolodex coded in the 1980s. From there, programmers began adding database-marketing features, allowing businesses to collect data on customer purchases and marketing. In the 1990s, an entire industry sprang up around these tools. CRM became a much more technical and advanced way for companies to build and maintain relationships with consumers. A dip in the early 2000s caused by the dot-com bubble and a lack of business trust in digital tools in general set the industry back. However, it came roaring back, powered by cloud-based technology, mobile integration, and low purchase cost.
5 Reasons Why Customer Relationship Management Is Crucial
1. CRM advances customer service. Businesses big and small have found that adding a Customer Relationship Management Tool improves customer service. Take the email marketing company Mailchimp as an example. With only 100 customer service agents and over 16 million customers, Mailchimp needs to stay on top of customer service to keep their business prosperous. It uses Zendesk CRM to offer 24/5 chat support, 24/7 email support, and self-help options to all of its customers, even those outside of the United States. In 2017, the company used Zendesk to take care of almost 35,000 help tickets every month. (Zendesk, 2020).
2. It keeps customers satisfied. Having good customer service and having satisfied customers are two different things, but the former certainly helps the latter. Mailchimp, the company mentioned above, saw a 200% increase in CSAT (customer satisfaction) survey responses after beginning to use a Customer Relationship Management Tool. (Zendesk, 2020).
3. It helps build retention. Lifelong customers are the best asset a company could have. With a CRM program, your customers' information is analyzed by up-to-date tools that can give you hyper-specific metrics. You can use those metrics to send personalized messages, targeted ads, and custom email blasts. Most of the time, it displays that info on an easy-to-read dashboard. When a customer feels like they're engaged personally, they are much more likely to become repeat customers. In fact, some surveys cite that engaged customers are loyal to specific brands at a rate five times higher than unengaged people. (Alida, 2016).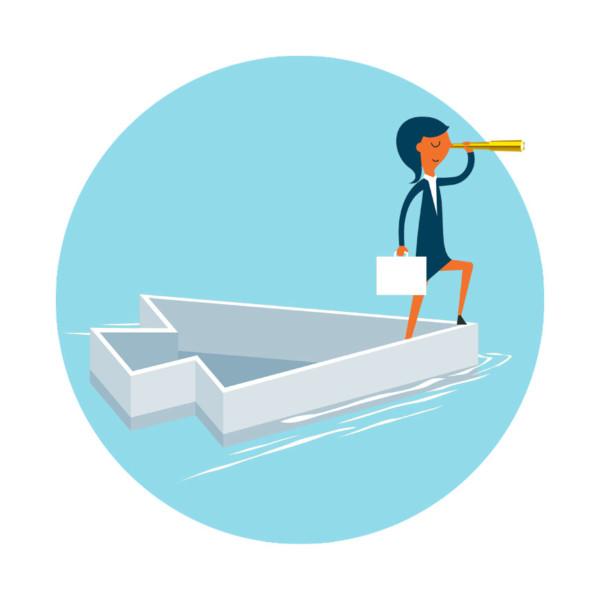 4. CRM rallies sales and spawns new business. Engaged customers are the most valuable. They buy more often, and they spend almost 60 percent more every time they shop. (Alida, 2016). Plus, when you know your market and how to advertise to them, a social media blast aimed at similar potential customers can put your products in front of new eyes.
5. It makes marketing a lot easier. The days of wading through pages of data or making semi-informed decisions about whom to market your business to are finished. Any Customer Relationship Management Tool worth its salt will gather that data and turn it into actionable information.
This will allow you to market your business with pinpoint accuracy, even to people you've never sold to before. Your business can achieve this focused targeting by sorting your customer base by their behaviors and preferences in addition to gender, age, geographical location and other commonly used demographics. Good software also allows you to personalize your ads with customer names and different verbiage depending on location or age. Say goodbye to "dear customer" and say hello to "Hey John" or "Bonjour Pierre!"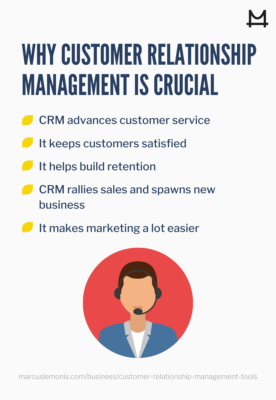 You Could Do This On Your Own, But Why Would You Want To?
The Top 5 Benefits Of Buying a CRM Tool
1. Accurate analysis. Instead of hiring a marketing team to pore over data, a Customer Relationship Management Tool can be 100% in Charge of energizing promotions, pitching products to unfamiliar audiences that are likely to purchase, and marketing in the most effective way possible. CRM tools can give a custom-report at any time. Depending on your search factors, you can gain clear insight into where your company can improve.
2. Customer data is always available. When all of your information is organized and cataloged in a central location, employees and managers can access it without waiting or jumping through hoops. That depends, of course, on who is allowed to access it. Cloud-based data only requires an internet connection, so a cell phone or a laptop is all that's needed to run a report or check on an ad campaign's viability.
3. Track your employee performance. A good CRM tool can identify which employees might need help performing better, and it can do it any time you want with the click of a button. Knowing where to assign leads or jobs can sometimes rest on a manager's gut-feeling. A Customer Relationship Management Tool can show which employees are available to help customers at any given time. It also monitors schedules and sales data to figure out who is performing well and who has the highest reviews. As an example, Wells Fargo has $1.9 trillion in assets, nearly 70 million customers, and has 266,000 employees.
To efficiently monitor their massive staff, they rely on Salesforce, a CRM platform, to track their banking, mortgage, credit card, investing, and employee management. After signing on with Salesforce, Wells Fargo's developer productivity went up 20%, and the company has saved more than 5,600,000 hours of extra work. (Salesforce, n.d.).
4. Modernized invoicing. Financial management tools included in most CRMs can quote prices, prep orders, invoice specific customers, and generate sales data, all from the same platform that your company uses to complete orders. Your expenses are under the same umbrella, too, so your sales can move efficiently, and you'll never be left wondering when a check is arriving or departing.
5. Automated social media presence. A modern Customer Relationship Management Tool should have options to control all of your social media profiles. Whether it's Facebook, Twitter, LinkedIn, or YouTube, a CRM tool can automatically post on your behalf, respond to customer questions, and keep your online presence known, freeing up your time for other things.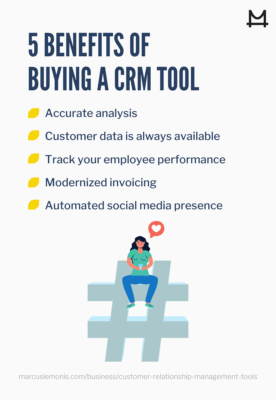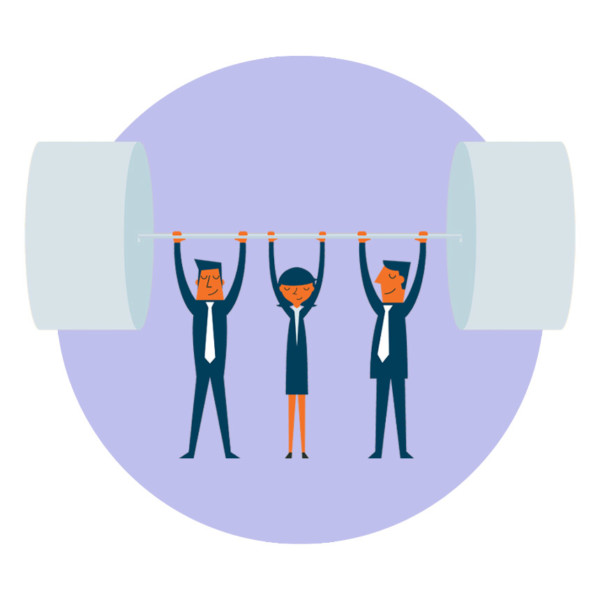 The 3 Main Kinds of CRM Tools
1. Collaborative. This Customer Relationship Management Tool focuses on improving communication. The end goal is to provide a better customer experience. It accomplishes that by sharing and tracking customer data and making it widely available to you and your team. From social media to purchase history or email inquiries, a collaborative CRM tool can organize your customer data and make it visible to all of your departments. When everybody is on the same page, it makes doing business a lot easier.
2. Operational. One of the most popular CRM forms, this tool handles everyday marketing, sales numbers, and your customer service division. It can automate marketing, build leads for you, keep your sales pipeline running smoothly, and automate customer service emails or texts.
3. Analytical. If your company needs to harvest and analyze vast amounts of data, this tool is for you. It focuses on turning prospective clients into purchasers, upselling, retaining your current customers, and tracking interaction data. It does this by analyzing customer behavior and patterns, then offering you a tailor-made marketing or sales plan.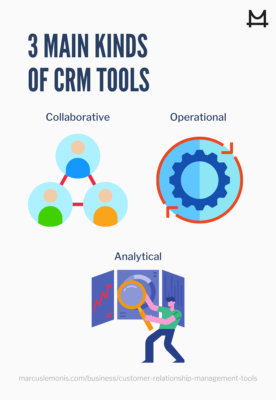 Three Little Letters With a Big Impact
There's a reason why businesses spent 48.2 billion dollars on CRM software in 2018, making it the most significant and fastest-growing enterprise software in the world. (Moore, 2019). Understanding and managing your customer data makes companies more efficient and helps them understand their customers better. At the end of the day, it's easy to see why information is so important in our modern, digital world–customers leave bread crumbs of data everywhere. It's up to business owners to figure out how to use those clues to maximize sales and retain their clients. It's like Marcus says, "If you don't know your numbers, you don't know your business." Luckily, CRM tools can make sense of those numbers for you so you can focus your energy on growing your business.
MARCUS' CLOSING QUESTIONS
Do you currently use CRMs in your business?
What areas of your business do you think a CRM can benefit you most?
Alida. (2016, Nov. 22). 13 CUSTOMER LOYALTY STATS + WHY LOYALTY PROGRAMS FAIL.
https://www.alida.com/the-alida-journal/customer-loyalty-stats

Moore, Susan. (2019, Jun. 17). Gartner Says Worldwide Customer Experience and Relationship Management Software Market Grew 15.6% in 2018.
https://www.gartner.com/en/newsroom/press-releases/2019-06-17-gartner-says-worldwide-customer-experience-and-relati

Salesforce. (n.d.). 4 Examples of Businesses Using CRM to Improve Productivity and Efficiency.
https://www.salesforce.com/crm/examples/

Zendesk. (2020, Jun. 3). Mailchimp + Zendesk: Using the voice of the customer as a north star.
https://www.zendesk.com/customer/mailchimp/