1

cup sugar

1

cup brown sugar

1

1/2

sticks of butter

1

teaspoon of almond and vanilla extract

1/4

cup Grand Marnier

3

eggs

3

cups of flour

2

teaspoons of baking powder

1

cup White chocolate chips

1/2

cup M&M's - pumpkin flavored when available

1

cup Macadamia nuts

1/2

cup Slivered almonds

1/2

cup Walnut pieces
Instructions
Mix sugar, brown sugar, softened butter, almond and vanilla extract, Grand Marnier and eggs together in a bowl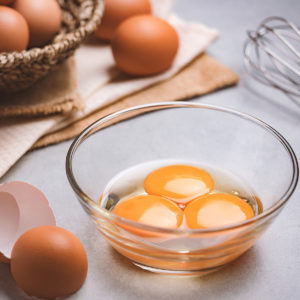 In a separate bowl, add three cups of flour and two teaspoons of baking powder.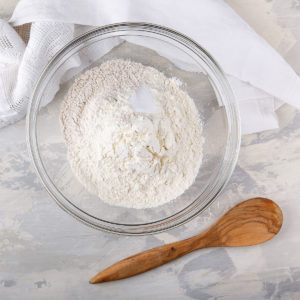 Mix these ingredients then add to wet mix.
In a non-stick pan, brown the macadamia nut halves, slivered almonds and walnut pieces.
5
Chocolate Chips & Pumpkin M&M's
In a small bowl, mix white chocolate chips and pumpkin M&M's (can substitute with plain M&M's).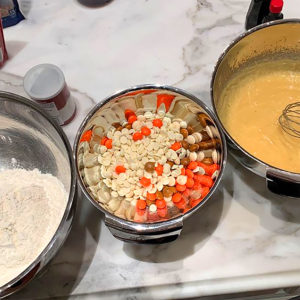 Add chips, nuts & M&M's to batter and mix.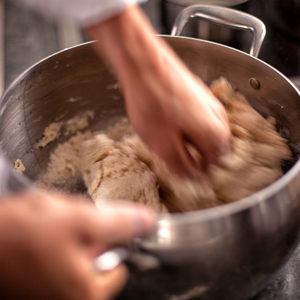 Scoop out small portions on a cookie sheet.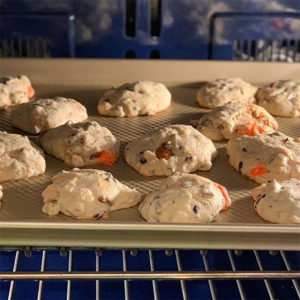 Bake at 350° for 20 minutes until golden brown.
Equipment
Kitchen Tools
Bowls
Non stick pan
Cookie sheet