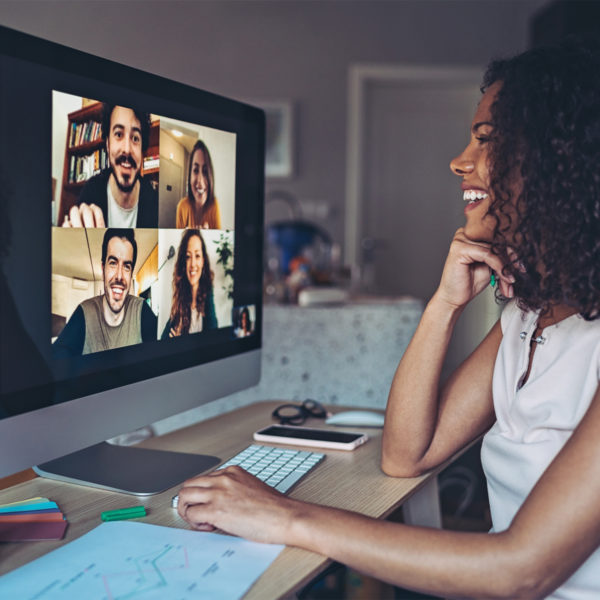 If you've been starting your work day by changing from your nighttime pajamas into your daytime pajamas, you're not alone. Over the past year, millions of Americans have been forced to work from home. And although many of us don't miss the mad rush to get ready and head out the door into the morning traffic, working remotely is not without its challenges. One of the biggest – Zoom meetings! Everyone who has to sit in front of their computers or phones and either host or participate in one of these virtual meetings can relate. Whether it's your Internet being laggy, your dog (or someone else's) barking in the background or the neighbor mowing their lawn right outside your window, virtual meetings can be challenging.
And now, this weird new normal is even more complicated as all of us struggle to figure out what "dressing for work" means anymore. What to wear on Zoom is one question we're all trying to figure out the answer to. Is it ok that you look like you just rolled out of bed (I mean, you did, right?). And what about your favorite comfy sweatshirt, is it appropriate for your department meeting? Looking fashionable for your work from home Zoom calls shouldn't be stressful–and believe it or not, it is achievable if you know what to wear.
The Benefits Of Dressing Up For Work
We've all heard that adage, no matter how you feel, get up, dress up and show up. And as a professional in the fashion industry, I have to tell you, it's a good rule of thumb to live by. And even though working from home may have cramped your work style, getting dressed for your Zoom calls has numerous benefits. Having several Zoom outfits that look good and you love to wear makes working from home easier and more productive.
Whether you're sitting on your couch or you have a home office, here are three important things that apply to looking good and being productive while Zooming with work:
Make your bed – Even if your bed isn't in the background, it's just like your mom always told you, a messy bed equals a messy head!
Brush your teeth – even if no one else is around, it's one thing you can do to feel fresh and ready!
Get dressed – being dressed for the day helps set the tone for productivity!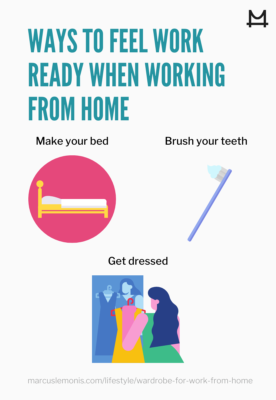 The Difference Between Work Outfits And Zoom Call Outfits
Now, let's talk about what it actually means to get dressed – and the difference between work outfits and Zoom outfits, because this is where it gets a little sketchy for a lot of people. Getting dressed to work from home and for your Zoom calls should be just like getting dressed for work. A lot of people find themselves throwing on a shirt or blouse that can be considered "business-like" and stopping right there. Yep, going without pants has become as common as having a cup of coffee these days!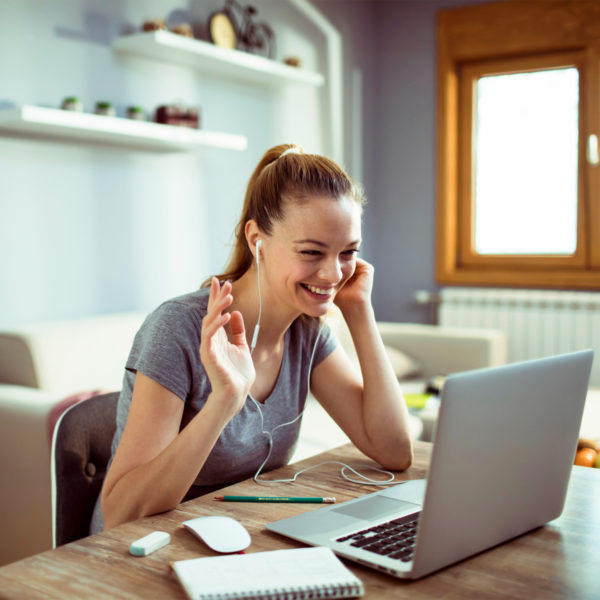 In fact, a large percentage of people working from home who were recently surveyed admitted that they don't wear pants during Zoom calls. In case you missed it, one popular TV news personality was caught off-guard recently and called out on social media for failing to tilt his laptop correctly, treating millions of people to a view of his suit and tie paired with workout shorts.
While blunders like this are great for a laugh during these challenging times, a key way to successfully manage your work Zoom calls is to make sure that your camera is capturing only what you want people to see – so if you're joining the pantless revolution, please test your video first!
5+ Tips for Creating A Fashionable Work Wardrobe For Zoom Calls
Even though we all want to feel comfortable while working from home, the fact is, if you're not dressed for work, it may be hard to get in the mindset to really do good work. Looking professional also makes you feel professional and builds confidence, and this in turn can help you be more productive. Dressing for success may sound passe, but it really holds true. This doesn't mean you can't find a balance between businesslike and comfort – in fact, I have some great tips for creating a fashionable work wardrobe for Zoom calls, take a look:
Mix and Match Your Favorite Wardrobe Items. To create fashionable work from home outfits for Zoom calls, think about the clothes you love to wear (your capsule wardrobe items) and then mix and match them.

Take your basic work tops and bottoms, like your favorite white button-down shirt and pair it with black, grey or brown pants. Loose fitting slacks with the shirt tucked in says work and feels homey – the ideal combination. And yes, pants are highly encouraged!
Accessorize. Never underestimate the power of a great pair of hoops or a bold necklace. Even a plain white tee can be totally transformed by adding some jewelry or a colorful scarf. Think about what you'd wear to the office and then make it part of your work from home outfits. Accessories change the look from saying "I'm hanging at home" to business as usual!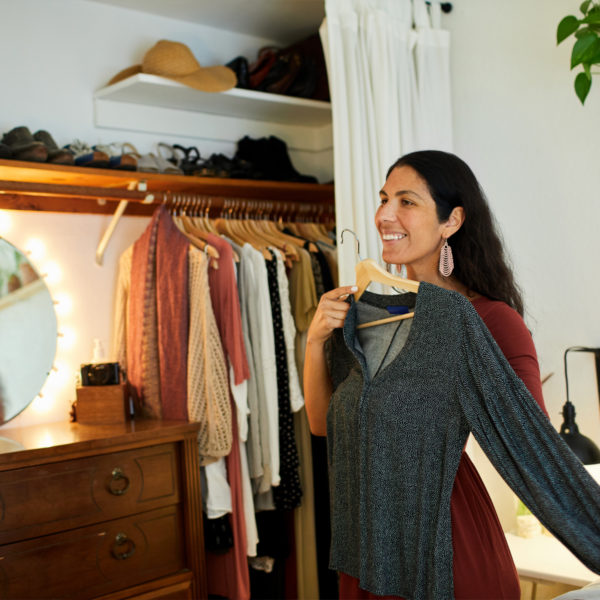 Don't Abandon Your Routine. Prior to the shift to working from home, you probably had a fairly set routine for getting ready for important meetings to ensure you looked professional and well groomed. And there's no reason to abandon it just because you're taking meetings from your bedroom rather than the boardroom these days.

Sticking to your old routines will help you feel grounded and ready for the workday. After all, looking your best makes you feel happy and confident. So whatever your routine, always put your best foot forward.
Throw On a Blazer. Blazers mean business and throwing one on over your tee and your joggers, a shirt dress or even a tank top and sweatpants is a great way to look and feel professional.
Add a Cardigan or a Collared Shirt. If you're not into blazers, a cardigan or a short-sleeved polo can also create a more businesslike look. A nice cardigan looks great even if it's worn over a tank top and yoga pants.
Keep it Professional. Another important thing to keep in mind when choosing your work from home outfits for Zoom calls is to avoid low-cut tops or anything that is too tight or too revealing. If you wouldn't normally wear it to the office, you shouldn't wear it for a Zoom meeting.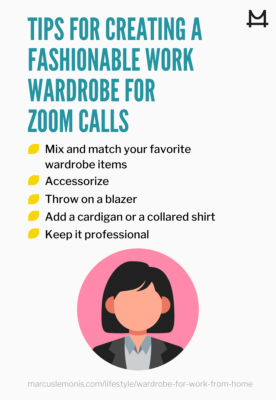 3+ Tips For Your Work From Home Zoom Calls
Now that you know what to wear on Zoom, it's important to set the scene for the most successful virtual meetings. There are several key things to keep in mind when you're going to be on camera to ensure that you look your best and that you can be seen and heard by everyone on the call.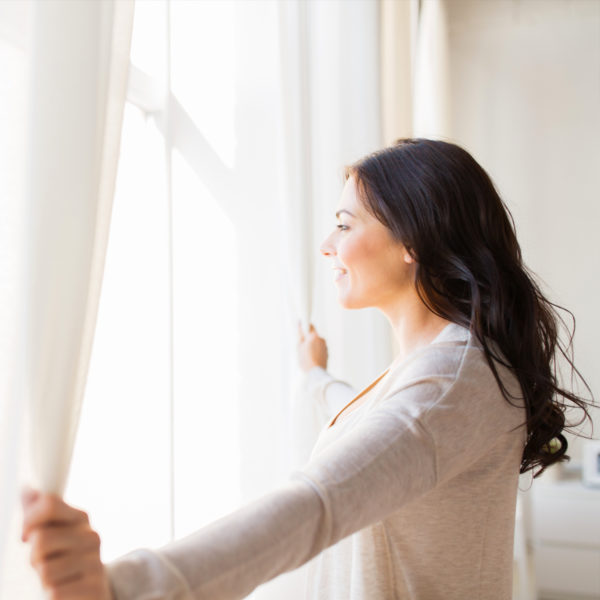 Lighten Up! If you've been meeting via Zoom for a while you know there's always one person who's in the dark – literally! I can't say it enough, don't be that person! Improper lighting is one of the most popular faux paus these days, whether it's sitting in front of a window, which causes you to be backlit and become a silhouette, sitting under fluorescent bulbs, which creates dark undereye shadows or having a sidelight that lights only half your face. Top ways to avoid poor lighting are to choose a spot that has a good amount of natural light flowing in, put a lamp on either side of your desk or whatever surface your computer is on or face the window if there's enough daylight coming in.
Choose a Room Without a View. There are a lot of memes circulating about some of the crazy things people are seeing and doing while on Zoom calls with coworkers and friends. Whether it's a spouse unknowingly walking through the room without clothes on, empty beer bottles piled up on the table behind you or one of your kids wailing for a pop-tart, nobody wants to go viral for one of these embarrassing moments.
If you don't have a home office or a specific spot where you work from home every day, set up an area for your Zoom calls that is clear of doorways where family members or roommates can come in and out. In front of a bookcase is great and looks professional or against a wall that isn't too cluttered.
Some of the virtual backgrounds can also work well, just remember they sort of disappear when you move around, that's another reason why pants are a good idea! And if you're Zooming in your bedroom, you'll be happy you made your bed!
Avoid Extreme Close-ups and Other Not-So-Fashionable Perspectives. No matter how close you are with your co-workers, none of them want to be looking up your nose or at your face from under your chin – and they won't have to if you set up your camera at the right angle. When positioning your camera, whether on a laptop, a phone or a desktop computer, make sure it is not facing up at you.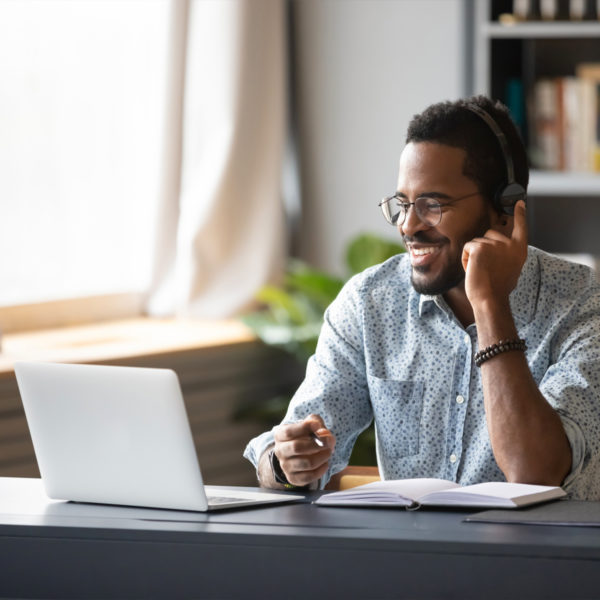 To ensure that you are well-framed in the shot, it's recommended that cameras be placed at eye level or a little above that. Avoid the extreme close-up by having your device sitting between 15-20 inches away and do a check before your Zoom call starts so you can see what everyone else will see.
Do You Hear What I Hear? Zoom gives you the option to check your sound before every meeting and it's always a good idea to do so. Make sure there's no echo from where you're sitting and that your do-it-yourself neighbor isn't using his table saw to work on his latest project.
As we all navigate this new business normal, choosing the most fashionable work wardrobe for your work from home Zoom calls can be easier and less stressful if you follow these guidelines and tips. Remember, although you want to be comfortable, it's important to look professional. So get up, make your bed, brush your teeth and get dressed (say yes to pants!), you're ready to Zoom!