1

1/2

lbs asparagus spears

Extra virgin olive oil

Sea salt

Freshly ground black pepper

Unsalted butter

4

eggs

Medium size chunk Parmigiano-Reggiano cheese

Truffle oil
Instructions
Wash and clean asparagus, pat dry.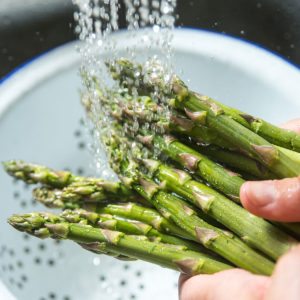 Break off the tough end of each asparagus spear about 1" from base. (If you use thick asparagus, use a vegetable peeler to remove peel from the bottom half.)
Place spears on a baking sheet and drizzle with about two tablespoons of olive oil, toss to coat well.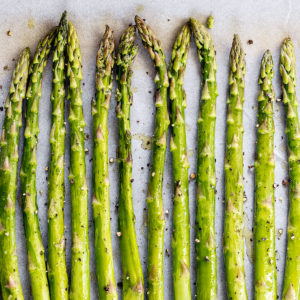 Sprinkle lightly with salt and pepper.
Pop in the oven and roast until spears are tender when pierced with a fork. Approximately 10-12 minutes.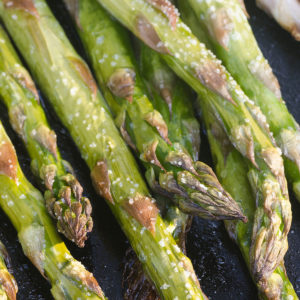 While the asparagus is roasting, in a large non-stick fryer over medium low heat, melt two tablespoons of butter with a small splash of olive oil (no more than a tablespoon.)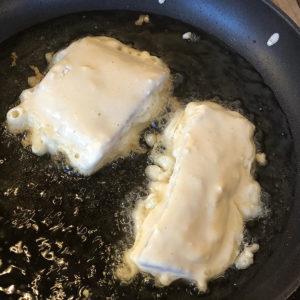 Break eggs into pan. Cover the pan and cook for about two minutes. Uncover and cook eggs until the whites are opaque and the yolks are runny. VERY IMPORTANT – the yolks must be runny! If you see them starting to cook and harden, remove from heat! This whole process should take no more than three minutes. Once eggs are cooked, remove from heat and put aside.
Divide the asparagus among four plates. Using a slotted spatula, carefully lift each egg and gently place on top of asparagus. Sprinkle the egg lightly with salt and pepper and drizzle a small amount of truffle oil. Top with cheese – your choice – you can grate and sprinkle it on, or as I prefer, slice thinly and lay on top. Repeat with each egg and serve with crunchy bread!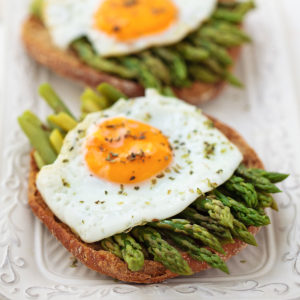 Equipment
Kitchen Tools
Oven
Baking sheet
Non-stick fryer