Lighting your home is both an art and a science. How it works is just as important as how it looks. With so many choices of style, power, brightness, and color, it really comes down to what suits your space and your lifestyle best. Here are some helpful pointers to ponder before you decide to flip the switch.
Let Your Life Shape Your Light
Lighting has to be functional first. You need to make sure that you're getting the proper lighting in all the rooms to accommodate your reading or cooking or doing whatever you're doing.
Save Money and Energy
Your lighting should be energy efficient. There's a lot of new technology that allows for lighting to last longer, and to have the right temperature. The old incandescent bulbs featured warm lighting but sometimes burned out after only a few months. They will eventually be phased out in favor of LED—or Light Emitting Diode—lights, which are up to 90% more energy efficient than incandescent bulbs, and usually last more than a year before starting to dim. (Unlike incandescent bulbs, the LEDs don't simply burn out.) 
Best of all for your budget, LED lighting will keep your electric bill down. And the lower your electric bill is, the more you can plan for a larger renovation! 
Scout Around for Bright Ideas
Before making changes to lighting or choosing lighting for a renovation, I encourage people to go to places where they see different examples of fixtures. Visit a big box store or a lighting showroom and find options that appeal to you and that you think will work in your home.  
Another trick: Go to open houses in your neighborhood, city, or town! Check out the homes that are for sale in your area to get great ideas about lighting.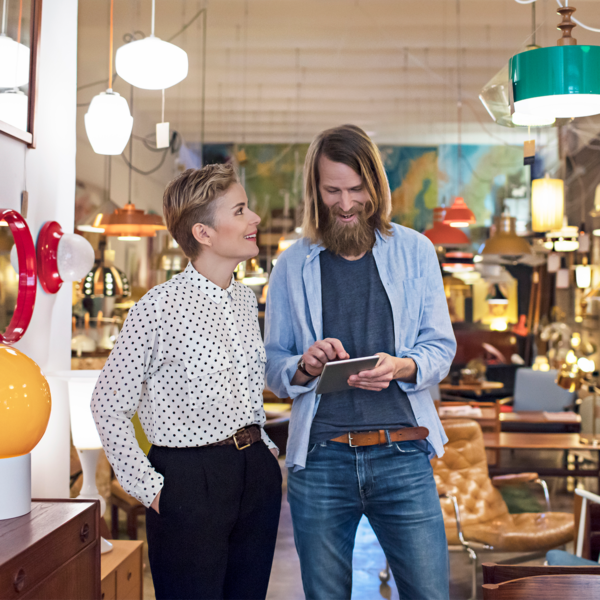 Take Fixtures Home for a Trial
It's hard to walk into a store and get a good feel for the lighting hanging there or the color tones there. When you're in an 80,000-square-foot, big-box retailer with 100-foot ceilings, and you're trying to envision it in your home, it's very, very, very difficult.   
So, when you buy something, keep the proper packaging, keep the receipt, take it home, and visualize it by hanging it in your space. 
And that doesn't mean you have to hang the light; you can plug it into an outlet and just see how it feels in there. Then, you either keep it, or package it back up, exchange it, and try again until you find the right light for you. 
Divide Rooms into Different Lighted Areas
I like to create different sections of lighting in a room, because I don't like to turn a light on and have the whole place be lit. It feels wasteful to me.  
In my home, I have multiple light switches because I like to only put the light on in the area that I'm using. I just don't feel like I need to put the whole thing on. It wastes money, right? Instead, I'll save money by not having the electricity on everywhere! 
Weigh Warm Vs. Cold Lighting
I like warm lighting as opposed to cold lighting. If you have ever done a project with me, you know it's got to be 2700 Kelvin, which casts a nice warm, yellow glow. I don't want to feel like I'm in the hospital waiting room with bright white lights! 
Dim or Dimmer?
I like every single light in the house on a dimmer switch. Dimmers are slightly more expensive, but I think they really change the vibe of the house. It creates a mood and a feel. It also saves energy–and money!
Choose Between Recessed or Hanging Lights
I love recessed lights because they cast a nice even light. I typically don't love pendants because I don't want anything blocking my view. I do have some hanging lights in my home, however, because my wife said she wanted them! But I had them hung abnormally higher than they normally would be.