The Color of the Year
Because of a career in fashion in the last century, Pantone's Color of the Year is as much a part of my life as a New Year's calendar. This year's selection was unique, because two colors were chosen – Illuminating, a stunning shade of radiant yellow, and Ultimate Grey, its comforting and foundational counterpoint. They happen to be two colors that we recommend – not just for the year … rather, for your life.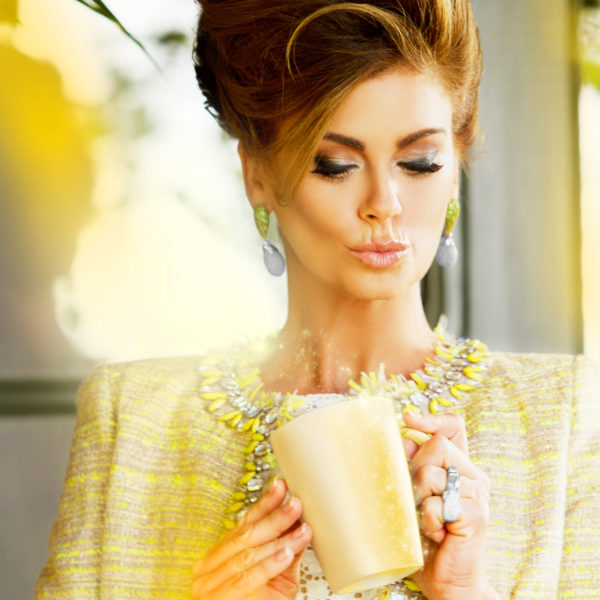 2020 has been an unusual, chaotic, disturbing year … no matter your political or personal beliefs. Of all the great design elements, nothing has the power of nature. In our country, the percentage of people who live close to the coastline is nearly 40% – often within just a few miles. All of us have interaction, whether we see or feel the golden rays of the sun. Having grown up on the beaches of Santa Barbara, Illuminating yellow sunshine envelops all water-lovers in a powerful way, and it's critical to remember that, no matter the darkness of the night, the sun will rise. Hence, the Colors of the Year, Illuminating and Ultimate Grey are a sublime combination for living.
How to Incorporate the Color of the Year in Your Life
Now, how do we bring those colors affordably into our lives? Use these colors as an opportunity to edit, to get ready for 2021, if they work for you. I always use the Colors of the Year, whether they are personal favorites or not – they inspire me to edit and influence. It forces our family to take a look at what we have … what we want … what we need … and what's no longer relevant to the way we're living. Don't build your entire home or wardrobe based around these two colors – there are so many other colors in the rainbow of life that we can use to inspire. Take photographs – collect the Colors of the Year swatches, frame them – and, if the color isn't right on that day, use Photoshop to match with those bright rays of sun.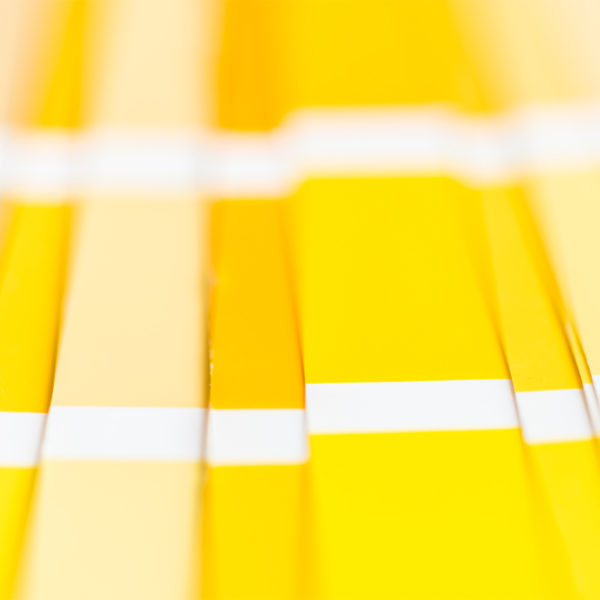 Think about ways to bring the colors outdoors into your garden as well. From a pair of matching yellow rose bushes, to daisies which are so hearty and easily cared for. We can even find very affordable candles in these colors at our local grocery and drug stores.
There are so many wonderful ways to keep these colors in front of you and your family every day. Get outside … please! Not only does the sun give us tremendous light and yellow radiance … more importantly, it's the finest natural source of Vitamin D, which many scientists believe, is critical for immunology and potentially prophylactic for forms of cancer.
Bring these colors in with pillows, bath accessories, accents, affordable pieces of objet d'art – and when you get outdoors, especially on road trips, take things with you from your home which remind you of how important these two colors are. These colors blend well in fashion – both apparel and home – and are also stellar individually.
What to do if You Don't Like the Color of the Year
Perhaps, Aegean Teal, which was speculated by many to be Pantone's 2021 Color of the Year, appeals more to your sense of design. Calming and harmonious, Aegean Teal was even selected by many other leaders in the color world as their most influential color for 2021. If, for some reason, Ultimate and Illuminating are not popular with you, personally … you have every right to reject them! One thing I learned in fashion is that some decisions don't work for everyone.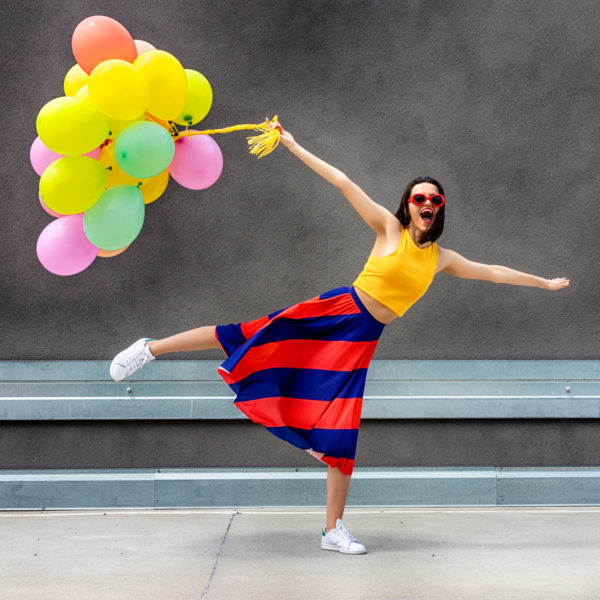 If you're not an Ultimate Grey person or an Illuminating person, then look at past Pantone selections, or select your own favorite color that you use year-round that brings you joy.
Some other classic examples: Frank Sinatra loved orange, and Mr. Sinatra carried elements of it in his art, his home, and accessories throughout his lifetime. Elizabeth Taylor loved lavender, and always was sure to include its presence in varying shades. Emily Ratajkowski, lovingly known to many as Emrata, is a friend and founder of her hugely popular brand, Inamorata, and has revealed that her personal favorite color is white – and she demonstrates that with incredible designs in fashion.
Janet Jackson also loves monochromatics and makes iconic fashion statements in both black and white. Vanessa Williams, who we are so fortunate to know as a member of our business family, is a "prints" person who loves every imaginable color, and I've never been told, though because of his deep commitment to The Lemon-AID Foundation, I believe that Marcus Lemonis enjoys the perfect, radiant color of lemons – much like Illuminating as named by Pantone. As Marcus has said, it's so important to always "Get comfortable being your true self!" Color of the Year doesn't mean you have to love it or use it … however, I suggest you please try staying open to the possibilities and opportunities of Illuminating and Ultimate Grey within your life and home!
Other Color Trends to Follow Outside the Color of the Year
If luxury is within your lifestyle – dove grey scarves in faux-silk or cashmere, are the epitome of a beautiful accessory you will be able to wear with any color. One of my favorite fashion techniques this year will be using the grey scarf and anchoring it with a piece of bright yellow costume jewelry, which cost about fifteen dollars.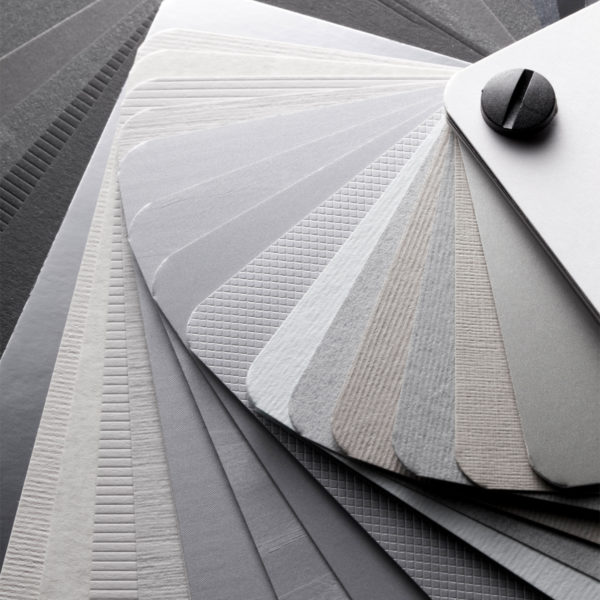 The grey, which reflects the feeling that 2020 has left us with, and yet also is the color of stone, cement, foundation and strength, is an anchor color for home, fashion and more importantly, our lives. It acknowledges the reality that when we go through grey skies … storm clouds … ultimately our resilient sun will restore us with Illuminating yellow.
Other affordable ways to bring the color into your life: think acrylic bracelets in Illuminating yellow. One of Ultimate Grey or Aegean Teal on the alternate wrist. Be bold! Stack all three bracelets on your arm – something I learned from Elizabeth Taylor. A great scarf chicly tied on your handbag. With evening makeup … a little golden glitter will illuminate at nighttime.
How to Use the Color of the Year
One exciting key of celebrating the Color of the Year, is unlocking it and sharing it with people that you love. Here's a checklist: life partner, brother, sister, colleagues, President of your company, your children, grandchildren, five best friends, and someone you've fallen out of touch with! People in business will notice that you have an awareness of Pantone's Colors of the Year – this can be good for your life and good for business. There are very few companies that don't engage in color. Knowing what is current, whether you implement it into your life or not, gives you a powerful career advantage. Bring the color story to your company, and ask the right colleagues if it's appropriate to acknowledge on your website or on social media. Here are two business examples that a company can use. Sending a small gift in Illuminating yellow or Ultimate Grey, depending upon where the relationship was when you last communicated, delivers a powerful message. That small basket of daisies or even a pair of grey socks can be received as an olive branch to let someone know that, although you've not been in touch recently, you still care about them in a meaningful way.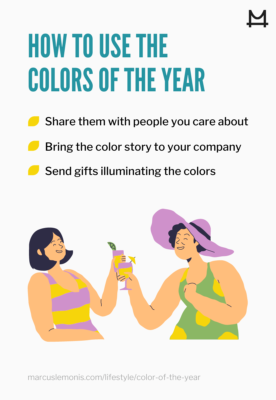 A suggested communication: "Dear Liza, Pantone has just announced the Colors of the Year, and the Illuminating yellow made me think of you … I miss our communication – our walks, our coffees, our time – and especially during COVID-19, I hope this small offering of daisies, with bright yellow centers, will cause you to remember how important you are to me. Let's reconnect. Always, Kathy." If the relationship has been left on turbulent terms, why not attempt this? "Dear Robert, was thinking of you when I learned that Pantone has chosen Ultimate Grey as one of the Colors of the Year. I understand that clouds have hovered over our relationship, and I want you to know, with this small gift of grey socks, that I'm wishing you a warm and wonderful 2021. Pantone's other color is Illuminating Yellow, which makes me think of our happy memories in the past. I want sunshine to return to our friendship, and am hopeful that the only grey between us, is this pair of cozy socks. I miss you. Let's be in touch." Sometimes, something as small and insignificant as color, can restore a paused relationship, or enhance a strong one.
Where to Find the Color of the Year
Don't feel that you must be in the fashion industry, a designer or wealthy to benefit from the art and science of Pantone's Colors of the Year. You'll find them in the most affordable retailers, as well as thrift stores – an endless resource of potential, where my cherished friends, Warren and Astrid Buffett, shop regularly. As we move towards Spring, I believe we will see these colors reflected at Camping World, which is always an affordable place for those of us who love the outdoors in a powerful way.
One of the greatest gifts of our work is travel, and California offers geography in multiple locations which reflects the Colors of the Year. Santa Barbara … Santa Monica … the deserts of California, such as Palm Springs, offer Illuminating sunshine up to 350 days a year. These colors can be the very beginning of charting your life calendar in 2021 and beyond.

It's incredible to realize that celebrating color, and making it a regular part of your daily journey, need not be expensive … and when Pantone announces the color (or colors!) for 2022, we at kathy ireland® Worldwide will absolutely be putting them in rotation. However, I promise you this, Illuminating and Ultimate Grey aren't leaving our lives, ever – because they make you feel brighter, warmer, cooler, calmer – as needed. They're in the "keeper" file of living and we'll decide how to utilize the new colors in addition, when they are published. Ultimate Grey and Illuminating will never go out of fashion, so you need not worry about making a purchase which honors them … and they will never leave nature, or our lives. Never be a slave to fashion … always be the master of color! A little knowledge and new colors will bring thoughtful reflection and bright anticipation into your life strategy for 2021.