Adopting a child is life changing–it gives so many people who wish to create a family the gift of having children of their own to love and care for. It's undeniably one of the most important and rewarding experiences a parent will ever go through. But no matter how prepared you may think you are for the process, most adoptive parents will tell you there were numerous things they wish they had known before beginning the process. With that in mind, we've assembled some of the top things to consider before you adopt, take a look: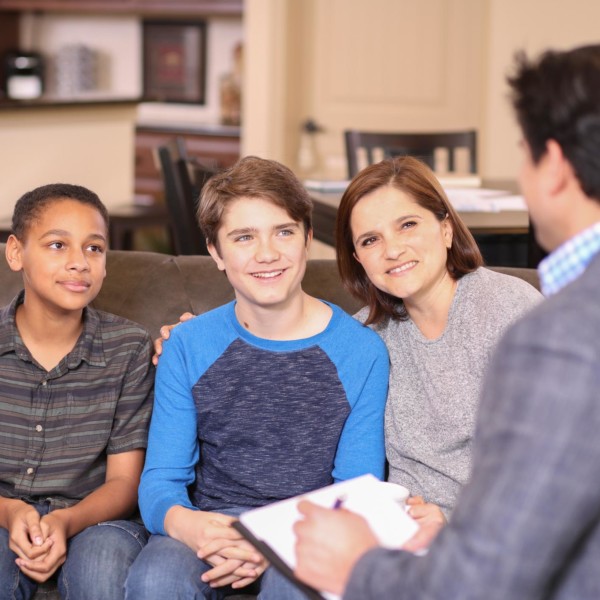 Have an Honest Personal Assessment
If you've asked yourself the question, "should I adopt a child", you've actually taken the first step towards an honest assessment. Many thousands of people who embark on adoption begin by questioning whether they're ready to adopt and raise a child. This is an important part of taking a good, hard look at your reasons for adoption and being honest with yourself about your expectations and goals. Knowing your limits and being willing to accept them is a great place to start.
Know and Accept Your Limits
Asking yourself a few questions–and being willing to accept your answers, allows you to enter into adoption with a clear understanding of the challenges ahead and to approach the process with open eyes. It's also important to understand that admitting to yourself that there are certain things you are willing to accept and others that you are not, is perfectly ok.
Consider these questions:
Consider these questions:
Why do you want to adopt a child?
Are you looking to adopt an infant or would you be open to an older child?
How will adoption affect you and/or your family?
Are you able and willing to parent a child with special needs?
Are you open to adopting siblings?
Is your home environment stable enough and emotionally able to support a child?
Can you see yourself with a child of a different race or ethnicity--and are you able to handle the challenges that becoming an interracial or multicultural family could present?
What Kind of Adoption is Right for You?
Once you've honestly assessed your motivations, limits and expectations, you'll need to think about what kind of adoption is right for you. Some of these answers will come as you assess your expectations–like whether or not you want to adopt a baby or an older child, whether you're open to a child of another race and whether you're thinking about adopting within the United States or internationally.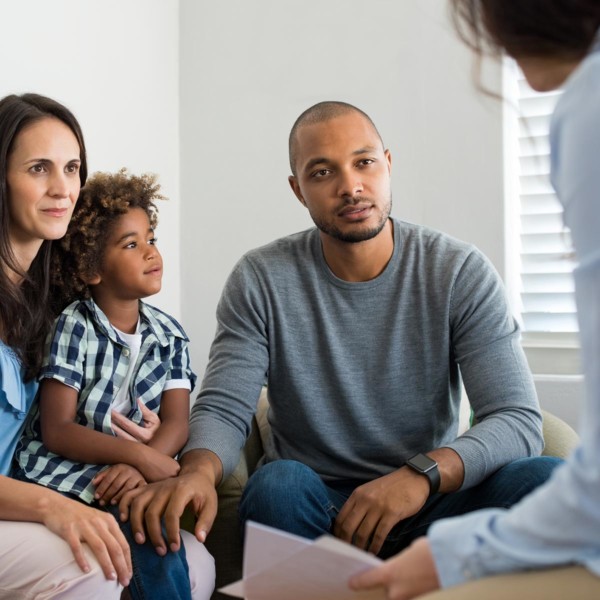 Non-Traditional Household? No Problem.
Families today are more unique and diverse than ever before. Many children are happily growing up in families without the tradition husband and wife, but instead are being lovingly raised by single parents, same-sex parents and parents who are a little bit older. Thankfully, this shift has increased adoption opportunities for nontraditional households.
Learn about the different options & decide which adoption path you want to take
Adoption Through the Foster System
The first thing you should know about adopting through the foster system is that all of the children in foster care are there because they were unsafe in their homes. As a result, each of them, regardless of their personal story, have suffered some level of trauma or neglect. This fact sheds light on the importance of adopting a child that is currently in foster care.
Here are some important factors to consider about foster to adopt:
Most are school-aged children over the age of 8
You won't be going it alone--mandatory training (20-30 hours) and home studies are required once you begin the certification process
Once you've begun the process of fostering you will have the opportunity to decide if foster to adopt is right for you
There are hundreds of thousands of children in foster care in the US
The foster to adopt process is usually less expensive than other paths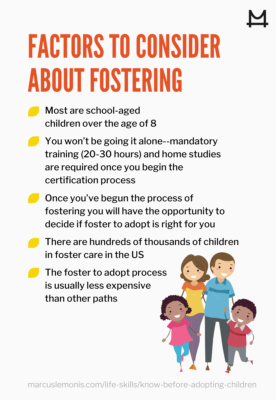 Domestic Adoption
If your dream is to adopt an infant or a newborn, domestic adoption is the path you're most likely going to want to take. This type of an adoption most often requires you to work with a local adoption agency or a private attorney who specializes in adoption. As with any other path to adoption, there are pros and cons to a domestic adoption. Domestic adoption, for example, is more expensive, but it does not require the often challenging task of communicating with a foreign adoption agency.
International Adoption
An international adoption offers you the opportunity to adopt a baby or a very young child. The difference between this path and a domestic adoption is that you will be dealing with adoption agencies in other countries and their requirements and standards vary greatly from one country to the next. Additionally, this path will require you to travel back and forth to the country until the adoption has been completed, which in some cases can take a year or even longer. Another thing to take into consideration is that if you do adopt a child that is a little bit older, you may have to deal with the language barrier. The best thing to do is start researching international adoption and familiarize yourself with the requirements, policies and procedures.
Carefully Choose Your Adoption Professionals
Choosing the right adoption agency or attorney to handle your adoption can make all the difference in your experience. Remember, you will be depending on their expertise, experience and professionalism; you'll also be spending a lot of time communicating with these folks. One of the best pieces of advice adoptive parents give is to talk to people you trust and to anyone you know who has been involved in the process. You never know who in your circle of friends, coworkers or acquaintances has been touched by adoption and can offer personal insight. Just like reading reviews and getting personal recommendations on many other aspects of your life, learning all you can about the agencies or attorneys you're considering is crucial.
There are numerous resources available to help you find the right adoption professionals including:
The National Council for Adoption
Adoption Learning Partners
Adoptive Families (Blogs, step-by-step guides, resources and more)
The Child Welfare Information Gateway Directory of Adoption Resources
Academy of Adoption and Assisted Reproduction Directory of Adoption Attorneys
The Center for Parent Information and Resources (offers guidance on adopting a child with special needs and more)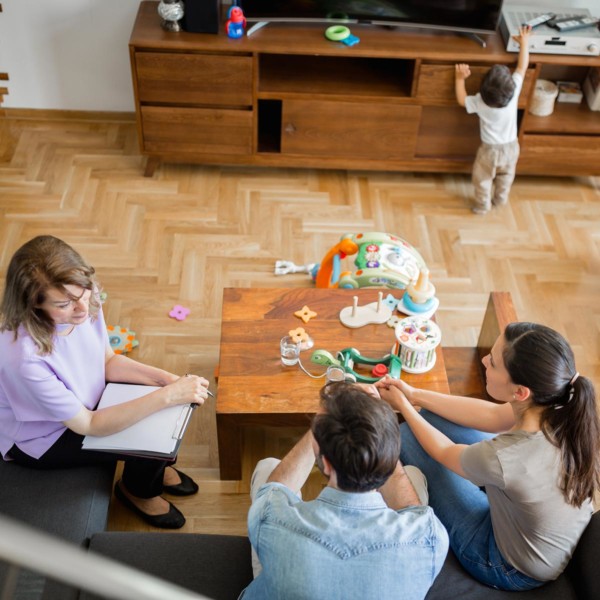 Consider Pre-adoption Counseling to Help Make the Transition Easier
Support groups and individual counseling is one way that many adoptive parents ready themselves for the adoption process as well as the many experiences you will encounter once you've adopted a child. Support groups allow you to connect with other families who have gone through some of the same experiences you will. They can provide personal insight into what it's like to bring a new child into your family, how to deal with some of the issues that parents and children face and much more. Knowing what to expect can make everything easier and reassure you that what you're dealing with is completely normal.
What You Need to Know About The Home Study
Whether you decide to adopt domestically, internationally or take the foster-to-adopt path, a home study will be required. Although it may seem daunting, the process is created to help you and your adopted child and ensure that you're both ready. The home study will assess your home for things like safety, security and overall health, but it will also offer you training and insight. In addition, social workers who perform the home studies will be able to gather information about you and your family to help you connect with the child that is a perfect match for your family. The process can take from three to six months, but once it's completed it will clear the way for you to legally adopt.
Some other things you need to know about home studies:
A home study includes several visits from your social workers
You will have to provide proof of income
The process will include health exams and a criminal background check
You will need to provide several personal references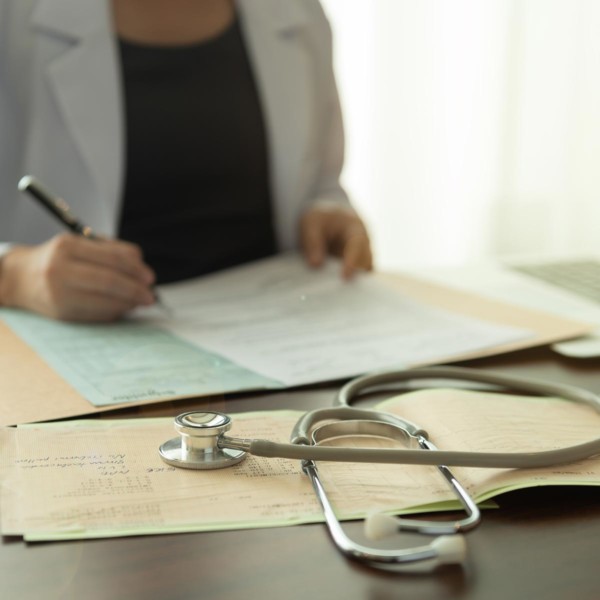 How Open Do You Want Your Adoption to Be?
Decades ago, the thought of keeping in touch with the biological parents of an adopted child was unheard of. But the secrecy and implications from closed adoptions were found to have adverse effects on the child, the adoptive family and the biological parents. Although every case is different, the concept of open adoptions has been seen as beneficial and is becoming more popular. With this in mind, it's important for you to think honestly about how open you would like your adoption to be–if at all. Remember that this is entirely up to you and your comfort level. Whether you choose a monthly update, yearly correspondence or some other degree of contact, the main thing to always be mindful of is it is all about what is best for the child.
Some of the positives of keeping a certain level of contact include:
Knowledge of medical history and family background
Allows your child to know where they came from
Eradicates secrecy that can lead to feelings of shame
Increased trust from birth parents that their child is being well-cared for
Eliminates the need for a search for birth parents later in your child's life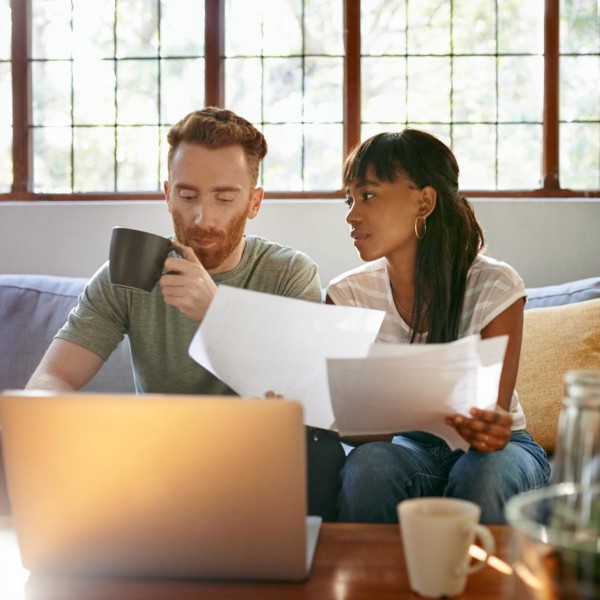 How Much Will Adoption Cost?
As you think about how much you want to adopt a child, the question of cost will inevitably come into play. Of course, if you're thinking to yourself, I want to adopt a child no matter how much it costs, you're on the right track because money should not stop you from pursuing your dreams of adoption. That said, it's important to be realistic and to understand that adopting a child is not without cost, unless you choose foster-to-adopt, which typically costs very little and can provide certain subsidies. Nowadays, because there is such a great need for loving families for so many orphaned children, there are programs available to offset the cost of adoption for those who qualify.
Here are some approximate costs for the different types of adoption:
Agency adoption can cost between $20,000 to $45,000,
An independent adoption can cost between $15,000 to $40,000
An international adoption can cost between $20,000 to $50,000
There are Resources to Help
When you've made the decision that adoption is right for you, you can rest assured that you won't have to go it alone. There are many resources and organizations out there whose sole purpose is to help children find their ideal family, with loving parents like you.
You can find support from many different organizations including:
AdoptUSKids
The Child Welfare Information Gateway
National Council For Adoption
All Children_All Families (agencies committed to non-discriminatory adoption policies)
Adoption groups on Facebook (local meetings, support groups and resources)
HelpUsAdopt.Org (financial assistance resource)

There's nothing quite as rewarding and fulfilling as raising a family and for so many people who dream of having a child, adoption is the ideal choice. Adoption also gives so many children a loving and stable home that they might not otherwise have. Once you've made your decision, take some time to learn all you can and seek help and information from the many resources available.