Marcus Lemonis knows that "Ideas, information and inspiration" are driving forces for well-known brands like Zappos, Sony and Chevrolet. By trademarking the names, logos and other properties of their brands, these businesses have successfully penetrated the global marketplace. Today, your own brand may be one of your most valuable assets, building customer awareness, as well as generating sales and revenue. That's why you need to be sure to protect your rights by registering trademarks.

In addition, your trademarks and other intellectual property (IP) assets can also generate revenue for your business through a licensing agreement. With this approach, another business would pay you a steady stream of cash for the right to use your logo on their products or services, enhancing profitability without having to invest in more people, products or processes.
You could also sign a licensing agreement with a well-known company to add its brand to your product or service. In that case, a licensing agreement can allow you to increase your pricing, boost your sales and give you a competitive advantage in your market.
What is a Trademark?
Let's start with the basics. A trademark can be a word like Cheerios, a symbol like the Nike "swoosh" or a slogan like "What's in Your Wallet?" It can also be a certain color, sound, taste or smell, or any other "mark" that identifies a product or service as something distinctive in the marketplace. In registering trademarks, you should include the name of your business, as well as your online domain names, in order to protect these vital assets.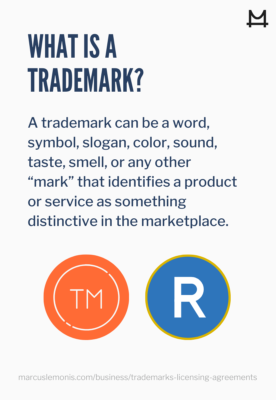 Several years ago, Marcus met with an Australian fashion designer who had developed a line of organic cleaning products with an unusual and difficult to pronounce company name. Marcus felt the brand name was a liability in the U.S. market, rather than an asset, and suggested it be renamed. Marcus agreed to an investment in the company that included his ownership of a new "Best in Show" trademark for the company's line of pet cleaning products. Although the owner didn't follow through with the deal, Marcus understood that the "Best in Show" trademark had significant value as a potential future investment in the pet products marketplace.
Why is it Important to Register a Trademark?
Registering trademarks is an important step for many reasons. It can be a protective action against the competition or a way to generate revenue through a licensing agreement or similar business arrangement. Whether your company is a small start-up, a growing mid-size business or a large enterprise, you should secure the rights that you might need in the future. Otherwise, another business might infringe on your trademarks or ask you to pay a steep price to secure the rights that should have belonged to you.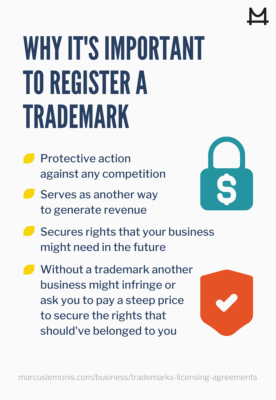 An example of a successful entrepreneur who could have been locked out of one of her most valuable assets was the owner of a kettle corn business who Marcus once worked with. The owner launched her business in 1999, and a few years later opened the first of several kiosks in high-traffic tourist attractions under her chosen brand name. But when Marcus met with the owner about taking her business to the next level, he realized she had made a big mistake. She had been using her brand name but had neglected to purchase the domain names that she was using. Marcus quickly helped her secure these names and trademarks, helping her protect her online sales potential.
Steps to Register a Trademark
There are several steps involved in creating and registering trademarks. It's a process that takes time and may involve engaging an attorney with experience in the many nuances of intellectual property law.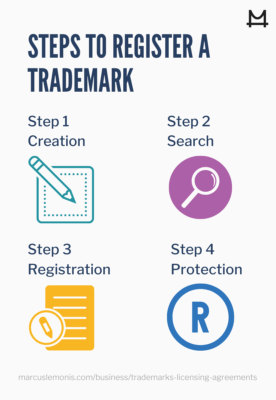 1. Creation. Before you can register a trademark, you need to come up with a distinctive brand name, logo, design or other mark. This is not as easy as it might seem, since only a handful of the possible choices may work, for either legal or marketing reasons. Your trademark must be distinctive and not already in use by another business. Therefore, you might need to set up a series of brainstorming sessions or hire an expert in creating new brands to find a handful of potential trademarks. One effective approach is to invent a new word for your brand, as a certain online search company did years ago with "Google." You should also think about the meaning of the word in other languages to avoid negative connotations. A classic example often referred to in marketing classes is the Chevy Nova, as "no va" means "doesn't go" in Spanish.
2. Search. Next, you need to search the U.S. Patent and Trademark Office (USPTO) to be sure no one else has registered the same trademark. But that's just the start. You should also search your state's corporate database to avoid duplicating an existing name, and do an internet search as well to see if anyone in the world is using the same name, logo or other branding device. After all, the USPTO won't allow you to register a trademark that is "confusingly similar" to someone else's mark. Even if a business has not registered a certain trademark, it may be able to protect its mark, since it was using it first. In addition, you should do another online search to be sure the appropriate domain name or names are available to your business. Fortunately, there are automated search tools that can help with the search process; and you might want to engage a specialist in registering trademarks.
3. Registration. After completing the first two steps, you are ready to file your application with the U.S. Patent and Trademark Office (and with similar offices in other countries if you do international business.) Although you can file the application yourself, the USPTO recommends that you hire an attorney who can guide you through all the legal requirements. There are very specific types of information you need to provide and legal deadlines that must be met. Be aware that the USPTO will conduct a thorough review that includes time for someone to challenge your application. If there are no objections to your filing or if there is a ruling in your favor, the USPTO will go ahead and register your trademark.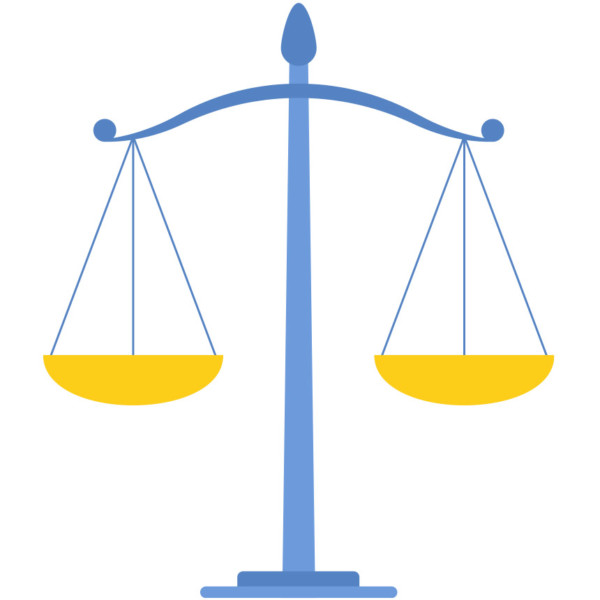 4. Protection. After registering your trademark, you need to protect it. That means ongoing monitoring in the U.S. and other markets to be sure no one is using a similar mark or otherwise infringing on your rights. You can set up an automated tracking tool to send you an alert if another business starts using your trademark without permission. If so, you should send the business a cease-and-desist letter and file a complaint as soon as possible. Unless you take action to protect your trademark, you may lose the valuable protection it provides.
Benefiting from a Licensing Agreement
While registering trademarks is important for protecting your brand, a licensing agreement can generate income for your business. Marcus worked with a Pennsylvania-based sporting goods manufacturer who had ongoing licensing agreements with several Major League Baseball teams. The company made mini-bats with licensed team logos and sold them at stadiums around the country. However, competitors soon jumped into the market, and the owner asked Marcus for advice to grow the company's sales.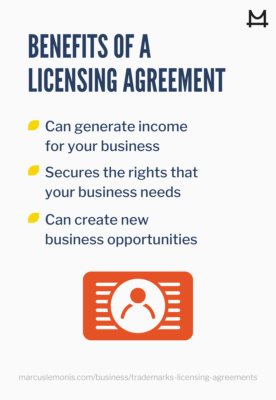 Marcus suggested adding a new line of custom stools made from baseball bats carrying licensed team logos. The owner and his family liked the idea and expanded the product line but didn't stop there. They used their creativity, as well as the power of their sport licenses, to offer wooden bedroom sets for children, baseball bat toothbrushes and tailgate party accessories. The company also obtained licenses from NASCAR, the National Football League (NFL), and other sports organizations, leading to strong growth for the family-owned business.
Depending on your business, you may own brand names, logos or other types of intellectual property that could generate revenue through a licensing agreement. Many of the largest franchises had their start when the owner of an individual store or restaurant had the bright idea to offer a valuable intangible asset to other businesses through a licensing agreement.
Here's a tip for small businesses:
Whether registering trademarks or preparing a licensing agreement, it's essential to do it correctly. Don't try to shortcut this process.
Whether registering trademarks or preparing a licensing agreement, it's essential to do it correctly. As Marcus says, "People, process and products" need to be in alignment for success. So don't try to shortcut this process. That means hiring an experienced lawyer who can draw up the necessary documents to file and protect your trademark application or execute a licensing agreement.
But you can consider that money as an investment in your business, just like buying new equipment or hiring more people. Remember that trademarks and licenses can bring substantial value to your business, and don't neglect these intangible assets.
MARCUS' CLOSING QUESTIONS
What trademarks does your business currently have?
Should your business trademark anything it hasn't already?
Would a licensing agreement be beneficial for your business?