Debt in business is a double-edged sword. On the positive side, using debt wisely can help you maintain your operations or help you grow. But too much debt places a heavy financial burden on a business, making it more and more difficult to meet those obligations. A high debt level is one of the main reasons that Fortune 500 companies like Hertz, Latam Airlines Group, Frontier Communications and JC Penney Company filed for bankruptcy in 2020. "At the end of the day, the numbers don't lie," says Marcus Lemonis.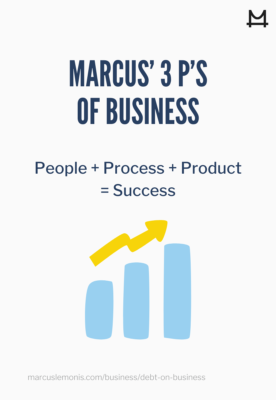 Managing debt is also crucial to the success of smaller businesses. One example is a tiny house manufacturing company located in Colorado. The owner used debt to grow the manufacturing company to a business with sales of more than $6 million a year. But he was struggling to pay more than $1 million in debt and turned to Marcus for help. After reviewing the company's people, products and processes, Marcus offered a $3 million loan to pay off the bank debt and improve operations. As a result, the company was able to continue for another three years, before its debts again became overwhelming and the company filed for bankruptcy.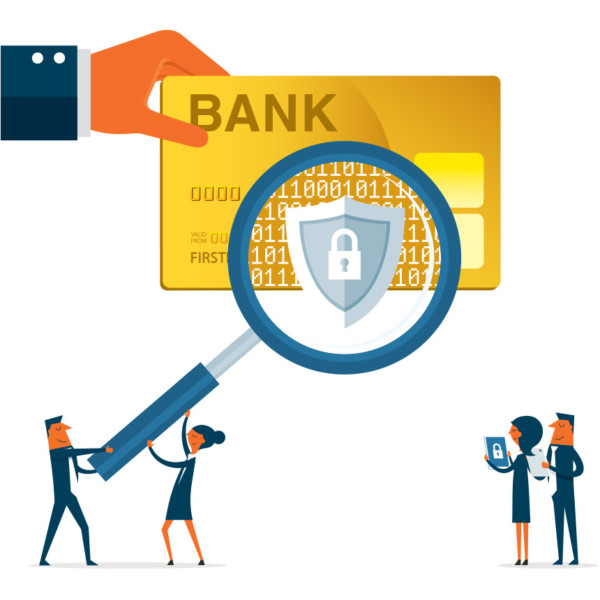 As you can see, debt can be good or bad. Good debt, such as a bank loan, mortgage or investment from an outside source, can help you grow your business. But bad debt, such as borrowing more money to cover existing high interest loans, can worsen your financial position, soaking up cash that otherwise could be used for productive purposes.
What is Business Debt?
There are several different kinds of debt in business:
Credit Card Debt: Your business credit card is a convenient tool for purchasing goods and services. But unless you pay the balance in full every month, you will be paying a high interest rate on that debt.
Supplier Debt: This is the money you owe to your vendors for goods and materials. It is easy to track by totaling up your accounts payable each month to see if the total supplier debt is rising or falling.
Payroll Debt: This is the amount you owe your employees for their labor until they receive their paychecks.
Tax Debt: This is the money you owe the federal, state or local government for income, sales, payroll and property taxes, as well as any other mandatory obligations.
Bank Debt: Many businesses rely on bank funds for their day-to-day operations, purchasing new equipment or launching a new product. This debt can be in the form of a business loan, which is typically secured by your assets or earnings. You may also have a line of credit from a bank that allows you to borrow up to a certain amount, and repay it based on your financial situation.
Mortgage Debt: If you financed the purchase of a business property, you probably need to make regular payments on the mortgage. The balance you owe will gradually drop over time, and eventually you should be able to pay this off.
Private Debt: There are many types of private debt in business, such as a loan from a family member to start a new company. Others include obligations from peer-to-peer lending or a private debt fund. These types of debt can provide more flexible terms than bank or mortgage loans, but may also carry higher interest rates.
Manage Your Business' Debt
A good starting point for managing debt in business is to look at your cash on hand. Do you have enough or do you need more money for a certain purpose, such as the following:
Increase Your Working Capital: This might be handled through a bank line of credit, although you might also be able to use supplier debt by increasing the balance of your payables.
Buy New Equipment: A bank loan may be the best option here, unless the cost is low enough to use a business credit card. That avoids the paperwork and fees associated with a bank loan.
Purchase A Real Estate Property: You may need some type of mortgage loan to finance the deal.
Launch A New Product or Service: This could be done through a peer-to-peer loan or from a private debt fund, as well as a bank loan.
If you need to borrow money, shop around for the best rates and terms. Then make a commitment to pay back that debt in business as quickly as possible, just as you would do in your personal life. In order to manage business debt effectively, you need to pay close attention to your incoming cash flow and outgoing expenses. Your revenue should be high enough to cover those debt payments, but if not you should look for ways to boost your cash flow or cut other expenses so you don't fall behind financially. You could also talk with your suppliers to see if they would be willing to extend credit on a temporary basis to help you out of a jam.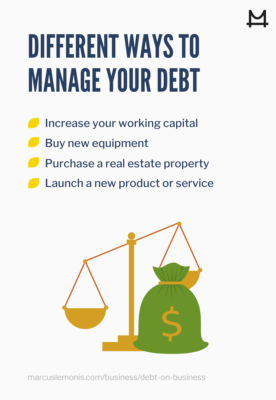 When Debt In Business Becomes A Problem
If it becomes a struggle to meet your debt payments, you need to take action to improve your financial situation. If you fall behind on your loans, your credit score may fall, employees may leave and customers may be reluctant to make further purchases. Eventually, your creditors might take you to court to seize your business or personal assets if they were used to secure a loan in default.
Before those things happen, here are several strategies to get out of a burdensome business debt problem:
Renegotiate the terms of a loan. A bank or other lender may be willing to extend the loan, reduce the interest rate or allow you to skip a payment or two until your situation improves.
Borrow from family or friends. Use the money to pay off your current business debt and repay your new lenders as soon as you can.
Reduce your costs. This approach can free up cash that can be used for debt payments.
Talk with your suppliers. They may be willing to extend credit on a temporary basis to help you through a rough time.
Sell an asset. Use funds from the sale to pay down your debt.
Close a facility. This could dramatically reduce your operating costs.
File for bankruptcy. Depending on your business' financial position, you may be able to obtain a court-ordered settlement with your creditors.
When a New York based food company with $50 million in sales found itself deeply in debt, the co-owners asked Marcus for advice. His most important suggestion was to accelerate the collection of receivables to bring in enough cash to pay a $3.5 million bank debt. This helped buy them some time to get things back on track.
Here's a tip for small businesses
"Debt is a powerful tool for achieving your goals. But debt in business needs to be carefully managed every day to avoid a downward financial spiral."
Using Debt in Business
Debt is a powerful tool for achieving your goals. But debt in business needs to be carefully managed every day to avoid a downward financial spiral. That usually means borrowing only when necessary, and paying back loans as quickly as possible. Pay careful attention to your finances at all times. As Marcus says, "Know your numbers."
This article is informational only and subject to errors or omissions. As with any legal or regulatory advice, please consult your legal counsel or tax advisor to make sure you are in compliance with all and any federal, state, city or county rules and regulations. More
MARCUS' CLOSING QUESTIONS FOR YOUR BUSINESS:
How does your business currently handle debt?
How can you improve the way your business uses its debt?
Shen, L. (2020, June 29). The 20 biggest companies that have filed for bankruptcy because of the coronavirus pandemic. Retrieved from https://fortune.com/2020/06/29/companies-filing-bankruptcy-2020-during-coronavirus-pandemic-covid-19-economy-industries/