If you have a customer who fell in love with your products, ask for permission to tell her story. If you have a service that's hard to describe in words, a short video might be better for demonstrating the benefits. And if you are in an information business, you could write a blog or record a podcast as part of your content marketing strategy. After all, your prospects are looking for "ideas, information and inspiration," as Marcus Lemonis says – and delivering the right content can drive them to your website.
What Is a Content Marketing Strategy?
Words, photos, illustrations, videos, podcasts, live streams, and applications like virtual reality (VR) and augmented reality (AR) are all considered "content" in today's digital world. So, creating your content is the first step in an effective content marketing strategy. Then, you need to publish or post your content in the right locations for your target audience. Finally, you need to motivate them to visit your website, where hopefully they will make a first purchase and become repeat customers.
It takes clear thinking and careful analysis to develop a strong content marketing strategy. Perhaps that's why a recent study by HubSpot found only 62 percent of businesses have a documented content strategy. And once you have a good strategy in place, you need to continue to monitor its effectiveness, because it will need to be refreshed from time to time to keep your audience interested.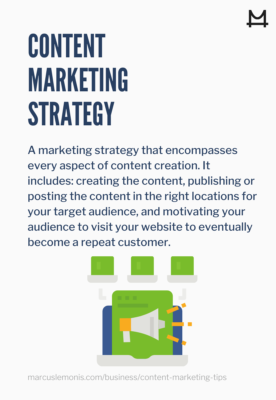 Some content marketing strategies are simple to understand. For example, The North Face clothing company shows its products in rugged outdoor or comfortable indoor settings. Netflix presents short trailers of popular movies and TV series to encourage you to subscribe, and Lowe's offers step-by-step instructional videos for do-it-yourself customers.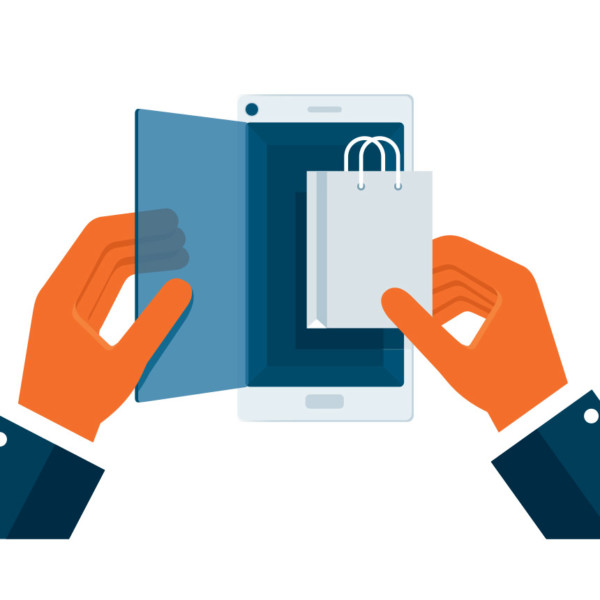 But other types of content marketing strategies can be more complicated, involving techniques like search engine optimization (SEO) and target remarketing. But whether simple or complex, all content marketing tips ultimately revolve around the basic "5 Ws+H" of journalism:
• Who are your customers and prospects?
• What do they want to buy?
• Why are they interested in your products and services?
• When are they likely to shop?
• Where do they go?
• How will you connect with them?
If you can answer these questions, you will be well on your way to developing a practical and purposeful content marketing strategy that is profitable for your business – one of Marcus' principles for lasting success.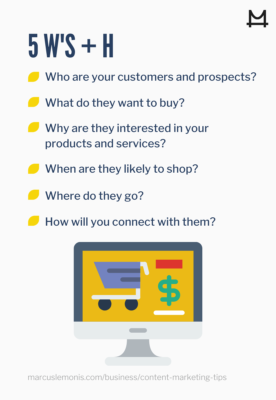 10 Tips for Content Marketing
These ten content marketing tips can pave the way toward long-term success in driving new prospects as well as existing customers to your website.
1. Have a Clear Business Goal
Begin your content marketing strategy by focusing on your desired result. What do you want prospects to do once they land on your website? That might mean filling an online shopping cart with products, buying a ticket for an upcoming event or simply opting-in to a newsletter or marketing promotion. Remember that your content marketing strategy doesn't necessarily have to generate immediate sales to be a success. You could also launch a program to build brand loyalty or encourage customer retention.
2. Understand Your Customer's Journey
Once you know your marketing goal, you can create content designed to motivate prospects to go in the right direction. Perhaps your website serves as a guide to products available in your brick-and-mortar locations. It might offer a convenient way to make appointments at your hair salon or to reserve a hotel room for an upcoming trip.
In any case, your content and your website are two of the most important touch points for your audience, depending on a typical customer's buying journey.
So, your content marketing strategy should include determining the most appropriate call to action for your audience. That could be clearly stated in your content, such as a clickable link stating, "To learn more," or simply a link to the product. But be sure the link takes a prospect to the right page. You don't want someone excited about a new pair of winter boots, for example, to land on your home page and have to search for those boots.
3. Prepare High Quality Content
Whether writing a blog, sharpening a photo or scripting a video, you should set high professional standards for your content. There is no point in posting poor quality material that will turn off your audience. Don't hesitate to engage a professional editor, designer, photographer or marketing company to be sure you present high quality content that will engage your audience.
4. Have a Consistent Brand Voice Across Channels
Another of the most important content marketing tips is to project a consistent image, tone and brand voice across all your marketing channels.
You don't want to showcase "warm and fuzzy" photos in your Facebook content while promoting a hard-sell "buy today" message on your Twitter account. That's confusing to your audience and diminishes the distinctive appeal of your brand.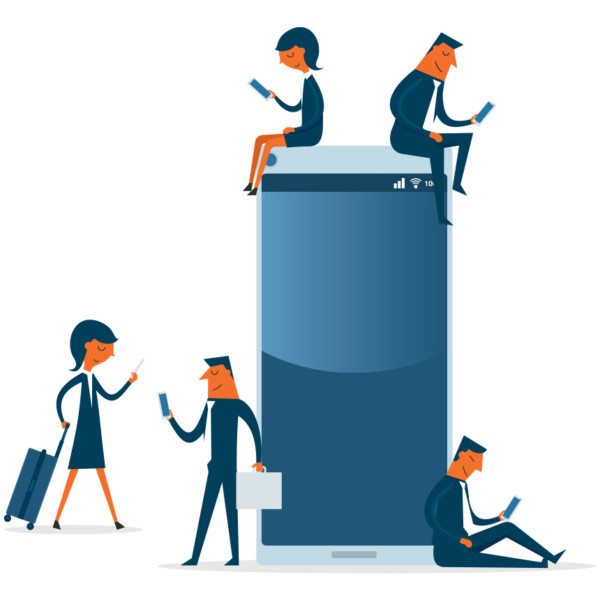 5. Pick The Right Location
There's an old saying that real estate is all about "location, location, location." After all, a home with a waterfront view might be worth twice as much as a similar landlocked home just a block away. The same principle is true in content marketing.
Think about where your audience likes to go online, including the most popular social media sites. Some potential customers hang out on Facebook, while others might follow their favorite brands on Instagram. So be sure you post your content where your audience is mostly likely to see, hear or interact with it. But look beyond the popular social media sites.
If you are reaching a B2B audience, you might want to post your content on a trade industry website, for example. And don't forget about the power of Google shopping ads and SEO placements to boost viewership of your content.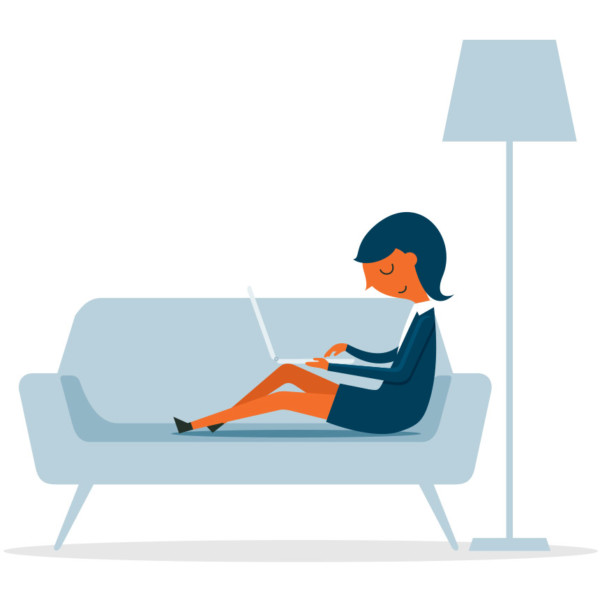 6. Go After Specific Keywords With Your Content
Speaking of Google, you should try to incorporate the right keywords into your content marketing strategy. That can be a crucial step toward increasing the visibility of your content for your target audience, whether aiming for consumers or B2B prospects. Talk with a digital marketing consultant or use Google's analytic tools to determine what keywords would have the most pulling power.
7. Keep Content Up To Date
Stale or outdated content is a big turn-off for most audiences. Market conditions can change, product features can evolve and pricing is always in flux.
So, be sure you replace older content with new material on a regular basis. Hint: if you are feeling bored by your current content, it's long past time for new material!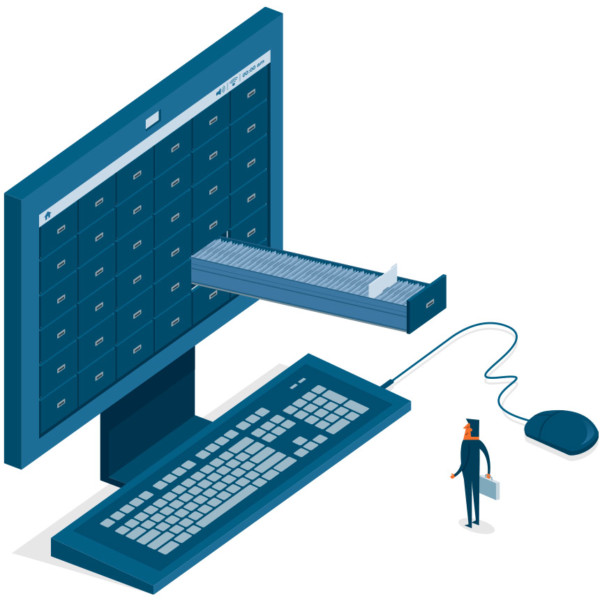 8. Recycle Your Content
Once you have taken down content that is no longer relevant to your audience, consider recycling the material rather than sending it to the trash basket. You might be able to re-crop an older photo, or find a new approach to a popular blog topic. In some cases, you could even archive prior informational content and make it available on your website. That approach can even generate traffic from potential customers who are looking for answers to their questions.
9. Remarket Your Content
Let's say you have created great content and presented it to your audience.
Does that mean your content has to be replaced or recycled? Not necessarily. There are a number of remarketing tools that can present the same content to your target audience, such as Google shopping ads, or you could engage a digital marketing agency to help you get started. Remarketing can be an important step in driving prospects to your website, since they may have missed your content the first time around. Remarketing allows you to try again to capture attention, and extend the value of your content, increasing your return on that investment.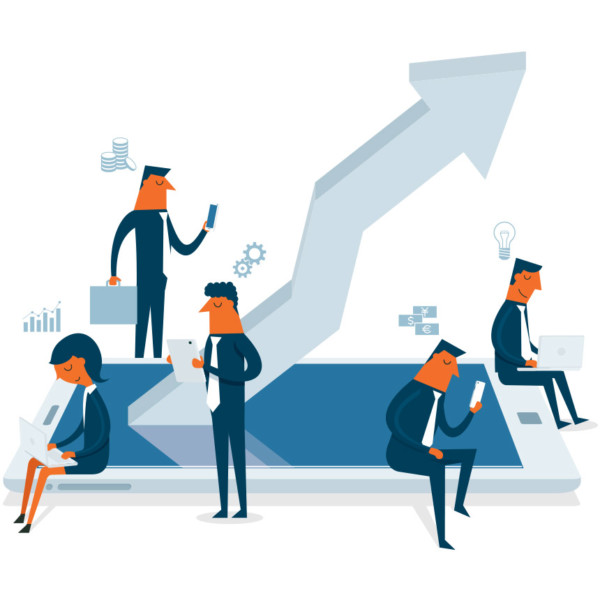 10. Track Your Performance
If you were to rank content marketing tips by importance, tracking performance would be close to the top of the list. Once you have created high-quality content and sent it to the right locations, you need to monitor how well it is meeting your business goals. That means reviewing and analyzing a wide range of metrics, including impressions (how many viewed your content), click-throughs (how many went to your website) and conversion rate (how many actually made a purchase). Take a look at Google Analytics as a starting point, and then consider other applications, such as Decibel, SEMrush, or Leadfeeder. Those results will help you refine your content marketing strategy for the future.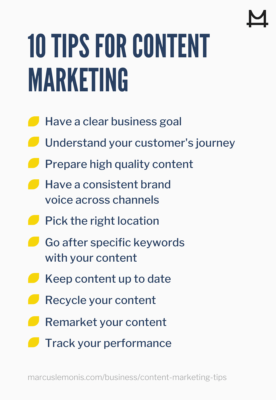 These 10 content marketing tips will get you off to a great start on reaching your target audience.
Remember, that a content marketing strategy demands close attention on a regular basis to be sure it remains effective in achieving your goals and growing your business. As Marcus says, "Trust the process."
MARCUS' CLOSING QUESTIONS
Do you have a content marketing strategy in place?
How often do you create fresh and exciting content for your customers?