Here's a tip for small businesses
"Control your cash, stick to your core business, and know your numbers."
If a big customer is late in sending a payment, a business loan can keep your company going. If you want to enter a new market, a business loan can make it possible. But relying too much on business lending can put severe strain on your cash flow and cripple your operations.  That's why Marcus Lemonis says, "Control your cash, stick to your core business, and know your numbers."
Several years ago, Marcus met with the owners of a struggling cupcake company in New York.  Before considering an investment, he dug into the finances and discovered the business was badly in debt. There was a six-figure business loan from a family member and another big loan from an individual charging a high interest rate. As a result of those debts, the revenue from cupcake sales was barely enough to pay the employees. But after Marcus made an equity investment to pay off the loans and improve operations, the finances turned around and the business finally began generating a profit.  As Marcus says, "I respect money and I think that a lot of people don't."
What is Business Lending?
From Fortune 500 companies to sole proprietorships, businesses rely on two kinds of financial  support – equity capital contributed by the business owner, partners or shareholders, and debt capital from banks or other lenders.
Business lending has many advantages for owners.  Rather than invest their own funds, they can use other people's money (sometimes called "OPM") to expand their operations. A knowledgeable entrepreneur can leverage a business loan to purchase equipment, launch a marketing program, develop new products or add production capacity, bringing new revenue to the company.
Business lending can serve other purposes as well, including instilling a sense of financial responsibility in the management team.  That's why Marcus gave a $30,000 loan to the owner of a New Jersey restaurant for interior renovations without requiring a quick payback. Instead, he used the loan as a teaching device, to help the owner learn important lessons about financial responsibility.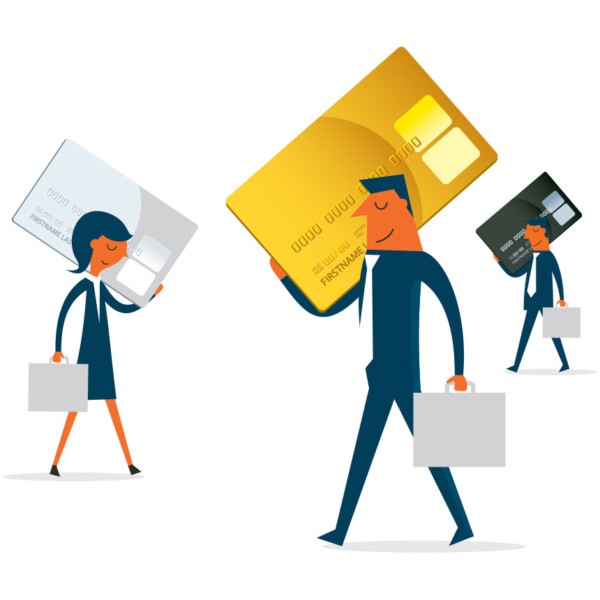 But there's also a downside to business lending, in keeping with the familiar saying, "There's no such thing as a free lunch."   A lender will charge interest on the loan to generate revenue and cover the risk of nonpayment.  You will need to make regular payments on most loans, reducing the funds you have available for other purchases.  If those loan payments are higher than your revenue stream, you may need to lay off your staff, reduce production or close your doors.
For instance, a specialty foods store in New York was generating $1.4 million in revenue, but was struggling to pay off $400,000 in debt. As a result, the business was barely profitable.  But Marcus saw the food store had great potential, and made an investment that resulted in a substantial increase in sales and profitability.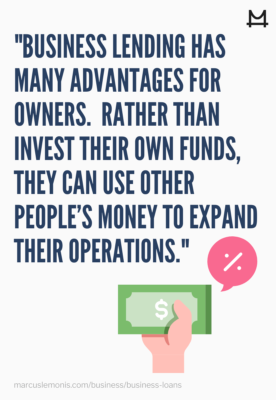 How Does Business Lending Work?
Business Lending Typically Revolves Around Three Issues:
Amount of the loan. How much are you borrowing?
Term of the loan. How long until you have paid back the loan?
Interest rate. What will the lender charge for the loan?
Another consideration is timing of payments. Many business loans are structured for monthly or quarterly payments. However, other options are possible, such as a balloon loan where the entire amount of the loan comes due at a certain time in the future.
Depending on the lender, you may be able to negotiate some or all of these terms. For instance, you might stretch out the term of a loan from 24 to 36 months, in order to reduce each monthly payment.  In general, banks are less flexible in their lending requirements than other sources of loans, such as family, friends or peer-to-peer lending programs.
Before you think about applying for a business loan, be sure you have a solid plan for using those funds. If you want to buy a new machine for your manufacturing operations, for instance, you should look at the expected life of that equipment. If it normally runs for three years before needing to be replaced, the term of a business loan should be no more than three years.
You should also look carefully at your monthly or quarterly cash flow to see how large a loan your business can support. If your business has an operating profit of $50,000 a month, don't apply for a $1 million business loan with a 5 percent rate that would reduce your profit to zero.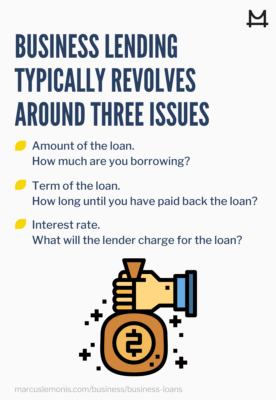 Should You Secure Your Loan?
Another important consideration is whether to use your business assets as collateral to secure a loan. A lender might lower the interest rate, reducing your payments, if you agree to a secured loan.  That might mean pledging your inventory, your equipment or your equity capital as collateral for the business loan. If you default on your loan, the lender then would have the right to take your inventory, equipment or capital in full or partial compensation.
In many ways, a secured business loan is similar to a home mortgage. Should you stop making those mortgage payments, the bank can foreclose on your home and take possession of your property. But if you need a large sum of money for a relatively long period of time, you might have to apply for a secured business loan.
An unsecured business loan, on the other hand, does not have the same degree of consequences. If you don't make the payments, the lender might wind up with a worthless piece of paper. Because the risk is higher for the lender, the loan might have a higher interest rate or a shorter term, increasing your payments. But if you need a relatively small loan for just a year or two, a nonsecured loan may be relatively manageable for you and the lender.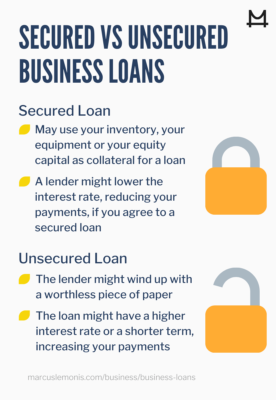 Types of Business Lending
Business lending comes in many forms to accommodate various financial purposes. Here are several types to consider.
Working Capital Loans
These are designed to keep your business going during periods of lower revenue or cash flow.  Many retail businesses, for instance, generate most of their sales during the fourth quarter holiday season.
Lines of Credit
This gives you the flexibility to borrow up to a certain amount, pay down the balance, and then borrow again if necessary.  A company with a $100,000 line or credit might borrow $10,000 one month, $20,000 the next month and pay back $25,000 the third month, leaving a balance of $75,000 for the future.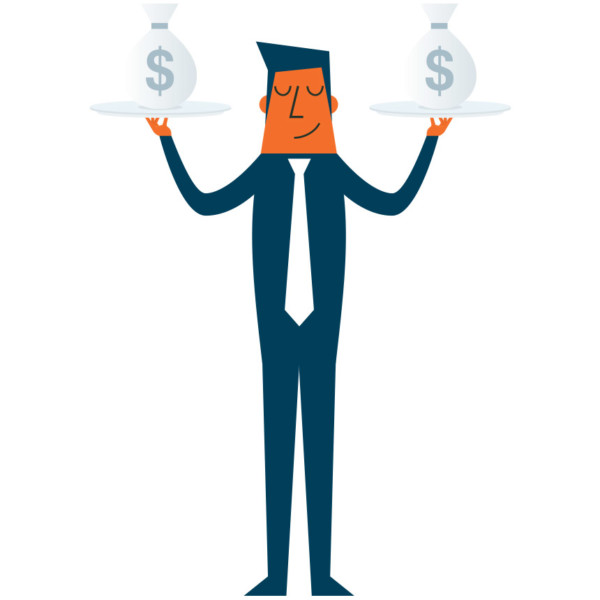 SBA loans
Many banks offer loans to qualified borrowers that are guaranteed by the U.S. Small Business Administration (SBA).  Because there is less risk to the bank, you might be able to obtain an SBA loan even if you don't meet the bank's criteria for a standard loan.  There is typically more paperwork, but the end result may be worth the extra time involved in the application process.
Commercial Loans
These are generally for short-term requirements and usually require collateral.
Commercial Mortgages
These long-term loans can help finance the purchase of business properties or renovations to an existing location.  The lender typically requires the property to serve as collateral for the loan.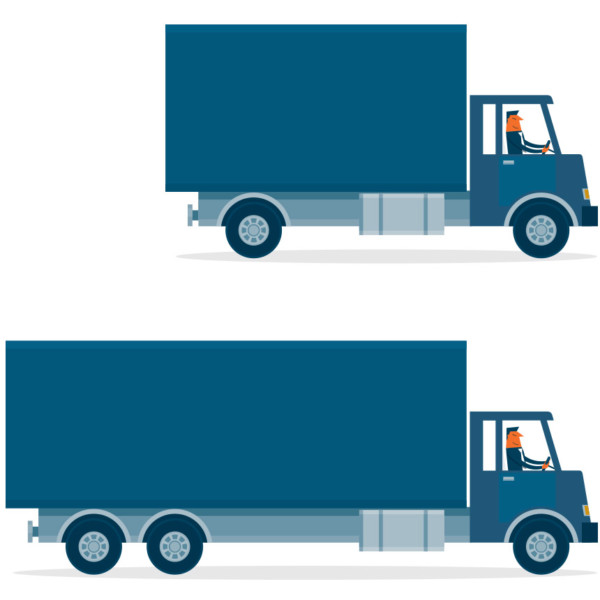 Asset Financing
Specialized lenders can finance the purchase of equipment or business vehicles, using the assets as collateral.
Supplier Financing
Many businesses use credit from suppliers to support their operations. For instance, a supplier might give your company six months to pay for purchases, rather than 30 or 90 days, increasing your short-term cash flow.
Crowdfunding
This involves using an online platform to request microloans from many individuals willing to take a chance on your business.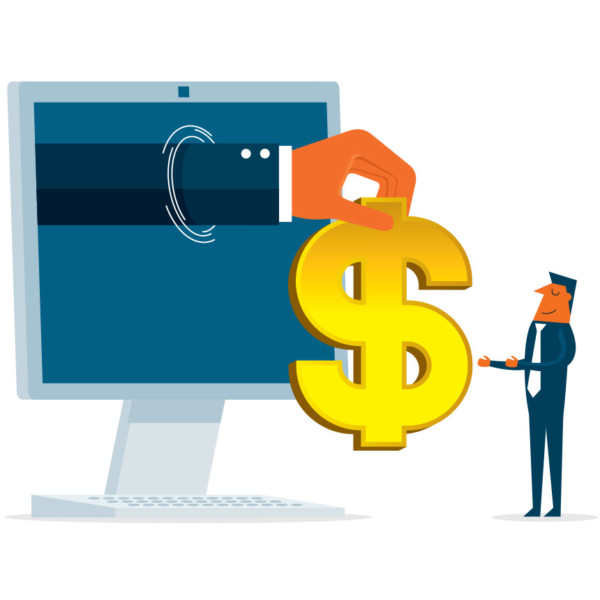 Loans From Family and Friends
These types of loans can help you launch a new startup or bail you out of a financial jam. The terms and conditions may vary based on the situation, and have the potential to change your personal relationships – for better or worse.
How to Get a Business Loan
Once you have identified a need for funds, and the type of loan that's best for your purpose, it's time to gather your financial documents and talk with a lender.  If you go to a bank or credit union, you should know the lender's requirements.  That typically includes providing a business plan, showing how you intend to use the loan, and a set of financial statements.
As with many things in life, advance preparation is the key to getting a loan. If you have credit card debt or payments due to your suppliers, you may want to take care of those obligations first.  If you are seeking a business loan from a peer-to-peer lender, a family member or a friend, you should prepare a convincing case for the loan from that person's point of view.  Whether asking for a loan from a traditional or nontraditional source, the best solution will result in a transaction that benefits everyone involved.
This article is informational only and subject to errors or omissions. As with any legal or regulatory advice, please consult your legal counsel or tax advisor to make sure you are in compliance with all and any federal, state, city or county rules and regulations. More
MARCUS' CLOSING QUESTIONS
Have you gotten a loan for your business in the past?
What type of loan is best for your business?
Murray, J. (2020, July 7). What is an SBA 7(a) loan? Retrieved from https://www.thebalancesmb.com/getting-an-sba-7-loan-for-small-business-398040
Other Lessons In This Course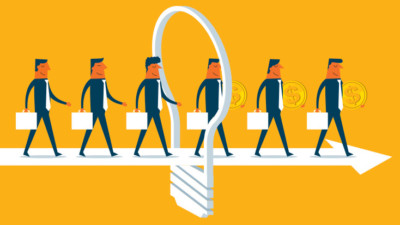 1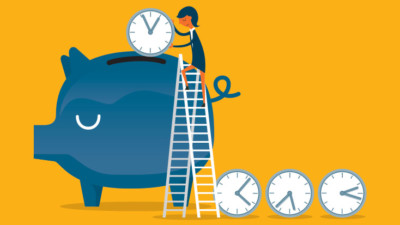 2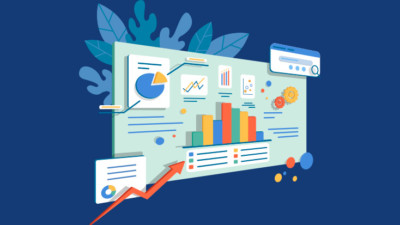 3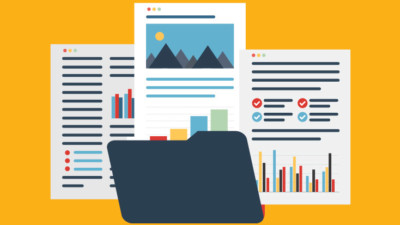 4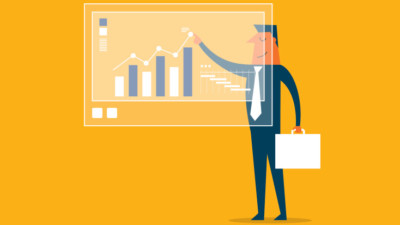 5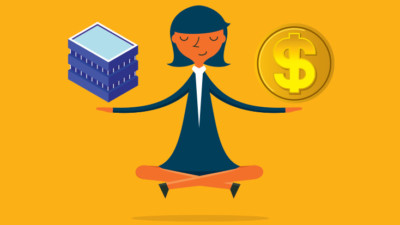 6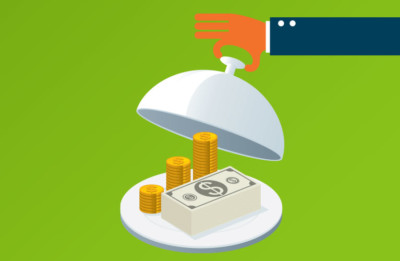 7
8